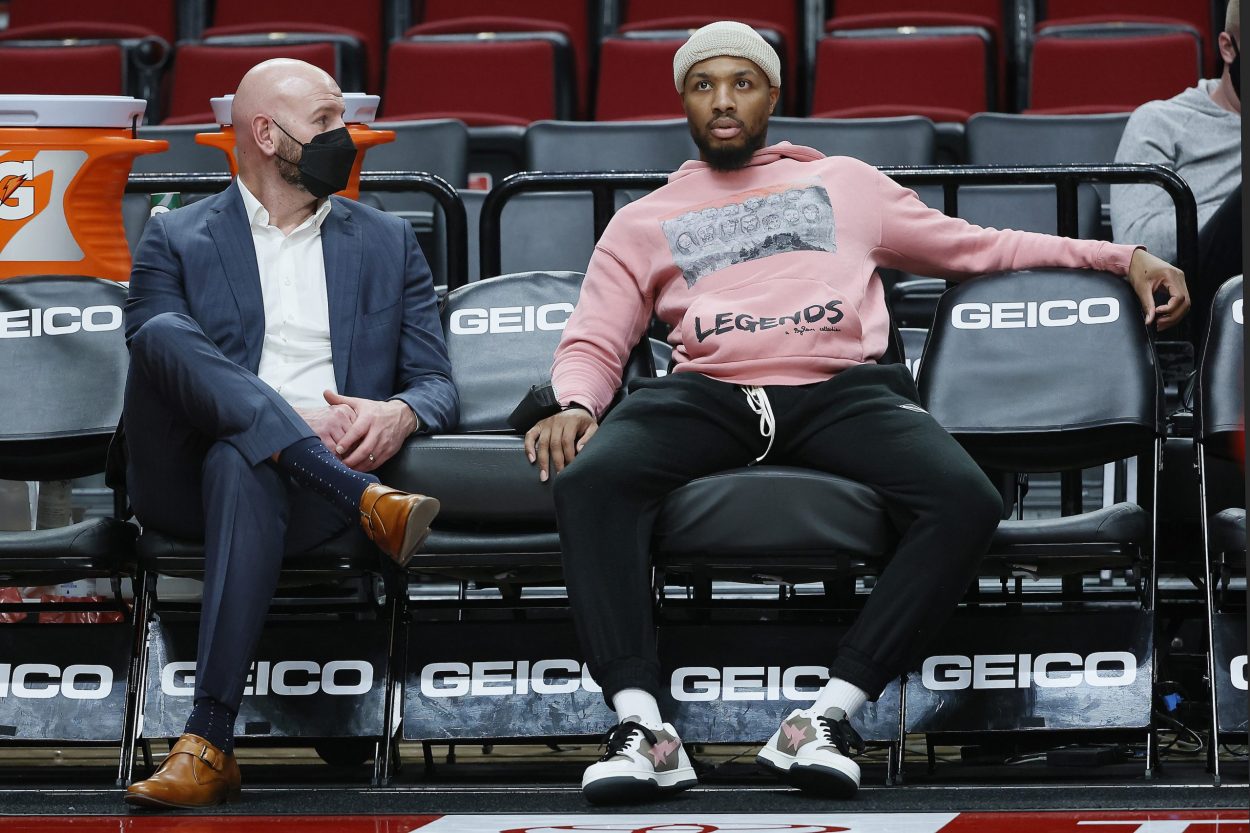 NBA Trade Deadline: Damian Lillard Offers Calming Reassurance That Could Change the Blazers' Approach
An injured Damian Lillard expressed patience with respect to the Blazers' timeline, which could shift Portland's approach at the trade deadline.
A few weeks ago, the Portland Trail Blazers looked like guaranteed sellers ahead of the Feb. 10 NBA trade deadline. But first-year head coach Chauncey Billups has helped right the ship even with Damian Lillard sidelined with an injury, and Lillard's statement of patience could change Portland's outlook.
Dame's painful abdominal injury (and subsequent surgery) prompted questions about his future in Rip City and whether the Blazers could orchestrate a full-scale rebuild. Lillard wants to win, but he seems content to let the process play out instead of demanding an imminent move for his own gain.
Damian Lillard's playing status is up for grabs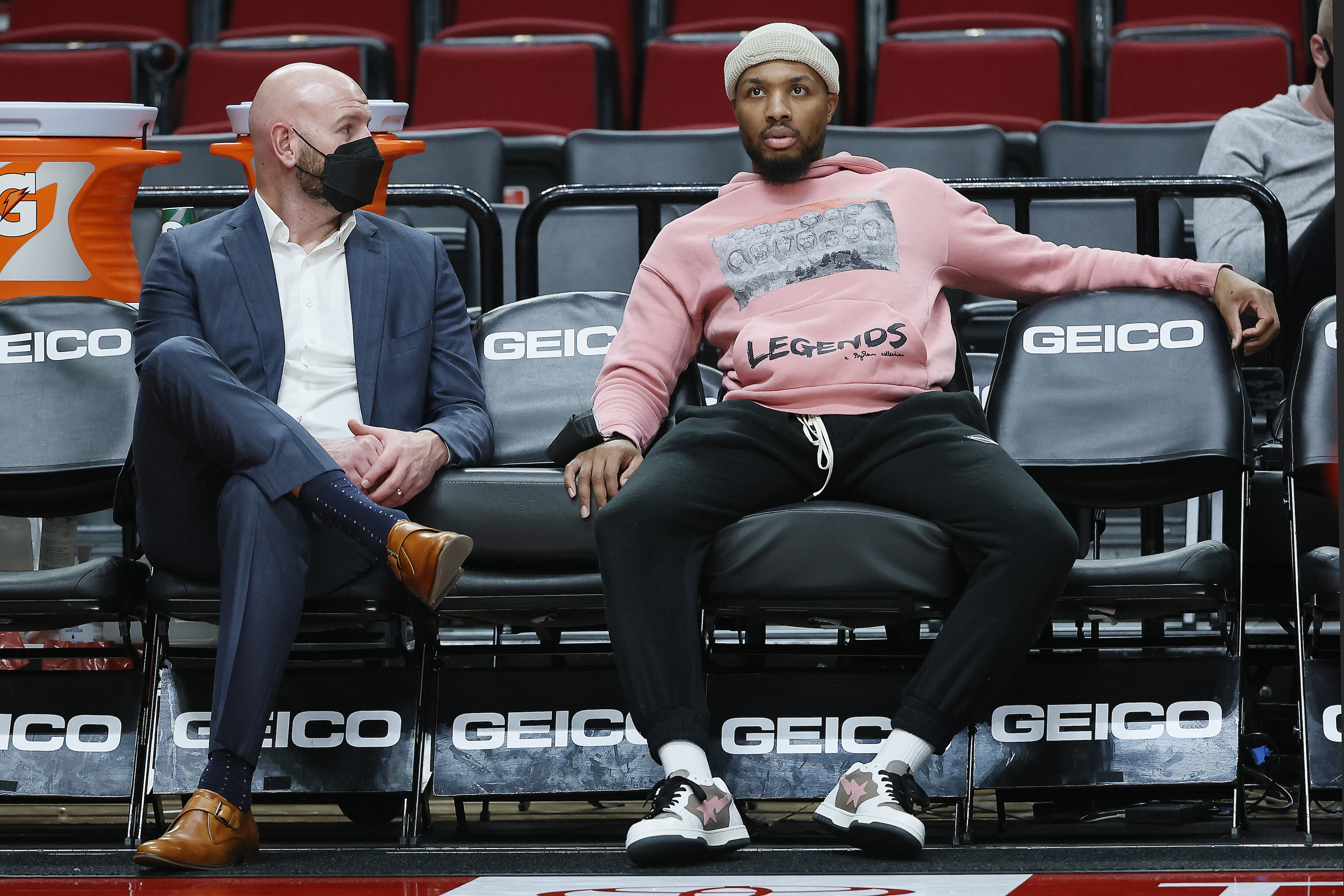 It remains to be seen whether Damian Lillard plays basketball again this season.
During his media availability session on Saturday, Lillard said that he feels better after undergoing surgery to repair his abdominal issue. However, he reiterated the timeline of 6-to-8 weeks in terms of his reevaluation period. Pair that with the fact that he will have to ramp back up, and Lillard could easily miss over two months.
If the Blazers were in the thick of the playoff chase, Dame would likely try to get back on the floor as soon as possible. But Portland is on the fringes as the No. 10 seed in the Western Conference. The team is every bit as close to going into tank mode as making a playoff push. Lillard said he wouldn't feel compelled to return should the Blazers start planning for the future.
"I mean, if we are going to play for a draft pick, it wouldn't make sense for me … because I'm not going to play for no draft pick," Lillard said, per The Athletic. "I'm just not capable of that. So it would be best, if that was what we were doing or what was decided, then it wouldn't make sense for me to play."
That might sound like an ultimatum, but it isn't. Lillard explained that he'd want to feel fully healthy even if he did come back. Why hurry the recovery process and risk a setback in what could amount to a lost season?
In actuality, Lillard appears to make a reassuring statement of personal calm.
Lillard noted that he doesn't feel rushed
Lillard has yet to speak with the front office about their intentions before the Feb. 10 NBA trade deadline. That said, he doesn't sound overly concerned with the team's plans.
The 31-year-old plainly stated his desire to get to full strength and help the Blazers win a championship. He also insisted that he plans to take things slow.
"But I'm not in a rush. My No. 1 goal is to win a championship, and like I said, I have to be in the best form of myself to make that happen and to be a part of that. So I'm not in a rush. We will talk about whatever that timeline is when we get to that point."

–Damian Lillard, via The Athletic
Lillard's comments about not rushing anything likely referred most closely to his recovery and the 2021-22 season. Still, it can also be seen as a willingness to sit back and see how interim general manager Joe Cronin upgrades the roster before the deadline.
Dame's injury robs the Blazers of their best scorer, playmaker, and on-court leader. After an offseason full of drama and trade rumors, in addition to Portland's bleak start, the franchise could just as soon use the injury as an incentive to start over.
Alternatively, Lillard's constant expressions of loyalty might lead to Cronin getting aggressive in landing players to get the Blazers over the hump.
Can the Blazers reposition?
The Blazers will likely still do some selling before the NBA trade deadline. They have some expiring contracts and veteran players — most notably Robert Covington and Jusuf Nurkic — who could garner some attention on the trade market.
But Portland seems every bit as intent on adding as it is on subtracting.
Recent reports linked the Blazers to Jaylen Brown and Jerami Grant. Acquiring Brown, in particular, would demand an enormous haul. However, it reflects Portland's apparent desire to keep building around Damian Lillard.
The team's performance in the next couple of weeks will determine whether the Blazers trade all their assets or reposition by moving some veterans while simultaneously trying to make a big splash. Either way, Lillard's pacifying message likely propels Portland to act.