NBA Trade Deadline: De'Aaron Fox Is No More Prepared to Withstand the New York Pressure than Julius Randle Proved to Be
The Sacramento Kings might have changed their minds (again) about dealing point guard De'Aaron Fox. A few weeks ago, reports had the club building around Fox and second-year guard Tyrese Haliburton. A new rumor surfaced linking the fifth-year point guard to the New York Knicks in a blockbuster trade that would include reigning NBA Most Improved Player Julius Randle.
The Knicks desperately need backcourt help, and Randle is struggling as well. As for Sacramento? Your guess is as good as anyone's, considering there hasn't been anything resembling a coherent plan for the franchise in more than a decade.
The relationship between Randle and New York soured quickly. But considering Fox has played in (checks notes) zero meaningful late-season games in his NBA career, is the Manhattan pressure-cooker environment going to crush him the way it seems to have done with Randle?
De'Aaron Fox isn't progressing in Sacramento
De'Aaron Fox steadily improved for the Kings through his first four seasons, though his three-point shooting didn't develop. Still, he went from 11.6 points and 4.4 assists per game as a rookie to 25.2 and 7.2, respectively, last season.
In the first year of the max extension he signed in November 2020, the former Kentucky Wildcat took a significant step back this season.
Fox isn't shooting as well from anywhere on the court. His two-point percentage fell from 53.9% to 51.5%. His 3-point shooting went from a below-average 32.2% to a please-stop-shooting-those 24.8% rate this season (in fairness, his volume dropped from 5.5 to 3.7 attempts a night).
It seems the 24-year-old caught the same affliction that infects nearly every Sacramento lottery pick over the last decade-plus. DeMarcus Cousins was the franchise's last All-Star in 2017. While he escaped the Kings, he's had little but bad luck since he left. In 2018, the team passed on Trae Young and Luka Dončić to take Marvin Bagley III. Maybe not an airball but not a slam dunk, either.
Bad habits have become commonplace in Sacramento. The team isn't good, the playoffs are a seemingly unreachable goal, and the national media only stops ignoring the Kings long enough to laugh at them.
It hardly seems a training ground for a young player to prepare for the New York microscope.
The Knicks reportedly want to move on from Julius Randle
Julius Randle, like De'Aaron Fox, is a former one-and-done standout at Kentucky. He's also having the least-efficient season of his eight-year career.
An All-NBA player in 2020–21, Randle averaged 24.1 points, 10.2 rebounds, and 6.0 assists while shooting 47.4% from two-point range and 41.1% on 5.5 deep tries a night.
His range evaporated this season. The 27-year-old makes only 30.3% on 5.3 attempts a game from beyond the arc and shoots marginally worse inside it as well at 46.4%.
And it's not just his jump shot that deserted him. Randle is shooting lower this season from every area of the floor. The drop-off is most pronounced in the mid-range area. He's gone from 43.4% from 10 to 16 feet and 41.4 on deep twos to 36.1% and 33.6%, respectively.
Throw in the fans turning on Randle and his reciprocation, and it's a mess in Manhattan.
According to Brian Windhorst on The Hoop Collective podcast, the Knicks are interested in Fox.
"This has been reported elsewhere, but I've heard as well that the Knicks have shown some interest in De'Aaron Fox," Windhorst said. "The player that makes the most sense in that swap is Julius Randle."
The salaries don't quite work for trade purposes. Fox's cap number is $28.1 million in the first year of a five-year, $163 million deal. Randle's salary is $19.8 million. His four-year, $117.1 million extension doesn't begin until next season.
Because the Knicks are over the salary cap, they need another salary to make the trade math work. Kemba Walker ($8.7 million) is a replacement at point guard for the Kings, at least on paper.
Walker is at least part of why the Knicks would look at this trade in the first place.
De'Aaron Fox doesn't replace Julius Randle, but he addresses a problem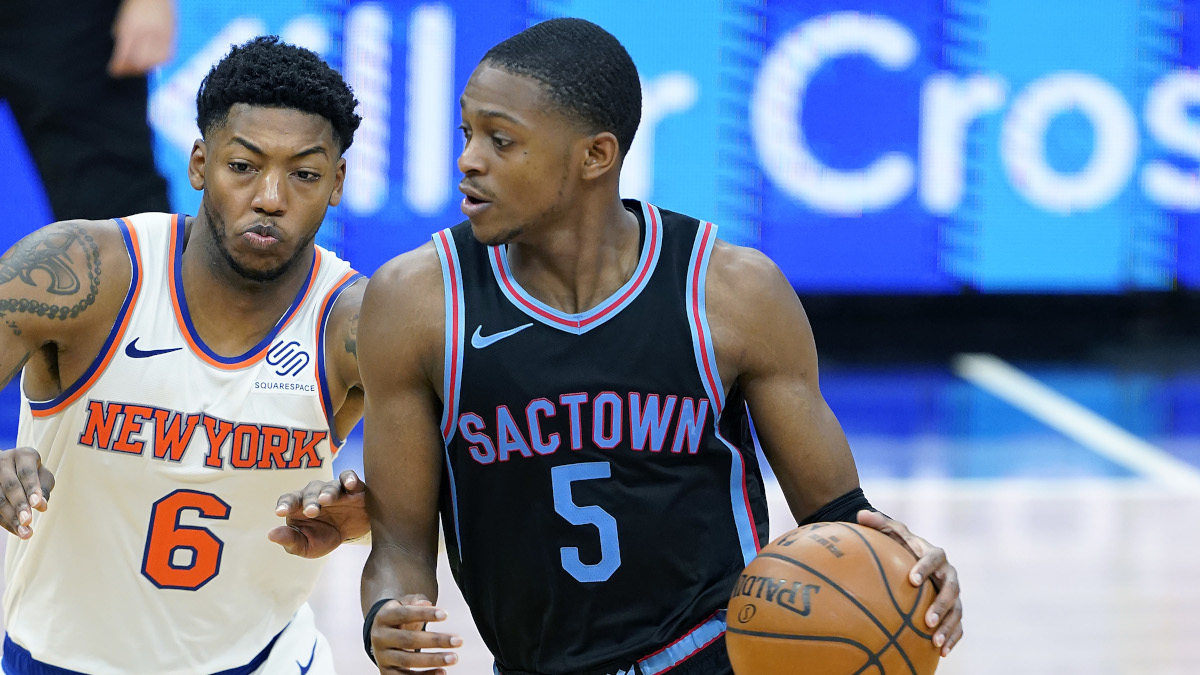 In December, Kemba Walker returned with a vengeance from a 10-game benching. In his first three games back in the rotation, he averaged 31.3 points. Then his knees reminded him they were 31 years old and badly battered.
He missed nine games because of a sore knee, and since returning on Jan. 18, the former All-Star has been awful. In seven starts, Walker averaged 6.7 points on 35.4% shooting. He went scoreless in 34 minutes over his last two games.
If the Knicks move Julius Randle to get De'Aaron Fox, they appear to have a ready-made replacement in second-year pro Obi Toppin. He's a fan favorite (for now), and his per-36-minutes numbers are promising.
But those numbers come from just 15.7 minutes per game. Increased volume often depresses those gaudy adjusted statistics.
Toppin takes almost 58% of his shots at the rim and hits 71.3%. He's not the threat Randle used to be outside that range and is only 19-of-78 (24.4%) from deep.
Sacramento is 19–35, 13th in the West, and three games out of the last play-in spot. New York has lost seven of nine to fall to 24–28, 12th in the East, and 1.5 games behind the 10th-place Atlanta Hawks.
A De'Aaron Fox-for-Julius Randle trade might create some buzz. But while Randle can disappear into the oblivion of Northern California, Fox might not handle the bright lights of Broadway any better.
Statistics courtesy of Basketball Reference. Contract information courtesy of Spotrac.
RELATED: NBA Trade Deadline: The New York Knicks Should Seriously Consider Moving Julius Randle