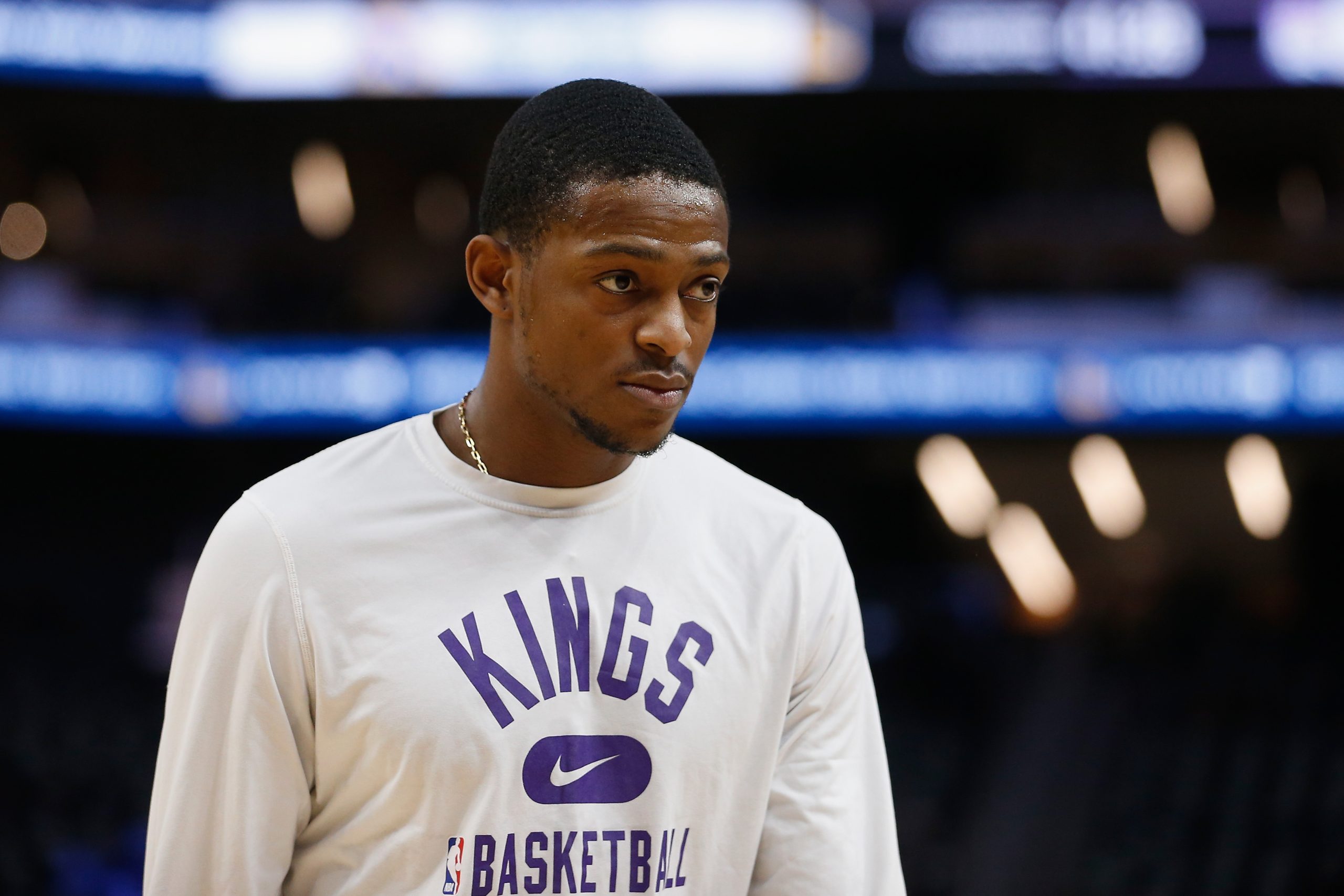 NBA Trade Deadline: Has De'Aaron Fox Already Become the Next Russell Westbrook?
Sacramento Kings point guard De'Aaron Fox might be on his way to becoming the next Russell Westbrook.
Sacramento Kings young point guard De'Aaron Fox has heard his name thrown around as the NBA trade deadline nears. While the rumors swirled about where he was headed, the Kings dealt two of his backcourt mates in Tyrese Haliburton and Buddy Hield to the Indiana Pacers in a deal for Domantas Sabonis.
Despite the hype, Fox is still grounded in Sacramento. He may not go anywhere anytime soon. Is the Kings point guard turning into the next Russell Westbrook?
De'Aaron Fox knows his name can be called anytime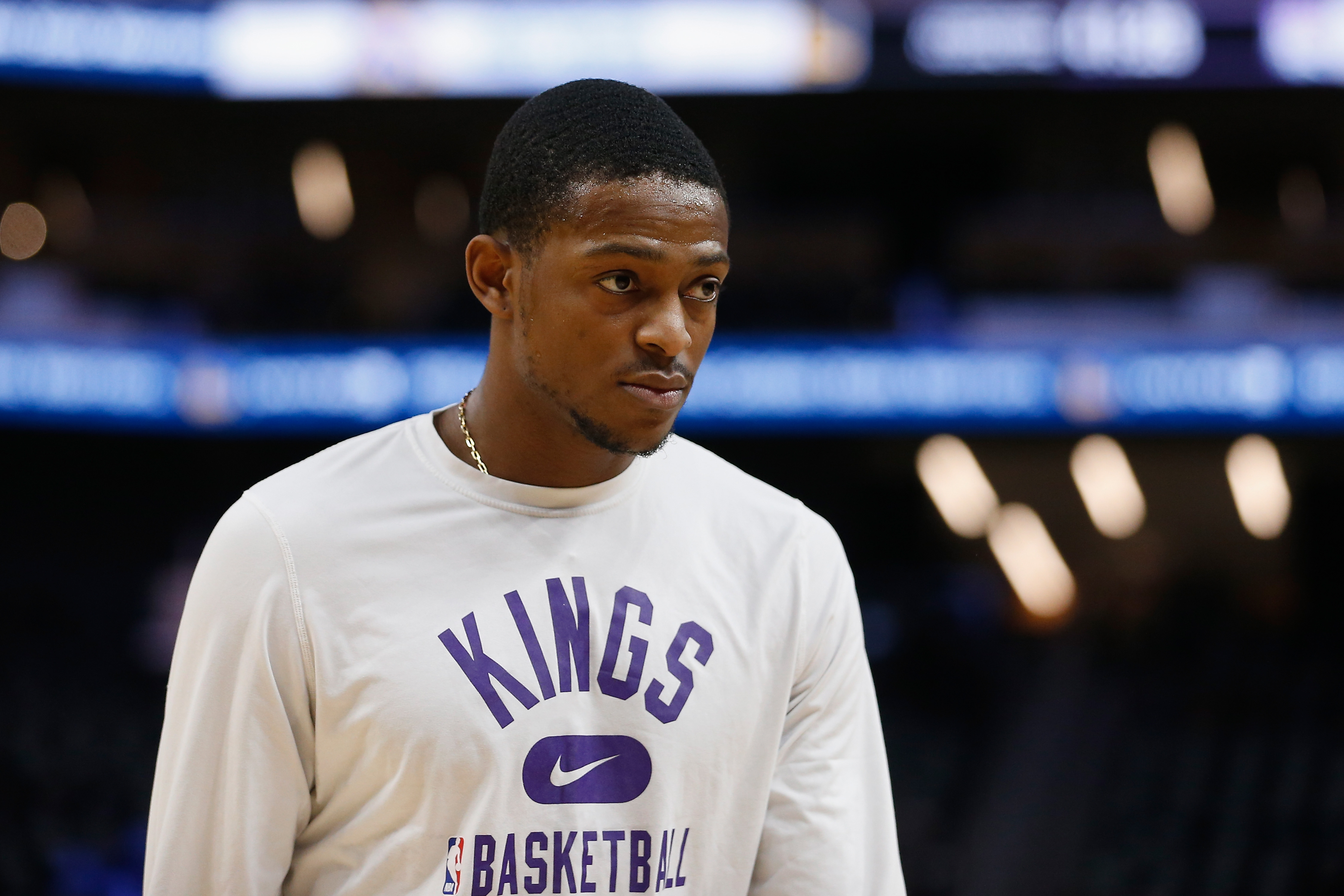 Fox is in his fifth season with the Kings after they took him fifth overall in the 2017 NBA Draft. The speedy 6-foot-3 guard goes through this each year. When the trade deadline nears in Sacramento, everyone is on the block.
The Kings have been woeful for years. They are mired in the NBA's longest playoff drought that has spanned 15 seasons. Anyone can go.
"I'm not going to sit here and say I want to get traded, but anything can happen in this business," Fox told Chris Haynes of Yahoo Sports in January. "You've seen the best players in the league get traded. You can't think you're safe."
Fox is averaging 21.2 points and 5.2 assists per game this year, a significant drop from last year's averages of 25.2 points and 7.2 assists. He's been inconsistent this year, and he readily admits it.
"You play a lot of basketball games and you're going to play well and you're going to play bad," he said. "Do I think I've had the greatest season this year? No. I know I haven't played too well. But I try to control what I can control and do the best that I can do." 
Is De'Aaron Fox becoming the next Russell Westbrook?
Fox's overall numbers are still strong, but the dip from a year ago is concerning.
Fox is in the first year of a five-year, $163 million contract extension he signed in November 2020. That could be why he'll likely call Sacramento home for the next few years.
According to Spotrac, Fox is making $28,103,500 this year, and his salary for next year bumps up to $30,351,780. It's a hard sell for a guy who has yet to make an All-star team and has seen his numbers take a hit a year after inking his new deal.
Fox is on the path to becoming Westbrook, and that's no compliment.
The Lakers would love to find a way to deal Westbrook, but poor play and the $44 million he owed this year and $47 million next year make him unappealing. Fox isn't on that level yet, but his salary will continue to climb, and if his production keeps plummeting, he won't be the envy of many.
Fox is shooting a woeful 26.4% from beyond the arc this season. Westbrook is at 29.8%. While Fox has proven he can score, he hasn't shown he can stop anyone. Fox and Westbook earned the big deals, but now those contracts and similar deficiencies are working against them and their teams.
The Kings' deal for Domantas Sabonis is a head-scratcher
It's apparent the Kings have struggled to move Fox. With the logjam at the guard position, they overcompensated, dealing Haliburton and Hield in the Sabonis deal. Along with Sabonis, they did receive swingmen Jeremy Lamb and Justin Holiday.
Sabonis is a heck of a player, putting up 18.2 points and 12.1 rebounds. He was the 11th overall pick in 2016. The Kings could have had him then but selected Marquese Chriss three picks before Sabonis was taken.
Sacramento helped solve a rebounding problem but created another one. There is nobody left on that team who is a legitimate 3-point threat after losing Haliburton (41.3% from beyond the arc). Hield shot 36.8% from three-point land.
Haliburton was the Kings' biggest asset. He stuffed the stat sheet, showed tremendous upside, and is still on a rookie deal.
It's par for the course for a team that has struggled mightily drafting players, like taking Marvin Bagley over Luka Doncic or Trae Young in 2018. The bad moves have stayed with them as evidenced by their playoff drought. Looks like Fox may also be staying with them for quite some time.