NBA Trade Deadline: Montrezl Harrell Puts Washington Wizards on Blast; Is He Trying to Talk His Way out of DC?
If nothing else, the Washington Wizards remind us that an NBA season is a marathon, not a sprint. The shine of Washington's glowing 10–3 start isn't even visible in the rearview mirror. After a listless 95–80 loss at home to the Phoenix Suns on Feb. 5, the Wizards have lost seven of their last eight games and trail the Atlanta Hawks by a game for the final play-in tournament spot in the East. Backup center Montrezl Harrell hit his breaking point after the latest defeat.
Since the roaring start, Washington is 14–25. In the East, only the Indiana Pacers (13–26), Detroit Pistons (9–30), and Orlando Magic (9–31) are worse since Nov. 16. As one might suspect, the Wizards are among the worst in the NBA in both offensive and defensive efficiency in that span. Their 109.2 offensive rating is 23rd of the 30 teams in the league. They are 27th defensively, surrendering 114.4 points per 100 possessions.
The Bradley Beal trade rumors are flying again. Spencer Dinwiddie is as underwhelming in the locker room as he has been on the court. And now Harrell is blasting in all directions.
Getting healthy hurt the Washington Wizards
The returns of Thomas Bryant and Rui Hachimura in January from season-long absences haven't given the Washington Wizards the expected boost.
Instead, Bryant's presence gummed up the center rotation. Starter Daniel Gafford's playing time atrophied from 22.9 minutes a game before Bryant rejoined the team after a lengthy rehabilitation of an injured knee to 11.7 since with one DNP-Coach's Decision mixed in.
Montrezl Harrell wasn't immune, either. Though he's played 21.5 minutes a game with Bryant back in uniform, coach Wes Unseld Jr. admitted it's been challenging to get the rotation settled. Of course, that could be by design.
Gafford signed an extension in October, and the Wizards can't trade him before the Feb. 10 deadline. Bryant and Harrell are getting more playing time because the Wizards are probably shopping them.
Hachimura is coming off the bench for the first time after starting 105 games in his first two seasons. While Hachimura was away from the club, Kyle Kuzma took over as a starting wing, as did Kentavious Caldwell-Pope. Both players, along with Harrell, came in last summer's trade that sent Russell Westbrook to the Los Angeles Lakers.
Montrezl Harrell let it all hang out after the latest loss
Two seasons ago, Montrezl Harrell was the NBA's Sixth Man of the Year after averaging 18.6 points in 27.8 minutes per game for the Los Angeles Clippers. But the only offer he got in free agency was a two-year, $19 million deal with the Lakers that included a non-guaranteed second season.
He scored 15 points with seven rebounds in the loss to Phoenix on Feb. 6 and was 5-of-12 from the floor. When asked about the mood of the Wizards, Harrell unloaded, per a tweet from Chase Hughes of NBC Sports Washington:
"It sucks, bro. That's the mood of the f***ing team. It sucks. That's the energy in the room right now. It f***ing sucks."
The seventh-year veteran later said the team wasn't ready to play. He's also having none of the discussion about the team's energy, per Kareem Copeland of The Washington Post.
"If you can't energize yourself or fire yourself up to be able to come here and play the game of basketball, which is your job, and you make a lot of money to do it, brother, then you're in the wrong field," Harrell said. "So I'm tired of hearing that, bro. That's just an excuse. Simple as that.
"You've got to have somebody to pep you up and fire you up to get out here and play basketball, which you make millions of dollars to do, not going to a corporate job? Millions of dollars to play the game of basketball? Then you're in the wrong profession. You already lost."
Harrell has been around long enough to know the game. So there might have been a method to the outburst.
The Washington Wizards are likely to trade Montrezl Harrell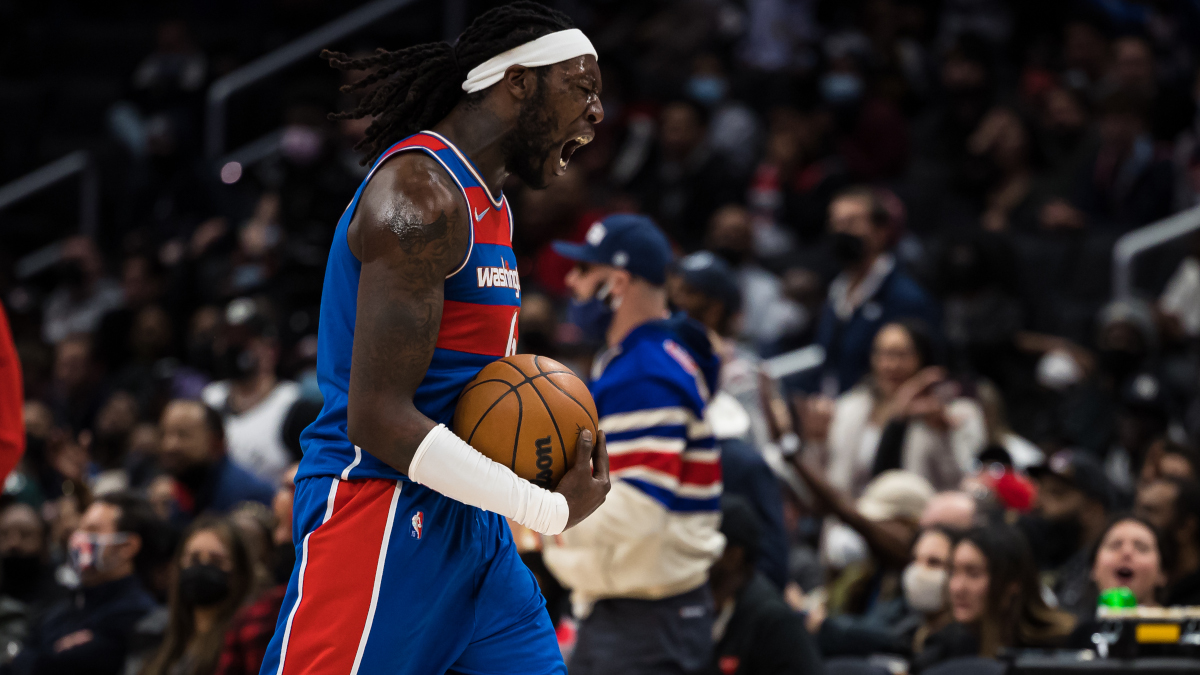 According to a report from Hughes at NBC Sports Washington, Montrezl Harrell is one of two players deemed most likely to move before the trade deadline. Struggling veteran Dāvis Bertāns is the other, but the 29-year-old has three years and $49 million remaining on his contract.
Bertāns is shooting 32.2% from 3-point range this season and is limited defensively. Essentially, he's a one-trick pony whose trick isn't working. The Washington Wizards would have to add value (i.e., future draft picks) to move him.
The 28-year-old Harrell is what he is — an undersized center who can score with efficiency inside of 10 feet. The problem is, he can't do much else. Overmatched at times as a rim protector and rebounder, the 6-foot-7 center could fit with a contender looking for inside scoring on the second unit.
Moving Harrell might help the locker-room chemistry in Washington. Beal intimated part of the problem for the Wizards is guys who are playing for their next contract. Harrell fits that description and had a halftime dustup in January with Caldwell-Pope.
If Montrezl Harrell used his platform after the loss to Phoenix to signal to the Washington Wizards he wants out as much as they reportedly want him gone, then mission accomplished. It's also worth noting Harrell's agent, Rich Paul, recently visited Wizards general manager Tommy Sheppard a day after meeting with officials from the Philadelphia 76ers. Stay tuned.
Statistics courtesy of Basketball Reference and NBA.com. Contract information courtesy of Spotrac.
RELATED: NBA Trade Rumors: Whether Ben Simmons Is Involved or Not, It Would Be a Colossal Mistake for the Wizards to Hold Onto Bradley Beal