NBA Trade Deadline: Myles Turner's Trade Market in Shambles After Domantas Sabonis Blockbuster
Apparently, there are a few teams who missed the memo saying the trade deadline isn't for another two days. One of those clubs is the Indiana Pacers, who finally hit the rebuild button with a stunning deal involving All-Star big man Domantas Sabonis.
The Pacers, who recently traded Caris LeVert to the Cleveland Cavaliers, agreed to send Sabonis to the Sacramento Kings in a multi-player package. Indiana is shipping Sabonis, Justin Holiday, Jeremy Lamb, and a 2027 second-round pick to Sacramento for Tyrese Haliburton, Buddy Hield, and Tristan Thompson.
With LeVert and Sabonis gone, center Myles Turner becomes Indiana's most significant trade chip. The center has been at the heart of numerous trade rumors over the past several weeks with no shortage of suitors showing interest. But any team hoping to land the talented big man will likely have to search for a Plan B.
Both Myles Turner and Domantas Sabonis have been on the trading block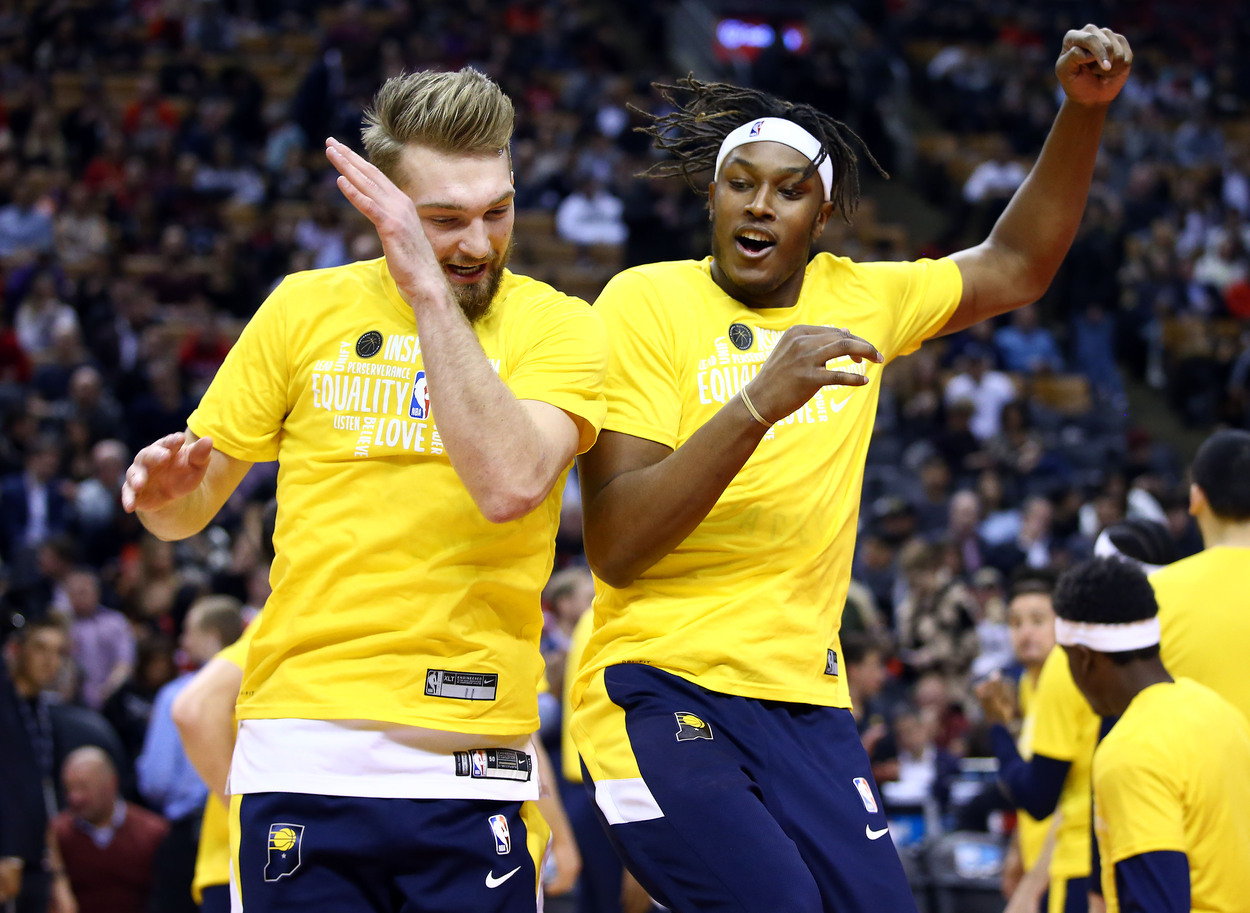 Indiana watched last year's postseason from home for the first time since 2015. So after a 10-16 in 2021-22 and Turner bashing the organization, it knew big changes were in order.
Back in December, The Athletic reported the Pacers were open for business. All three aforementioned players — Turner, Sabonis, and LeVert — were pieces Indiana was willing to discuss.
Despite its poor record, Indiana was fortunate to have one of the more promising frontcourts in basketball. The two-time All-Star Sabonis is averaging 18.9 points, 12.1 rebounds, and 5.0 assists per game. As for Turner, the 25-year-old has quietly developed into one of the league's top rim protectors. Along with a league-leading 2.8 blocks, the seven-year veteran is averaging 12.9 points and 7.1 rebounds.
Sabonis' departure all but guarantees Turner is staying with the Pacers
One important caveat in Indiana's trade talks was how even though Sabonis and Turner were both available, the probability both were dealt was slim to none. So with Domas on the move, Turner's fate in Indy is looking rock solid.
As ESPN's Adrian Wojnarowski reported, the Sabonis trade will have a major impact on Turner's future with the franchise. Not only will he serve as the team's primary big man, but he is reportedly thrilled with the idea of playing with Haliburton.
Of course, Turner maintaining residency in the Hoosier State will force a number of deadline buyers to scramble for a backup plan.
According to Jake Fischer of Bleacher Report, the Portland Trail Blazers, New York Knicks, Dallas Mavericks, Toronto Raptors, Charlotte Hornets, and even the Kings have shown varying degrees of interest in the 25-year-old. However, teams were hesitant to part with at least two first-round picks to satisfy Indiana's tall asking price.
The Trail Blazers for one can be crossed off as a destination after their CJ McCollum trade Tuesday morning. And obviously, the Kings can be ruled out as well. But a team like the Hornets, whose primary deadline need is an athletic center with offensive upside, must either send the Pacers a Godfather-like offer for Turner or settle for an inferior post player.
Myles Turner and Tyrese Haliburton give the Pacers a bright future
Losing a player of Sabonis' caliber is never easy. But all things considered, the Pacers are in a very good spot assuming Turner remains on the team.
By sending Domantas to Sac-town, Turner can now be better utilized as the team's primary big. This will give Indiana a more-balanced look on the court, since playing both Sabonis and Turner could often get clunky at times.
Turner, who has one more season at $18 million, goes from playing with a fellow skyscraper to a couple of strong three-point shooters in Haliburton and Hield. That will be huge for the Pacers, who rank 25th in the league in team three-point percentage. And both guards have a decent, team-friendly contract through at least the next two seasons.
Indiana is now set with a strong backcourt tandem of Haliburton and Malcolm Brogdon, a promising rookie in Chris Duarte, some knockdown shooting from Hield, and more opportunities for Turner to shine. Not to mention, it will have $40.2 million off the books after the season, with Ricky Rubio, T.J. Warren, and Tristan Thompson all on expiring contracts.
There is still some work to do for the Pacers to start contending again. But for now, they seem perfectly content watching how Turner reacts to his new role.
All statistics courtesy of Basketball Reference and contract figures courtesy of Spotrac.
RELATED: NBA Trade Deadline: The Pacers Hit a Home Run With Domantas Sabonis Trade and Immediately Set a Course for Future Contention