NBA Trade Deadline: New Orleans Pelicans Taking a $250 Million Gamble to Keep Zion Williamson Happy
The New Orleans Pelicans made a statement with their reported trade to acquire guard CJ McCollum from the Portland Trail Blazers. The crux of the message: We're all-in on keeping Zion Williamson in NOLA. The 30-year-old is the centerpiece of the seven-player swap. Three draft picks are also going to Portland.
The Pelicans have a tenuous grasp on the final play-in tournament slot in the Western Conference. At 21–32, they are 4.5 games behind the ninth-place Lakers and in a pillow fight with the Trail Blazers (21–33), San Antonio Spurs (20–34), and Sacramento Kings (20–35) for the right to play an extra road game and get crushed by one of the LA teams.
Acquiring McCollum isn't about the play-in tournament. Instead, it's sending a message to Williamson that president of basketball operations David Griffin is serious about surrounding the injured young star with talent.
What are the moving parts for the New Orleans Pelicans?
According to Adrian Wojnarowski of ESPN, the New Orleans Pelicans are acquiring three players. Besides McCollum, New Orleans brings in Larry Nance Jr. and Tony Snell.
Going to Portland is a four-pack of guards: Josh Hart, Tomáš Satoranský, Nickeil Alexander-Walker, and Didi Louzada. But the Pelicans also surrendered their 2022 first-round pick (protected 1-4 and 15-30 in a more complex-than-usual scenario) and two second-round picks.
McCollum, the headliner in the trade, is in his ninth season and the first year of a three-year, $100 million extension signed in 2019. He averaged 20.5 points, 4.5 assists, and 4.3 rebounds in 35.2 minutes over 36 games for the Blazers. He shoots 47.6% from two-point range and 38.4% on 8.0 attempts a night from deep.
Nance last played on Jan. 5, missing the last 17 games with a knee injury. He was dogged by injuries last season with the Cleveland Cavaliers, as well, and averaged 6.9 points and 5.6 rebounds in 23.2 minutes a game before he was hurt. He has one season and $9.7 million left on his contract, which is guaranteed.
Snell, like McCollum, was a first-round pick in 2013 and is going to his fifth team in four years. He signed a veteran's minimum deal with Portland after leading the NBA in three-point shooting for the Atlanta Hawks last season. To say he's struggled to recapture his form is an enormous understatement; Snell is hitting 32.0% from deep, averaging 2.6 points and 14.4 minutes per game.
While Zion Williamson rehabilitates in Portland from a broken foot, he'll at least have some more familiar faces in town, notably Hart and Alexander-Walker. All three joined the Pelicans in 2019.
Acquiring McCollum is a $250 million gamble by the New Orleans Pelicans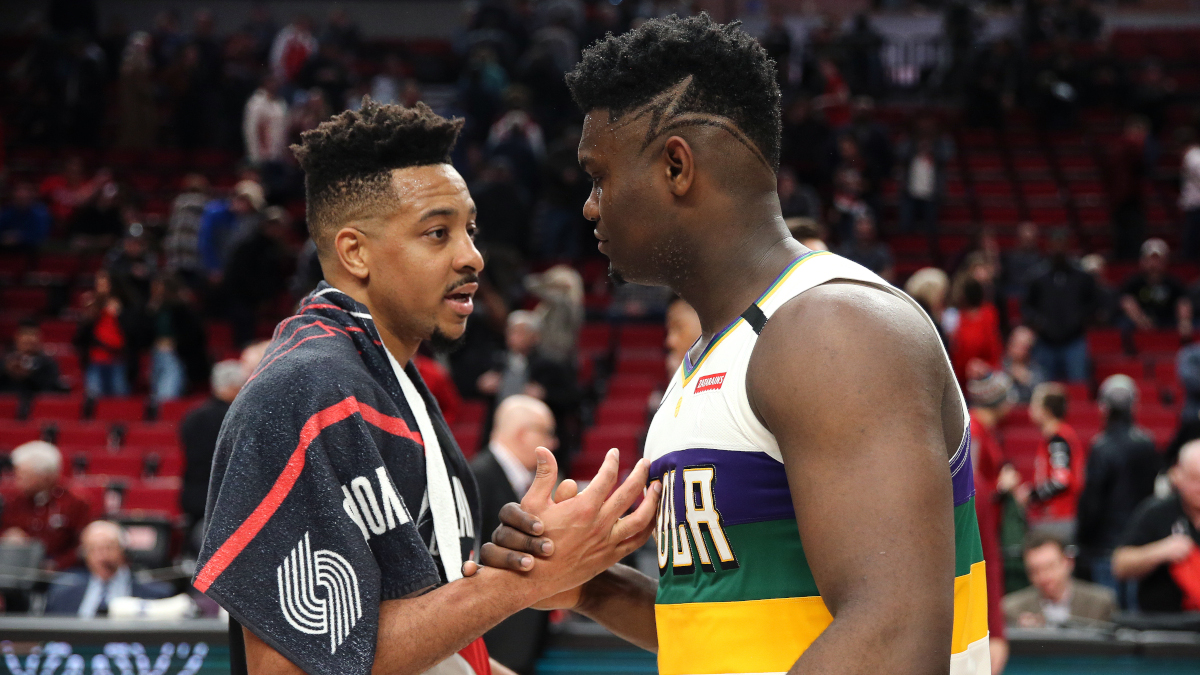 McCollum brings another scorer and playmaker to the New Orleans Pelicans. His three-point shooting is desperately needed; New Orleans is 26th in the NBA from deep at 32.9%. Hart didn't provide much help from distance this season at 32.3%. But he's younger and a significantly better defender. More on that point in a bit.
McCollum has two seasons and $69.1 million remaining on his contract and is on the wrong side of 30.
He is the first piece of Griffin's power play.
The second part is Zion Williamson, who becomes eligible for a five-year, $181 million extension in July. The first overall pick in the 2019 draft says he's happy in New Orleans and wants to stay. But the lingering problems with his broken foot are a consideration when paired with his robust 6-foot-6, 284-pound frame.
A meniscus tear limited him to 24 games as a rookie, and he played 61 of 72 games last season. Griffin painted the organization into a corner on media day in September when he said he was optimistic Zion would be ready for the regular-season opener. That was nearly four months and 53 games ago.
Given the franchise's history with franchise players wanting out sooner (Anthony Davis) or later (Chris Paul), the Pelicans need a win with Williamson. Watching another young star leave for pennies on the dollar or for nothing in free agency would be a blow to a fan base that hasn't had a lot to celebrate.
Even when Zion Williamson is healthy, there are on-court concerns
With Hart in their starting lineup playing 33.5 minutes per game, the New Orleans Pelicans are 20th in the NBA in defensive rating, allowing 111.3 points per 100 possessions.
Expect that number to climb with McCollum consuming those minutes. Hart is switchable at 6-foot-5 and 215 pounds and can defend 1 through 4. Against wings, he doesn't surrender much in terms of size. That's been important for New Orleans because point guard Devonte' Graham is 6-foot-1 and needs protection on defense.
The 6-foot-3, 190-pound Lehigh product won't provide that. He is an offensive force but a defensive liability. McCollum has never had a positive defensive box score plus/minus and is at minus-1.7 this season. Hart was a plus-0.6.
Neither wing Brandon Ingram nor center Jonas Valančiūnas is renowned for their defensive prowess. Zion Williamson has fielded some criticism of his work on that end of the floor, as well.
New Orleans has rookie Herb Jones, a defensive dynamo, and a rare player capable of guarding all five positions. However, he probably never believed the plan would be for him to do so simultaneously.
Griffin is all-in on retaining Zion Williamson. That signal was loud and clear with the trade to acquire McCollum. Whether it translates into more wins remains to be seen, but on paper, the New Orleans Pelicans will be swimming upstream defensively.
Statistics courtesy of Basketball Reference and NBA.com. Contract information courtesy of Spotrac.
RELATED: It's Officially Dame Time in Portland as the Trail Blazers Clear Space to Remake the Roster in Damian Lillard's Image