NBA Trade Deadline: The New York Knicks Just Boosted Their Playoff Chances With a Trade for Atlanta's Cam Reddish
Based on their position in the Eastern Conference standings, it was unclear whether or not the New York Knicks would be buyers or sellers at this year's NBA trade deadline. However, that stance has now been made clear as New York swung a deal to acquire Cam Reddish from the Atlanta Hawks.
The Knicks need a boost (or boosts plural) to try and solidify a playoff spot and make a possible push during the postseason.
Reddish may not be the only trade the organization makes, but the two-way wing will be a helpful one.
The New York Knicks swung a trade with the Atlanta Hawks to acquire wing Cam Reddish
According to Bleacher Report, the Knicks were rumored to be interested in Reddish, and just two days later, made a deal happen.
According to ESPN, the trade looks like this:
New York Knicks receive: Cam Reddish, Solomon Hill, 2025 second-round pick via Brooklyn
Atlanta Hawks receive: Kevin Knox, protected 2022 first-round pick via Charlotte
The Hawks have been rumored to be willing to move players out of Atlanta heading toward the deadline. Reddish now becomes the first.
And New York didn't have to give up much for a promising 22-year-old.
Knox was a first-round pick in 2018 and has never proven to be anything more than an end-of-the-bench player during his first three-plus seasons.
And the Hornets are square in the playoff race, so Charlotte's first-rounder is not only protected but shouldn't even be a lottery selection.
The trade is a win for New York.
Reddish should help on both ends of the floor as the team pushes for a higher seed in the East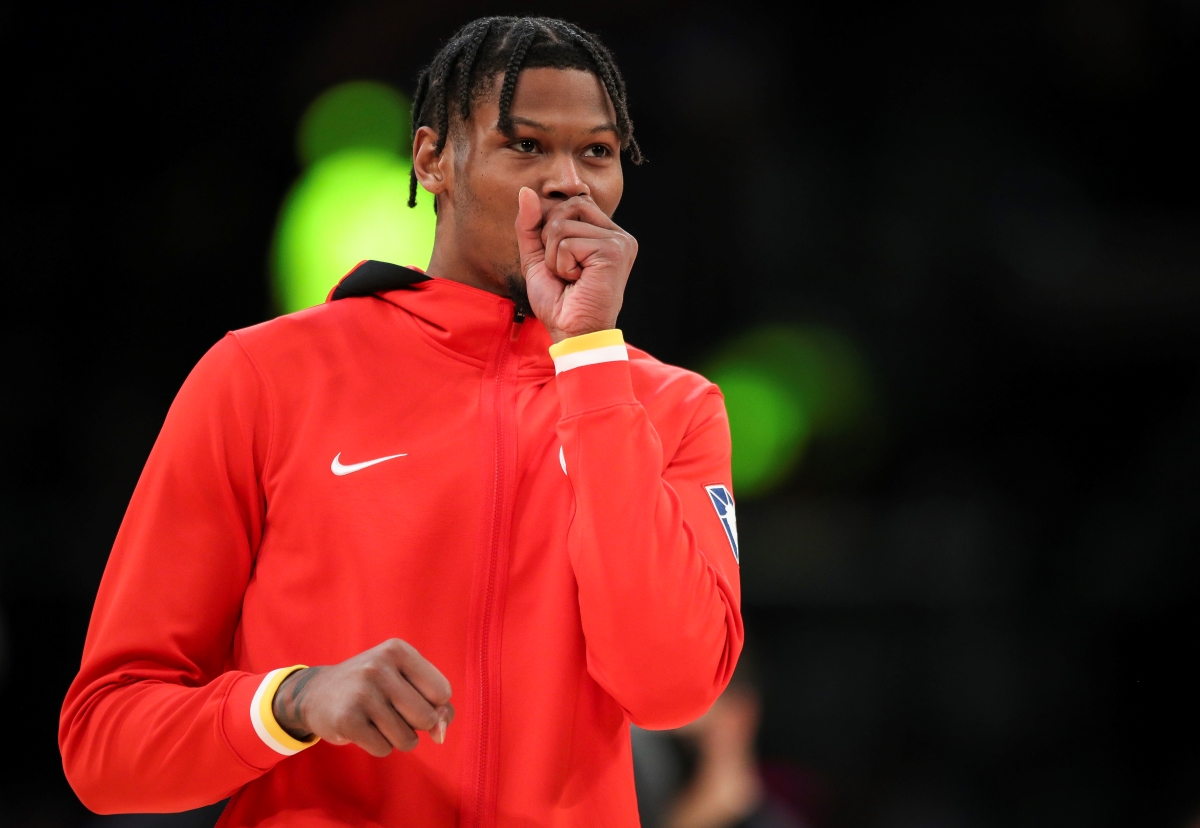 Reddish gets reunited with his former Duke teammate and fellow 2019 lottery pick RJ Barrett. And he'll add depth both offensively and defensively.
An athletic 6-foot-8 wing, Cam has shown flashes of NBA-caliber three-and-D potential during his time in Atlanta.
This year, he's been coming off the Hawks' bench and averaging 11.9 points. The third-year-pro is shooting 37.9% from three on 4.5 attempts per game.
That put him second on his former squad for any player taking that many 3-point attempts a night.
Reddish has also shown flashes of lockdown defensive potential. He averages more than a steal per game for his career and is athletic enough to stick with most NBA wings.
In four games during the Eastern Conference Finals against the eventual-champion Milwaukee Bucks last season, Cam posted 12.8 points a night on 52.8% shooting from the field and a whopping 64.3% from three on 3.5 attempts.
He had 21 points in Game 6 and averaged 1.5 steals during the series. He flashed that high-level two-way potential in the most important games of his career.
That could come in handy for New York.
The deal with Atlanta may not be the only trade the Knicks make
As of Jan. 13, the Knicks sit 11th in the East with a .500 record of 21-21.
But they're only two games back of Charlotte, who's seventh in the standings, and just three games back of the Philadelphia 76ers, who are fifth in the conference.
The Reddish trade signals New York is at least making a playoff push, and it greatly increases their chances. And giving up Knox and a pick certainly didn't clear the team's stable of tradeable assets.
The Knicks may not be done yet if they hope to make some noise in the postseason, assuming Reddish helps them get there.
All statistics courtesy of NBA.com.