NBA Trade Deadline: A Potential Donovan Mitchell Problem in Utah Proves Daryl Morey and the Sixers Are Right to Hold Onto Ben Simmons
A lot (like a lot) has been made of the Philadelphia 76ers and general manager Daryl Morey's refusal to trade Ben Simmons. Rumors are still swirling around the Sixers, but Morey has been resolute in his refusal to deal his former franchise star for anything less than another star.
An argument can be made that Simmons should be traded before this year's Feb. 10 deadline to provide Joel Embiid with at least some additional help.
But at the same time, a potential storm that might be brewing in Utah proves Morey could indeed be correct in holding onto the three-time All-Star point guard.
Utah Jazz star Donovan Mitchell is the newest entrant to the NBA trade rumor cycle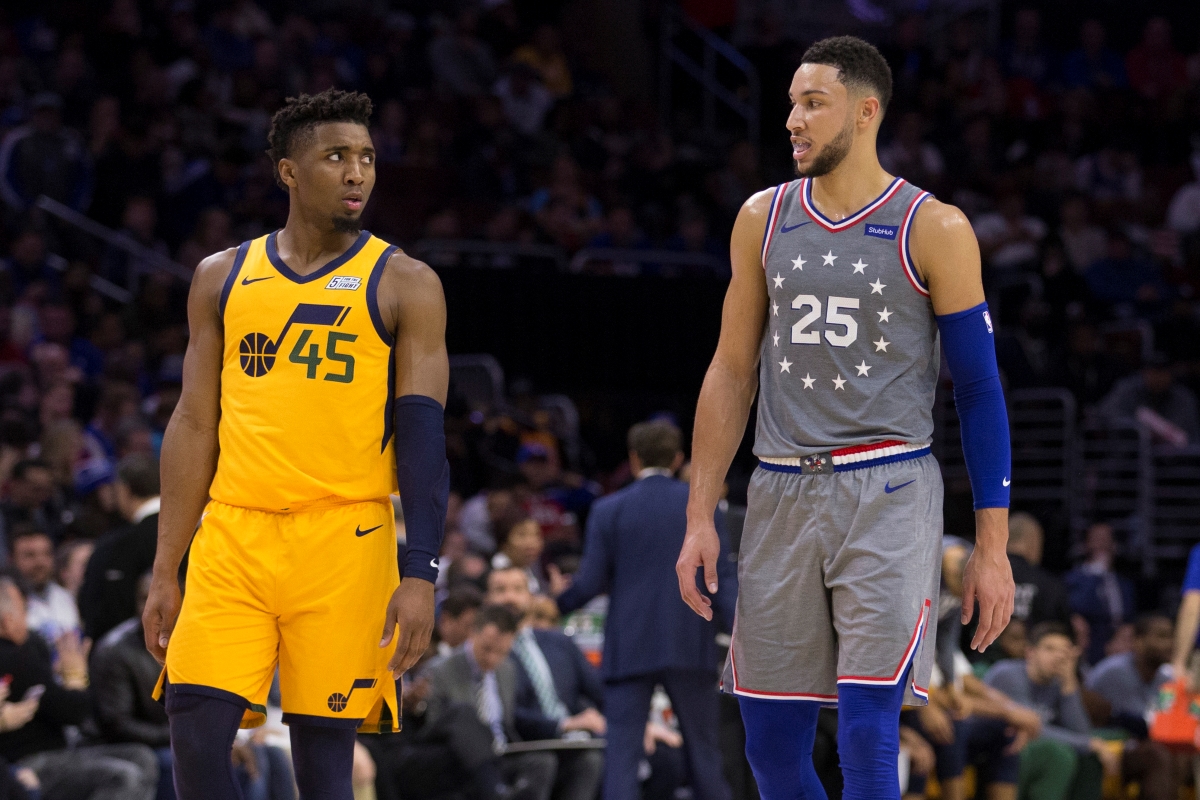 The Jazz have been one of the best teams in the Western Conference and a possible title contender for the past few seasons.
Utah is fourth in the West, but it once held the No. 1 spot and is freefalling. Now the team has lost crucial contributor Joe Ingles for the season.
So with the Jazz's season heading in the wrong direction, rumors are beginning to surround superstar guard Donovan Mitchell.
During an episode of ESPN's The Hoop Collective, reporter Tim MacMahon raised questions around the franchise's ability to keep its cornerstone long term:
"I'm going to say there is at least speculation around the league that market size might matter to him," McMahon said.
"I think that the Jazz's ability to prove they're a bonafide contender or (to) win a championship could matter, that could be part of the decision-making process," he added.
MacMahon and host Brian Windhorst compared the situation to that of Giannis Antetokounmpo and the Milwaukee Bucks. Milwaukee stayed in constant contact with Antetokounmpo and asked The Greek Freak for possible teammates with which to surround him.
Jrue Holiday's name came up, the Bucks made a deal to acquire him — even if it seemed like an overpay — Giannis re-signed with the franchise, and the team won a title.
That's the ideal scenario. But more often than not, things don't play out ideally.
Morey and the Sixers appear to be waiting for the next superstar — possibly Mitchell — who becomes unhappy and doesn't get what he wants from his franchise.
Mitchell's situation proves the Sixers are right to refuse to trade Ben Simmons for pennies on the dollar
If indeed this possible predicament plays out and Spida does become available, Philly could be in business.
Most of the recent rumors surrounding Simmons and the Sixers involve players like De'Aaron Fox, Tyrese Haliburton, CJ McCollum, or Caris LeVert. Dealing the former LSU star for all those players might not be an even trade for Morey.
James Harden seems to have been the original white whale for the 76ers, but that deal isn't happening before the deadline.
Damian Lillard was a possibility, but that appears off the table. Bradley Beal doesn't seem to be leaving Washington. At the moment, there isn't a like-for-like trade involving Simmons.
Morey appears to be awaiting the next disgruntled superstar to demand out of his current situation. Perhaps Mitchell is that superstar — but even if he's not, someone else could be coming around the corner.
Kyrie Irving demanded out of Cleveland shortly after winning a championship. Who saw that coming? Kawhi Leonard wanted out of San Antonio and got his wish.
Anthony Davis asked out of New Orleans and even forced the Pelicans to send him to LA. Harden did the same thing with Houston, demanding to be traded to Brooklyn.
Player empowerment seemingly continues to reach new heights. Maybe Utah's franchise cornerstone eventually gets fed up with the Jazz. Perhaps he even tells the front office he'll only go to Philly because he wants to play with Embiid.
Bam. There's the Ben Simmons trade Morey has been waiting for. Organizations have been put in this predicament before. Who's to say the Sixers won't be the beneficiary of the next one?
The next superstar trade demand is seemingly always right around the corner
The list of examples is growing. Maybe it's Mitchell. Perhaps it's Beal.
It could very well be someone no one has thought of yet. A month ago, were there any bonafide clues pointing to Spida being done with the Jazz?
Zion Williamson hasn't been happy with the Pelicans organization. Maybe Luka Doncic feels like he can't win in Dallas. Who knows who will be next? But what does seem clear is that someone will be next.
Morey has come under fire for holding Simmons hostage. Big Ben is an empty roster spot that could be helping Embiid inch closer to a title when there's no guaranteeing how many shots he has left.
On the other hand, what if Mitchell ends up taking that spot next year?
It's a dangerous game to play, but if it's played correctly, the prize could be the Larry O'Brien Trophy.
All statistics courtesy of NBA.com.
RELATED: The Jazz Brutally Lose Fan Favorite and Critical Trade Asset Joe Ingles in the Same Night