NBA Trade Deadline: Sacramento Kings Made A Mistake Not Prioritizing a Chance for a Dream Tyrese Haliburton-Domantas Sabonis Tandem
The Sacramento Kings have accomplished the near-impossible. The organization is now one of the three certainties of life, joining death and taxes. However, their place in the trinity of existence is not a hallowed one. Instead, the Kings achieved this status because whenever there is a choice to be made, Sacramento will make the wrong one.
Every. Single. Time.
The Kings are reportedly trading second-year guard Tyrese Haliburton, three-point ace Buddy Hield, and veteran center Tristan Thompson to the Indiana Pacers for center Domantas Sabonis, wings Jeremy Lamb and Justin Holiday, and a lightly protected 2023 second-round draft choice.
Sacramento Kings mismanagement is always on its A-game
Meet Monte McNair, the Sacramento Kings' new(ish) general manager. He's essentially the same as the old president of basketball operations, Vlade Divac. It's like a cringeworthy song on repeat at max volume with no idea how to shut it off. Where to start?
How long has it been since the Kings reached the playoffs? The Oklahoma City Thunder didn't exist yet, the BlackBerry was the best phone on the market for business users, and LeBron James had just made his first appearance in the NBA Playoffs.
The year was 2006.
It feels at times like one of the qualifications to run the Kings' front office is to be the author of books like How I Turned $100 Million in Real Estate Into $10 cash and Some Arby's Coupons.
But that's just the tip of the iceberg on this trade.
The Sacramento Kings acquired Sabonis to play with De'Aaron Fox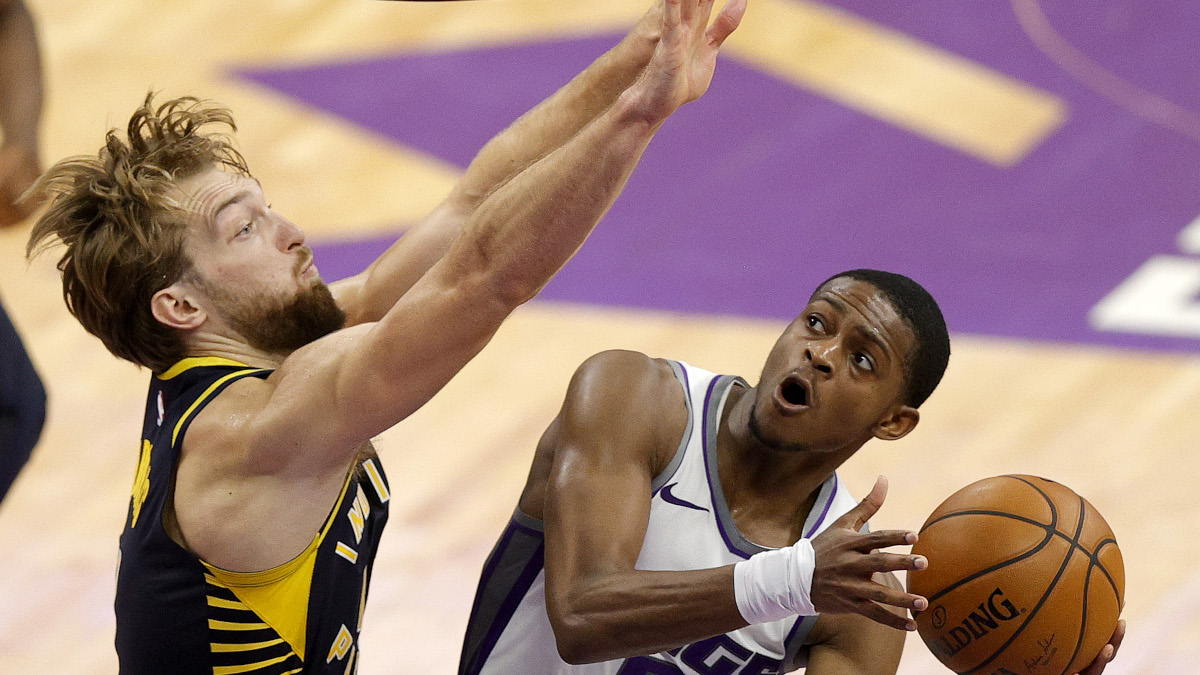 It wasn't very long ago that the Sacramento Kings reportedly told potential suitors for point guard De'Aaron Fox that they planned to build around Fox and Haliburton.
Fox is a 6-foot-3, lightning-fast point guard who thrives in transition. He's also not much of a shooter, hitting a dreadful 24.8% from deep.
On the other hand, Haliburton is a 6-foot-5 combo guard who, at age 21, already plays a very disciplined game. He's got a knack for finding shooters, as evidenced by his team-leading 7.4 assists per game despite being the secondary ballhandler. Oh, and the kid from Oshkosh, Wisconsin, was also Sacramento's best three-point shooter at 41.3%.
Then we have Sabonis coming to Sacramento. His game would mesh perfectly with Haliburton's. Domas is a throwback big, strong inside with a deft passing touch to find shooters out of the low post.
But Sabonis won't see Haliburton unless they wave at each other as their respective planes fly past each other. And that whole kicking the ball out to shooters? Good luck with that, big man. Because your new team just shipped their two best shooters to your old squad. Enjoy!
Sabonis joins a team with Marvin Bagley III at power forward. He's a left-hander who isn't much of a shooter and likes to work on the low block. If you're guessing the two-time All-Star coming from the Pacers is similarly a left-hander who wants the ball on the low block, congratulations! You may be qualified to be the Kings' next new GM.
It's not that Fox and Sabonis are doomed to fail. They're both excellent young players with bright futures.
It's just that Sabonis and Haliburton, if not ideally suited to win many games together, are close to it.
Alvin Gentry now gets to compete in the Steve Nash challenge
Interim coach Alvin Gentry has his work cut out for him. He replaced fired Luke Walton in late November.
Now he'll need to figure out how to work three bigs into one rotation when all of them are close-to-the-basket types.
He gets Lamb, who fell out of favor with new Indiana coach Rick Carlisle and played only 15.7 minutes a game.
And Gentry gets Holiday. Sometimes. He may want to call his old point guard from coaching the Phoenix Suns because Steve Nash is getting familiar with having home and road rosters that don't look the same.
Fox is officially the man in Sacramento. It makes sense; he's the highest-paid player on the roster at $28.1 million and is on a five-year, $163 million extension that kicked in this season. The Kings have Sabonis under contract for two more years at $18.5 million next season and $19.4 million in 2023–24.
But Haliburton is 21. He's in the middle of a solid second-year leap. And now he's gone. Instead, it's Fox, age 24 and showing signs of succumbing to the mind-numbing grind that is life with the Sacramento Kings.
Part of that existence is knowing deep down inside that if the front office makes a decision, it will be the wrong one.
Lather. Rinse. Repeat.
Statistics courtesy of Basketball Reference. Contract information courtesy of Spotrac.
RELATED: The Sacramento Kings Just Once Again Proved Their Organizational Incompetence By Trading Away Their Most Promising Young Player In Tyrese Haliburton