NBA Trade Deadline: Should the Dallas Mavericks Be Buyers or Sellers?
It's no secret that the Dallas Mavericks franchise is currently led by a generational superstar in Luka Doncic. But to this point in the Slovenian's career, Doncic's stardom hasn't translated into championship contention.
Dallas has been to the playoffs the past two seasons — this year will likely make it three straight — but the team has been eliminated by the Los Angeles Clippers in the first round both times.
So as the Mavericks approach another postseason under Luka's guidance, should the franchise add pieces to try and make a deeper run or try and attempt a mini-rebuild on the fly to make sure that, at some point, they start to find more success?
The Dallas Mavericks have begun to rally a November losing streak
Dallas currently sits fifth in the Western Conference standings at 22-18. But the Mavs are closer to the ninth-seeded Blazers than to the fourth-seeded Memphis Grizzlies.
It hasn't been a banner year so far in the 2021-22 campaign. Doncic himself admitted he arrived to training camp out of shape — at 260 pounds, according to USA Today.
Luka's listed playing weight is 230.
Things started well enough, but then Dallas went 2-8 during a 10-game span in November.
To make matters worse, team's 6-foot-7 franchise point guard has already missed 15 games this season, and his running mate, Kristaps Porzingis has missed 14.
Though the injury bug hit, hope returned in the form of a Doncic triple-double in a win against the East-leading Chicago Bulls on Jan. 9. Luka finished with 22 points, 14 rebounds, and 14 assists.
But in what basically sums up the team's season, Dallas lost by 23 to the New York Knicks three nights later.
What assets does the team have and what does it need?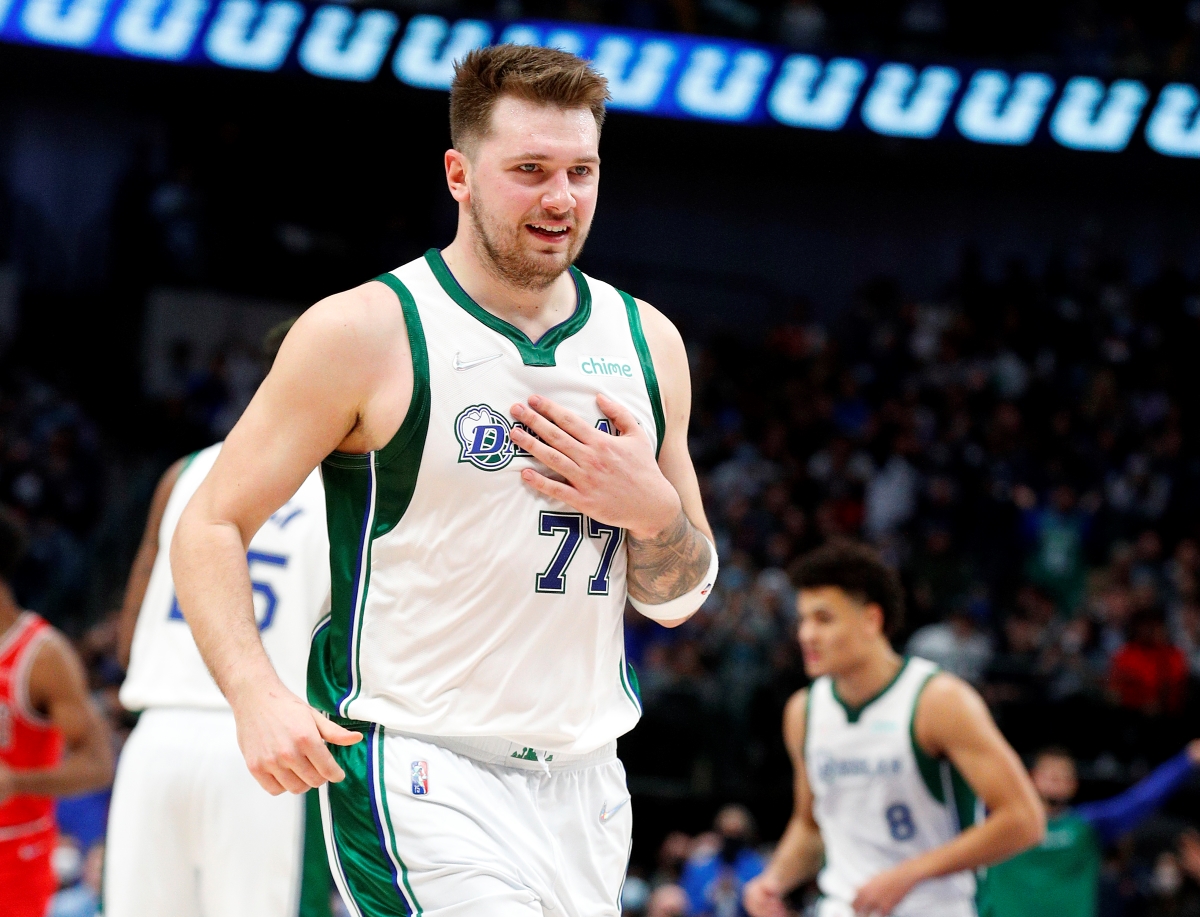 The Mavericks have expiring contracts in the form of Dorian Finney-Smith, Jalen Brunson, and Willie Cauley-Stein.
Maxi Kleber's $9 million salary for next year is non-guaranteed, as is Frank Ntilikina's $2 million contract. Dwight Powell, Trey Burke, Boban Marjanovic, and Sterling Brown all have deals that expire after 2023.
According to RealGM, Dallas owns its first-round pick this season. The team's 2023 first-rounder will go to New York, though it is top-10 protected.
Barring something catastrophic, Dallas shouldn't be picking inside the top 10 in 2023, which means it would lose that year's first-round pick. Assuming it conveys then, though, the Mavs have their own firsts moving forward.
In terms of needs, the answer is simple: anyone ideally suited to surround Luka. That means secondary ballhandlers, defenders, and 3-point shooters.
A target at this year's deadline could be Detroit's Jerami Grant, who would serve as a versatile defender and third offensive option behind Doncic and Kristaps Porzingis.
Indiana's Caris LeVert would fit the bill as another backcourt creator and scorer. Even someone like Atlanta's Cam Reddish, who would come cheaper, would work with his potential as a three-and-D wing.
Verdict: The Dallas Mavericks should be buyers at this year's trade deadline
To put it bluntly, the future of the franchise comes down to Doncic. Is he willing to go all-in, stay in shape, and max out his enormous potential?
Brunson and Finney-Smith are the ideal types of players that should theoretically surround Luka. The problem is they're not good enough to succeed without Doncic being at his peak. And right now, he's not.
That also begs the question — is re-signing them long term the best use of valuable cap space? Or would trading them now be the better idea?
In an ideal world, the Mavericks would find better versions of those two. But the chances of that happening aren't great with what Dallas currently has to offer.
Still, a move to grab somebody like Grant or LeVert, if the organization can swing it, would make a difference. Just not a championship-level difference.
It all comes down to Luka. The franchise will go as far as he can take it. And at the moment, he simply has to be better.
All statistics courtesy of NBA.com and contract information courtesy of Spotrac.