NBA Trade Deadline: Should the New York Knicks Be Buyers or Sellers?
The New York Knicks came into the 2021-22 season with high expectations. The Knickerbockers, led by a career year from Julius Randle, earned the No. 4 seed in the Eastern Conference and hosted a playoff series in the Garden. With Randle signing an extension and a large chunk of its roster returning, there was hope New York was taking a leap forward.
But that hasn't been the case — so do the Knicks make a trade at this year's deadline to bolster a struggling team or sell to continue to build for the future?
New York started its season well … since then, not so much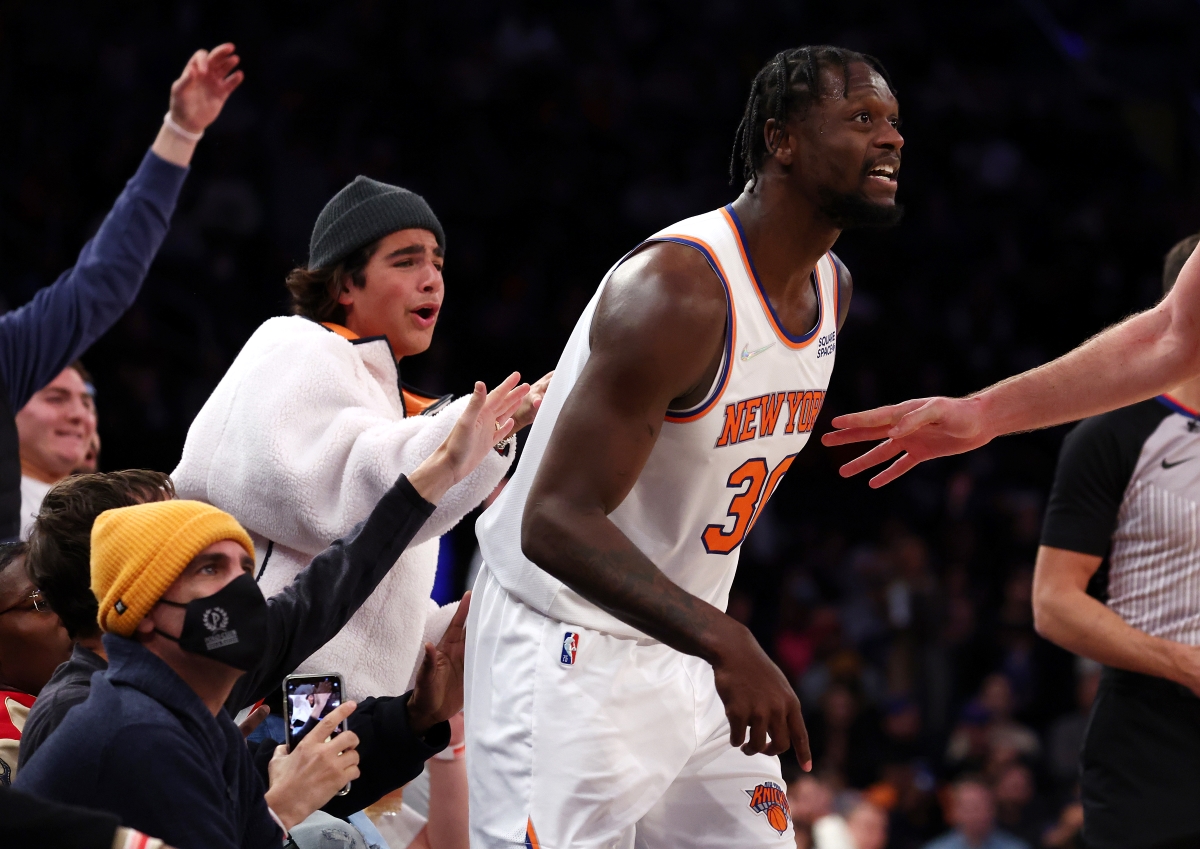 The Knicks won a dramatic season opener over the Boston Celtics in double overtime. They began the year winning five of their first six, and it looked like last year would prove to be a stepping stone to bigger and better things.
But from Nov. 26 through Dec. 14, New York went 2-8.
As of Jan. 12, the team is 20-21 and 11th in the Eastern Conference standings.
There are two ways to look at this: One, the Knicks are struggling and aren't realistically going to make a playoff push this season.
Or two, New York is tied with Boston for the final play-in spot, and there's still half a season to play. With the right moves, maybe head coach Tom Thibodeau can right the ship and move his team up the standings and have it peaking at the right time.
But which of those approaches is correct?
What assets does the team have and what does it need?
The New York Knicks have an interesting collection of assets to find a trade in either scenario.
Center Mitchell Robinson's rookie contract is up, and he becomes an unrestricted free agent after this season. As a young, athletic, rim-protecting big man with no contract obligation, he would be attractive to a contender looking to add depth at that spot.
The team signed Kemba Walker and Evan Fournier last offseason, but neither has lived up to expectations. Their salaries are relatively trade-friendly, though, and could be included to match salaries if New York wants to go star hunting.
Obi Toppin, Immanuel Quickley, and RJ Barrett — if the franchise decides he's expendable — are young players who would be attractive to other teams.
The Knicks also have all their own first-round picks through 2028 and own the Hornets' and Dallas Mavericks' first-rounders in 2023, with protections, via RealGM.
They also have multiple second-round picks in the next few years.
So in scenario one, New York can try and dump some veterans and attach picks to them to free up cap space for future moves.
In scenario two, the team can trade young assets and picks to land a big name to pair with Randle. The Knicks have been attached to players like De'Aaron Fox, Caris LeVert, Jerami Grant, and Myles Turner.
Someone in the mold of Fox or LeVert would fill the team's need for a backcourt scorer and playmaker.
So should the team be buyers or sellers?
Verdict: The New York Knicks should be tentative buyers at the NBA trade deadline
The Knicks should look to upgrade their roster but not go all-in and trade away their stable of young assets to try and land a superstar this season.
Someone like LeVert would be a good get. The Indiana Pacers have said they're open for business, so it wouldn't take a gigantic haul to land a proven scoring guard. Ditto for Grant, although LeVert would be more beneficial for the Knicks.
However, acquiring Turner or Fox would require New York to start dipping into its future assets. That's not the ideal route to go for a team that isn't necessarily poised for a deep playoff run.
Going all-in on a season in which your team isn't even in the playoffs at the halfway mark isn't the best call. On the flip side, a strong second half may put the Knicks in the postseason, and who knows what can happen then.
So the call for the New York Knicks at this year's trade deadline is to try and find a deal for a proven veteran who will improve the roster, but not to mortgage the future and go all-in on a superstar-caliber player.
Happy hunting, Knicks fans.
All contract information courtesy of Spotrac.