NBA Trade Deadline: The Milwaukee Bucks Have a $157 Million Obstacle as They Chase Another Championship
The Milwaukee Bucks didn't expect a clear path to a second consecutive NBA title. But no one warned them the road was full of potholes, landmines, and construction delays. Entering their Feb. 1 nationally televised meeting with the Washington Wizards on TNT, the 31–21 Bucks are fifth in the Eastern Conference. Milwaukee's ability to upgrade the roster for the stretch run is complicated, with the NBA trade deadline a little more than a week away.
Last season, the historically frugal franchise was a luxury taxpayer for the first time. The championship trophy was the reward, but Milwaukee still paid a $925,700 penalty for crossing the tax line by $617,133. Winning is an expensive proposition in the NBA; the Bucks are more than $20 million over the line this season and project to owe $46.1 million in luxury tax.
It also puts them on the precipice of an even higher tax bracket for 2022–23.
The repeater tax is looming for the Milwaukee Bucks
Until 2011, the NBA luxury tax was a dollar-for-dollar penalty. But the 2011 Collective Bargaining Agreement (the one that ended the lockout that delayed the season's start until Christmas Day) changed it to a progressive tax.
According to Larry Coon's NBA Salary Cap FAQ, for every dollar up to $5 million over the tax line, teams pay $1.50 in tax. For example, a team that is $1 million over the line owes a luxury tax bill of $1.5 million. The penalties increase from there:
$1.75 for every dollar between $5,000,001 and $10 million
$2.50 from $10,000,001 to $15 million
$3.25 from $15,000,001 to $20 million
$3.75 from $20,000,001 to $25 million over the tax line
Every additional $5 million incrementally adds 50 cents per dollar
But the repeater tax kicks in for a team that exceeds the luxury tax line at least three times in four seasons. That explains the vast gulf in tax bills for the Brooklyn Nets and Golden State Warriors this season. Brooklyn is $35.3 million over the tax line and projects to pay $110.4 million in luxury tax (ouch).
But because the Warriors are in repeater territory, their penalty for being $39.3 million over the tax line is a massive $170.3 million levy. Instead of the penalties outlined above, the repeater payments are:
$2.50 per $1 up to $5 million
$2.75 for $5,000,001-$10 million
$3.50 for $10,000,001-$15 million
$4.25 for $15,000,001-$20 million
$4.75 for $20,000,001-$25 million
Increases in 50-cent increments for every additional $5 million
The ante goes up exponentially for repeatedly crossing the tax line.
The Milwaukee Bucks already have a $157 million problem for 2022–23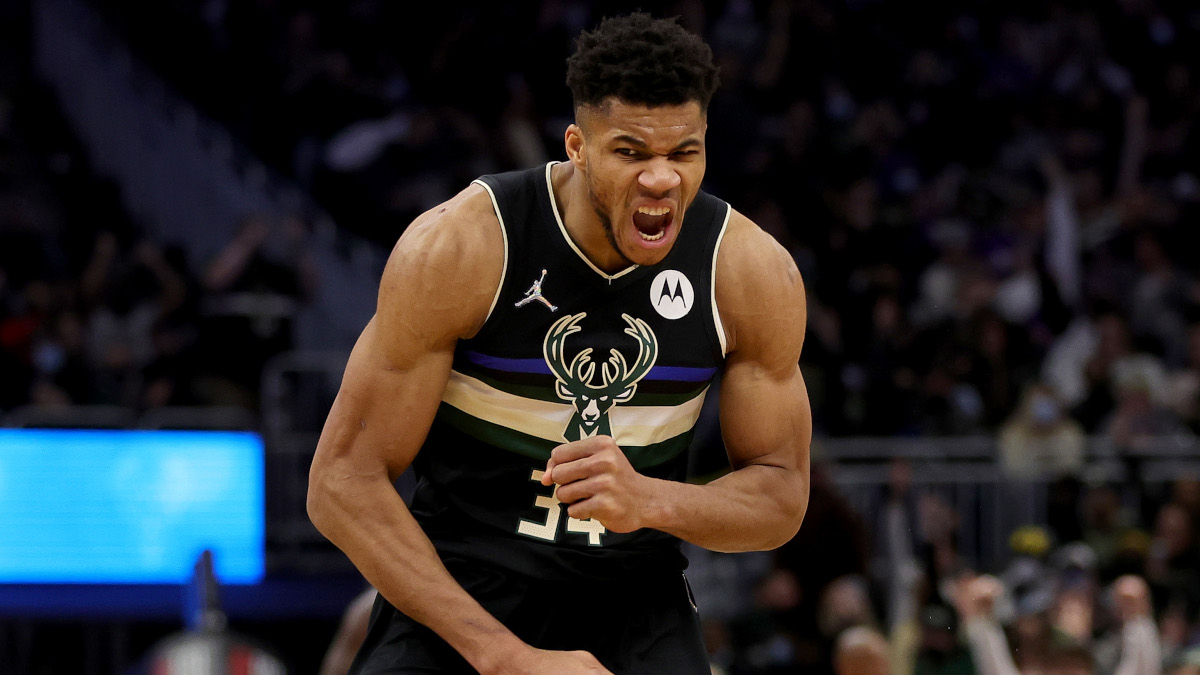 Because the Milwaukee Bucks already have their Big Three (Giannis Antetokounmpo, Khris Middleton, and Jrue Holiday) locked into long-term contracts, they are already over the projected $145 million tax line for next season by nearly $12 million.
That would make three consecutive taxpaying seasons for the Bucks and push them into the repeater tax.
Besides their stars, Milwaukee has nine guaranteed contracts on the books for next season:
Antetokounmpo: $42.5 million
Middleton: $37.9 million
Holiday: $35 million
Brook Lopez: $13.9 million
Grayson Allen: $9.4 million
Pat Connaughton: $5.7 million (player option)
Bobby Portis: $4.6 million (player option)
George Hill: $4 million
Thanasis Antetokounmpo: $1.9 million (player option)
Wesley Matthews is also under contract for 2022–23, but his $1.8 million deal isn't guaranteed. There is some good news, though. The dead money from the stretched Jon Leuer ($3.2 million) and Larry Sanders ($1.9 million) contracts comes off the books at the end of this season. Milwaukee can also make one small move this season to shave a little off the tax bill.
The complications for the Bucks in making a deal
Much like the Nets and Los Angeles Lakers, the Milwaukee Bucks have a top-heavy cap sheet that limits flexibility in making meaningful trades. The idea for a contender is to improve the roster, but there are two obstacles the Bucks face.
The first is simply being over the tax line. Taxpaying teams can't take back more than 125% of outgoing salaries in a trade, plus $100,000. If they trade a $2 million contract, the Bucks can bring back $2.6 million.
Lopez, who hasn't played since opening night after back surgery, has a $13.3 million cap number. But is another team going to take on a $13.9 million cap hit for next season to take on a 33-year-old center with back problems? Perhaps in a buyout scenario, but that almost always means including draft picks as a sweetener.
Because of the trades to acquire Holiday and since-departed P.J. Tucker, that's something in short supply for in Milwaukee. According to RealGM, everything through 2027 is either involved in a swap or is moving outright. The New Orleans Pelicans own Milwaukee's 2027 first-round pick, meaning its 2028 selection is off the trade board because of the Stepien Rule.
Every other contract the Bucks have is mid-level or minimum-salary range. If they package contracts to acquire a single player, there are roster spots to fill. Not ideal for continuity.
Besides a move on the edges of the roster, the Milwaukee Bucks have little flexibility. And without a significant move affecting next season's cap sheet, the repeater tax looms. It's another reminder of why championship windows in the NBA are fragile.
Contract information courtesy of Spotrac.
Like Sportscasting on Facebook. Follow us on Twitter @sportscasting19.
RELATED: Milwaukee Bucks NBA Trade Deadline: 3 Buyout Candidates For Another Championship Push