NBA Trade Deadline: What Comes Next If the Philadelphia 76ers Can't Move Ben Simmons?
Ben Simmons doesn't want to be a member of the Philadelphia 76ers. That point is well-established. But the nightmare scenario in the back of the mind of every Sixers fan remains: What if Daryl Morey doesn't trade Simmons by the Feb. 10 NBA trade deadline?
It's a scenario Morey set up when he said the process (copyright Sam Hinkie) of working out the Simmons situation could take years, not months or days. Philadelphia is firmly in the middle of the Eastern Conference pack, 23–16, and fifth place through Jan. 11. But seven straight wins with Joel Embiid doing superstar work gives fans hope. And with the ultimate trade chip heading into the deadline coupled with Morey's aggressive history, anything could happen.
The Philadelphia 76ers nearly had a deal for Ben Simmons
According to Marc Spears of The Undefeated on The Hoop Collective podcast, the Philadelphia 76ers talked to the disappointing Atlanta Hawks about a possible Ben Simmons deal before the NBA trade deadline on Feb. 10.
Then Morey, the Sixers president of basketball operations, dropped a grenade into the mix. He wanted to pair struggling Tobias Harris' max contract with Simmons' supermax in a potential deal.
There are no reports of whether Atlanta's response was NSFW.
"I think it's a long shot, and it's not because of Ben," Spears said. "It's because I'm hearing that [the 76ers] want to include Tobias Harris."
Host Brian Windhorst confirmed Spears' report.
"That is the word out of there because [the Sixers] can't necessarily get an All-Star they want in return right now," Windhorst said. "As the Sixers have continued their talks, they've talked to teams about trading Tobias and Ben."
Because, hey, if you can't get the return you want for one unhappy All-Star, throw in the disappointing performance of a guy who hasn't even been an All-Star that you were dumb enough to sign to a max contract.
Morey's apprehension about a timeline suddenly makes more sense.
Can the Ben Simmons-Sixers relationship be saved?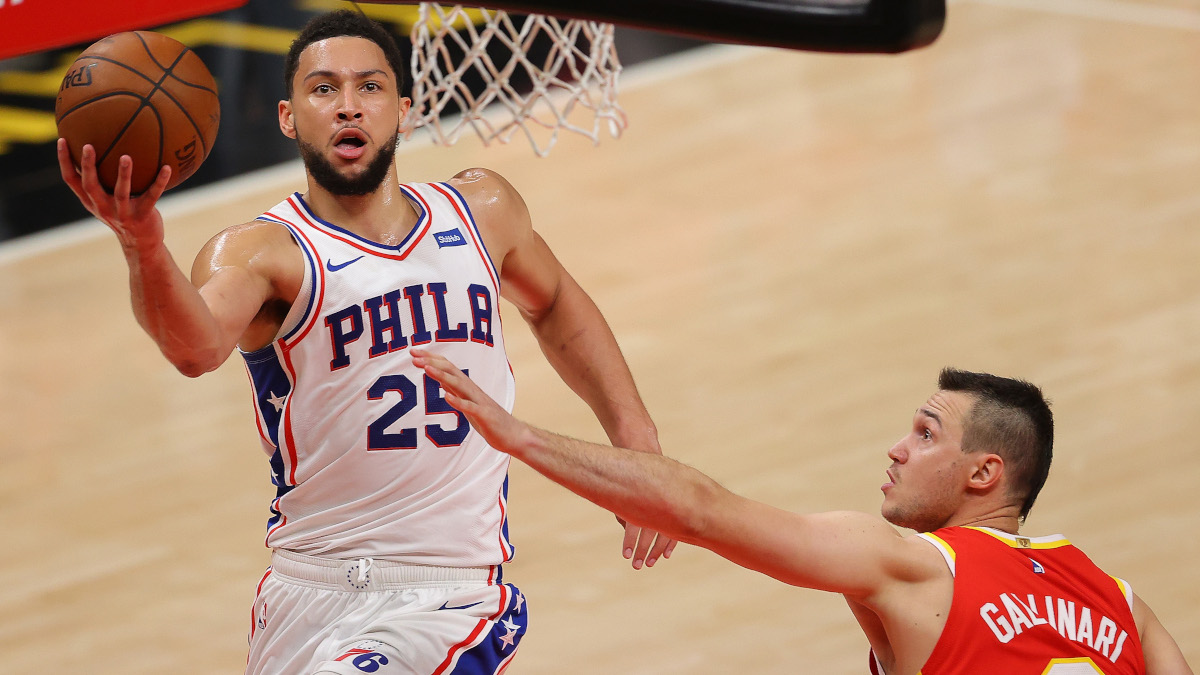 Ben Simmons hasn't played a minute in 2021–22. According to Marc Stein on Substack, Simmons is holding the line never again to wear a Philadelphia 76ers jersey.
Yet somehow, the 76ers' top priority remains to get Simmons back into their lineup. In any event, Morey is unfazed by the Feb. 10 NBA trade deadline.
History says he shouldn't be. The last deadline deal that directly led to an NBA championship was 18 years ago. In February 2004, the Detroit Pistons snagged Rasheed Wallace after his storied one-game career with the Hawks. Detroit went on to shock the Los Angeles Lakers in the NBA Finals.
Many analysts point to the Pau Gasol trade to the Lakers in 2008 as a championship-winning move. It was. Just not until 2009, after Gasol and Kobe Bryant had an entire offseason to figure out everything.
A relationship between player and team is rarely saved after it reaches the Simmons-Sixers standoff level of toxicity. But Morey can afford to be patient; this is the second year of Simmons' five-year, $177 million extension. Other than a franchise player not playing, there's no external ticking clock forcing Morey's hand.
The cost of an unproductive roster spot for the Philadelphia 76ers
There are no guidebooks on how to manage an NBA franchise. But if there were, it's doubtful "pay $33 million for a roster spot that produces absolutely nothing" would be among the bullet points under the "How to Win in the NBA" subheading.
Ben Simmons is the second-highest-paid player on the Philadelphia roster, behind the $36 million Harris receives and Embiid's $31.6 million. Simmons' salary represents 21% of the Sixers' cap space, and the team's estimated luxury tax bill is a tad shy of $10 million.
While Simmons' name doesn't appear on the dead money list, it's undoubtedly been a sunk cost for the 76ers. And even though Embiid and other teammates have publicly supported Simmons as he's sought mental health care, the weight of the 2021 playoff debacle looms large over the situation.
A three-time All-Star became a crunch-time liability for Philadelphia because Simmons was reluctant to shoot in the fourth quarter of their Eastern Conference semifinal loss to the Hawks. Worse, his free-throw shooting was so poor, coach Doc Rivers couldn't trust him enough to play him in late-game situations.
That's more baggage than a typical holdout situation, the vast majority of which are historically about money. The Simmons saga has never been about dollars. Instead, it's been his sense the Rivers, Embiid, and the franchise allowed him to be a piñata for unhappy fans when the Atlanta series went sideways.
Morey believes reconciliation with Ben Simmons is possible. The future of the Philadelphia 76ers hangs in the balance, so at least there's no pressure there.
Contract information courtesy of Spotrac.
Like Sportscasting on Facebook. Follow us on Twitter @sportscasting19.