NBA Trade Rumors: 5 Players Who May Be Traded Before the Deadline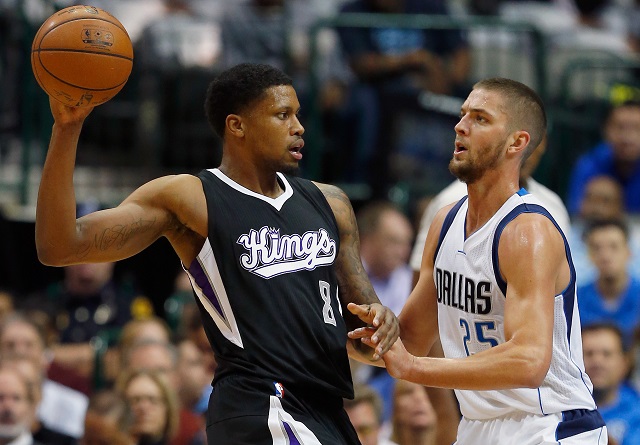 With the trade deadline coming up fast, things are beginning to heat up in the NBA. Plenty of rumors will surround familiar names as teams ultimately determine if they are sellers or buyers within the next couple of weeks. Here are five players who could suit up in new uniforms next month.
1. Rudy Gay, Sacramento Kings
The 29-year-old is no stranger to trade rumors as he has been dealt twice in his career near the trade deadline. That said, his name has once again become a topic of discussion with the All-Star break quickly approaching. However, it's reported that the Sacramento Kings are only interested in getting a quality young player in exchange for the nine-year veteran. Rudy Gay is in the second year of his four-year, $40 million contract, which includes a player option for the 2017-18 season (when he's scheduled to make $14.3 million).
It appears that the Kings are gauging interest around the league to see what they could receive in return. Despite missing the last two contests due to a corneal abrasion on his left eye, Gay is in the midst of another productive season, averaging 18.0 points and 6.9 rebounds per game, including scoring in double-figures in 35 games this season. The Kings may ultimately stay put with the team as they are currently just a game out of the eighth spot in the Western Conference.
2. Jeff Teague, Atlanta Hawks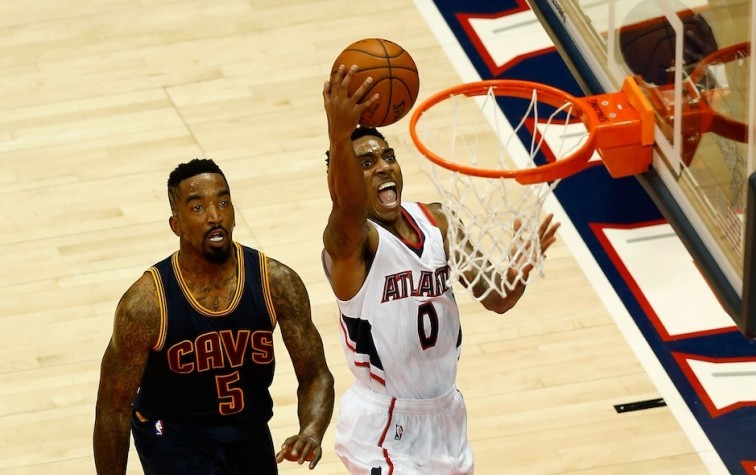 The Atlanta Hawks seem to be headed toward their ninth straight trip to the playoffs, but there's a growing sentiment that the team could make big roster changes prior to the trade deadline. One of the consistently mentioned names is their All-Star point guard, Jeff Teague, who is averaging 14.5 points and 5.5 assists per game this season. He has scored in the double-figures 34 times — including nine 20-point outings — and has notched three double-doubles. However, he's shooting just 42.2% from the field, which is his lowest mark since his rookie campaign.
The Hawks are reportedly willing to listen to offers for the 27-year-old, and it's believed that the Kings and New York Knicks showed some interest in the point guard. What also makes Teague trade deadline bait is the fact that he has just one year remaining on his contract after this season. The team already possesses a potential replacement in Dennis Schroder, who is averaging career highs in points (10.7) and assists (4.7) in his third year in the league. In all likelihood, Atlanta will hold on to Teague, but if the right deal comes along, expect them to pull the trigger.
3. Tyreke Evans, New Orleans Pelicans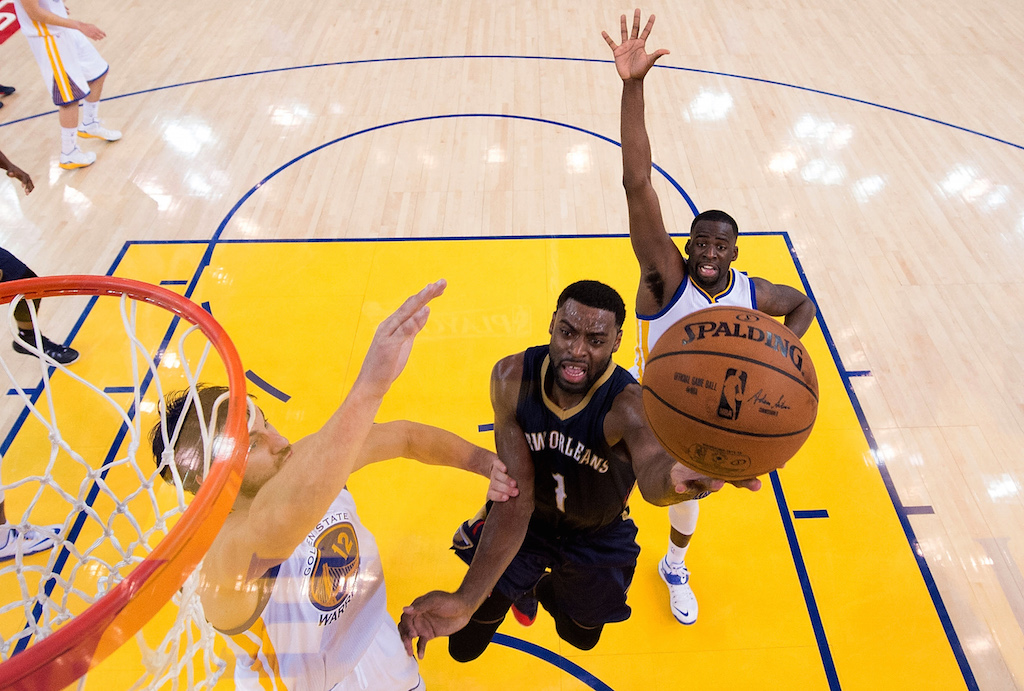 In what's been a disappointing season for the New Orleans Pelicans, the team could be involved in the trade deadline action. Reports suggest that they are gauging the league's interest in guard-forward, Tyreke Evans, who is in the third year of his four-year, $44 million contract. Despite dealing with a nagging knee problem this season, the 26-year-old has put together another strong all-around campaign, averaging 15.2 points, 6.6 assists, 5.2 rebounds, and 1.3 steals per game.
His stats show a significant improvement from three-point range, hitting a career-best 38.8% of his attempts while knocking down a career-high 79.6% of his free-throw attempts. Evans is also one of four players in the NBA to average at least 15.0 points, 5.0 rebounds, and 6.5 assists (joining the likes of Russell Westbrook, James Harden, and Stephen Curry).
With the trade deadline drawing near, Evans could be the hottest commodity on the market given his all-around game and reasonable contract (a base salary of $10 million this season and next year). Although the Pelicans had an extremely slow start to the season, they are only 3.5 games out of the final playoff spot in the Western Conference. If they continue to stay in playoff contention, the former Rookie of the Year could be in the same uniform after February 18.
4. Kevin Martin, Minnesota Timberwolves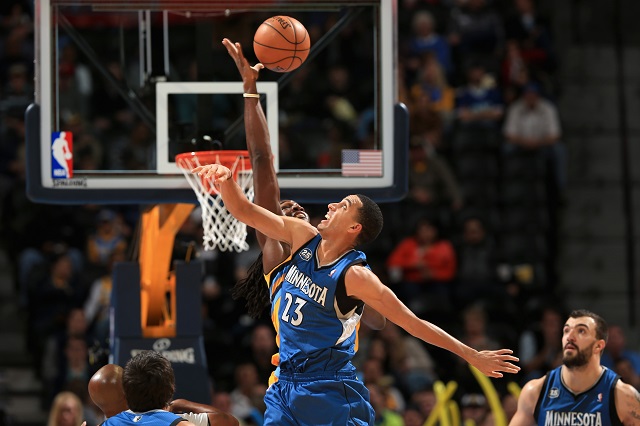 If there's one player who seems to be on the trade block every season, it is Kevin Martin. In his second season with the Minnesota Timberwolves, the 32-year-old averages just 11.3 points while shooting a career-worst 37.5% from the field in 22.6 minutes per game (the lowest minute total since his rookie campaign). His significant dip in production could be attributed to the fact that the team elects to play a pair of young guards, Zach LaVine and Andrew Wiggins, at his position. This makes Martin a viable option in the trade market for teams hoping to add another scoring option.
With a reasonably-sized deal, the 11-year veteran is in the third year of his four-year, $27.7 million contract. It's reported that the Timberwolves looked into potential trades back in mid-December and held exploratory talks with the Milwaukee Bucks earlier this month. However, Minnesota seems to desire much more than a salary dump in exchange for Martin. With that in mind, the veteran guard is a likely player to be dealt at the trade deadline.
5. Markieff Morris, Phoenix Suns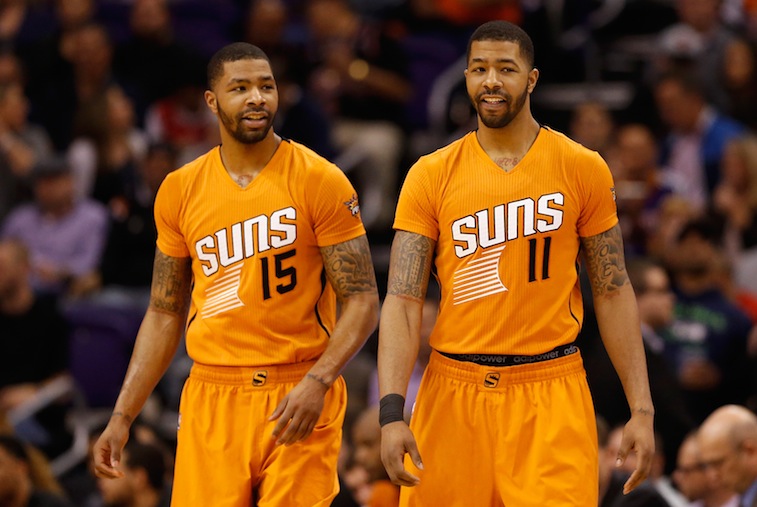 It's no secret that the Phoenix Suns have long desired to deal forward Markieff Morris this season. The 26-year-old has been disgruntled since the team dealt his brother, Marcus Morris, to the Detroit Pistons last offseason. The Suns have had difficulty dealing with No. 11 this season and benched him in early December after starting the first 16 games of the year. Head coach Jeff Hornacek even suspended him for two games later in the month due to "conduct detrimental to the team." 
The former first-round pick drew interest from a handful of teams, such as the Pelicans, Houston Rockets, and Cleveland Cavaliers. However, things have yet to truly materialize in trade talks. The Suns reportedly hope to field much greater offers than what they have received so far, but Markieff's value continues to drop due to his behavior during his fifth season.
When his attitude is right, Markieff proves to be a productive player as he's coming off his best season, averaging career highs in points (15.6), rebounds (6.2), and steals (1.2) while starting all 82 regular season games. It's obvious that the relationship between the Suns and Markieff is damaged beyond repair. If Phoenix is unable to make a deal prior to this trade deadline, it's just a matter of time before the team finally deals him.