NBA Trade Rumors: After Unloading Norman Powell and CJ McCollum, Acquiring Jerami Grant Is the Perfect Next Step in the Portland Trail Blazers' Unconventional Franchise Blueprint
The Portland Trail Blazers have already made two franchise-altering moves in unloading Norman Powell and CJ McCollum, but it seems the trade rumors aren't dying down anytime soon.
Powell is now a member of the Los Angeles Clippers, and McCollum landed with the New Orleans Pelicans. On the surface, it appeared as if a complete teardown was underway, whether the franchise kept Damian Lillard around or not.
The moves certainly had all the familiar symptoms of a conventional rebuild — good players dealt for draft picks and cap space.
Portland's plans, though, appear to be anything but conventional; Lillard is staying, and the franchise is ready to completely reshape the roster around their superstar. Trading assets for another player seems counterproductive at this point, but the rumors linking the Blazers with Detroit Pistons forward Jerami Grant actually make perfect sense.
The latest Portland Trail Blazers trade rumors revolve around acquiring Jerami Grant
After the Powell and McCollum deals, it made sense that Portland would continue as a seller in order to add to its stockpile of assets. Jusuf Nurkic, for example, is still available. The Blazers have no use for him this season, and he's a productive player on an expiring contract who would be attractive to contending teams.
The next rumor to hit the mill, though, is the Blazers' apparent interest in adding Grant.
The Pistons forward has been on the market for more than a month, but between an injury that kept him out for most of January and a high asking price of two first-round picks or a first-rounder and a young player, Grant has stayed put.
However, per Jake Fischer of Bleacher Report, the Trail Blazers are interested in nabbing the wing to add to their ever-changing roster.
Portland can create about $60 million in cap space this summer, and as part of the McCollum deal, got a $21 million trade exception that would disappear if the franchise went into this summer under the cap.
Jerami would fit snugly into said exception.
But does he fit the Blazers' new timeline? And what about his fit next to Dame?
The Pistons forward would be an ideal running mate for Lillard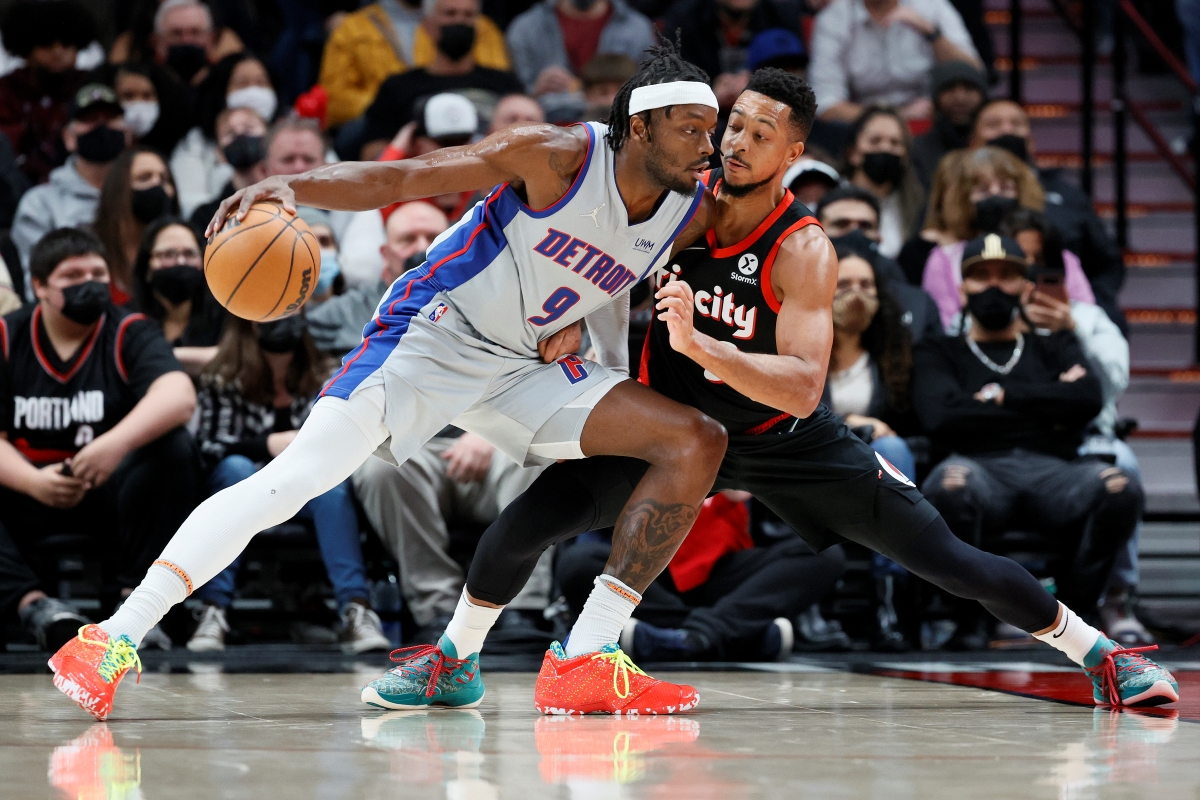 Grant surprisingly decided to sign a three-year, $60 million with Detroit before the 2020-21 season. He wanted a more prominent offensive role than he had in his two prior stops in Oklahoma City and Denver.
Well, he got it. Last season, he blew past his previous career-highs in points, field-goal attempts, three-point attempts, free-throw attempts, and usage rate. But the Pistons weren't any better as a team, ending up with the No. 1 overall pick in the 2021 NBA Draft, which turned into Cade Cunningham.
Now that Cade's the future in the Motor City, Grant becomes expendable as another asset to continue Detroit's rebuild. Enter Portland.
The 6-foot-8 athletic wing has always been a plus defender. He also showed potential offensively before arriving in Detroit, shooting 39.2% from three on nearly four attempts per game with the Thunder in 2018-19 and following it up by shooting 38.9% the next year in Denver.
He has a career effective field-goal percentage of 51.0 and has averaged double figures in scoring each of the last four seasons. The problem hasn't been Jerami's offensive ability; it's been his lack of efficiency in a bigger role.
Well, right now, the Blazers don't have a ton of offensive firepower on their roster outside of Lillard, who's hurt and could be out the rest of the year. Even when Dame comes back, Grant could end up as the team's second option depending on the moves Portland chooses to make in the offseason.
With his offensive development as the focal point in Detroit and the star power of Lillard, that's a role the 27-year-old could fill — and perhaps more importantly, be willing to fill — nicely.
Interim general manager Joe Cronin seems to be making a concerted effort to put a more balanced, logical roster around his superstar point guard. Clearing Powell's and McCollum's contracts off the books is helpful, but transitioning away from a three-guard lineup (which would have been four with Anferenee Simons' emergence) has been a long time coming.
A 6-foot-7 two-way wing would replace two 6-3 guards beside the 6-foot-1 Lillard. At the atomic level, bringing Grant in would give the Blazers a much more balanced roster in both the short and long term.
Expect the unexpected in this bizarre, but somehow logical, retooling
Sending Powell to LA for a mish-mash return made sense as a basic salary dump. Dealing CJ to the Pelicans was more of the same, but the Blazers also brought back Josh Hart in that move. The 6-5 guard could fill a spot similar to Grant's as another defensive-minded role player who would bring more balance to the lineup.
Prior to the rumored interest in Grant, there was an inkling of an idea that Portland could be simply rebuilding, rather than completely remaking, the roster to better fit Dame. This move would serve to solidify that concept.
It wouldn't be a shock if the Blazers made another move or two before the end of deadline day on Feb. 10. Portland has been the most interesting franchise to watch this past week, and there might be even more talking points on the way.
All statistics courtesy of NBA.com.
RELATED: 5 Players the Portland Trail Blazers Could Target to Help Damian Lillard Win an NBA Title