NBA Trade Rumors: Breaking Down the Jalen Brunson Dilemma and a Tricky Trade Deadline for the Dallas Mavericks
The Dallas Mavericks have been a quiet team on the trade rumor front as the Feb. 10 deadline draws nigh. But the Mavs have several possible moves to make in a few different areas, including a decision on point guard Jalen Brunson that could have major ramifications for the franchise down the line.
Dallas wants (and needs) to help Luka Doncic lead a deep playoff run this year as the Slovenian superstar has yet to make it out of the first round of the Western Conference playoffs. But there's a tightrope to be managed between a postseason sprint this year and slowplaying things for the future.
So what kind of moves do the Mavericks need to make — or can make — in the next few days to successfully straddle both sides?
This deadline is a delicate one for the Dallas Mavericks and the trade rumors are flowing accordingly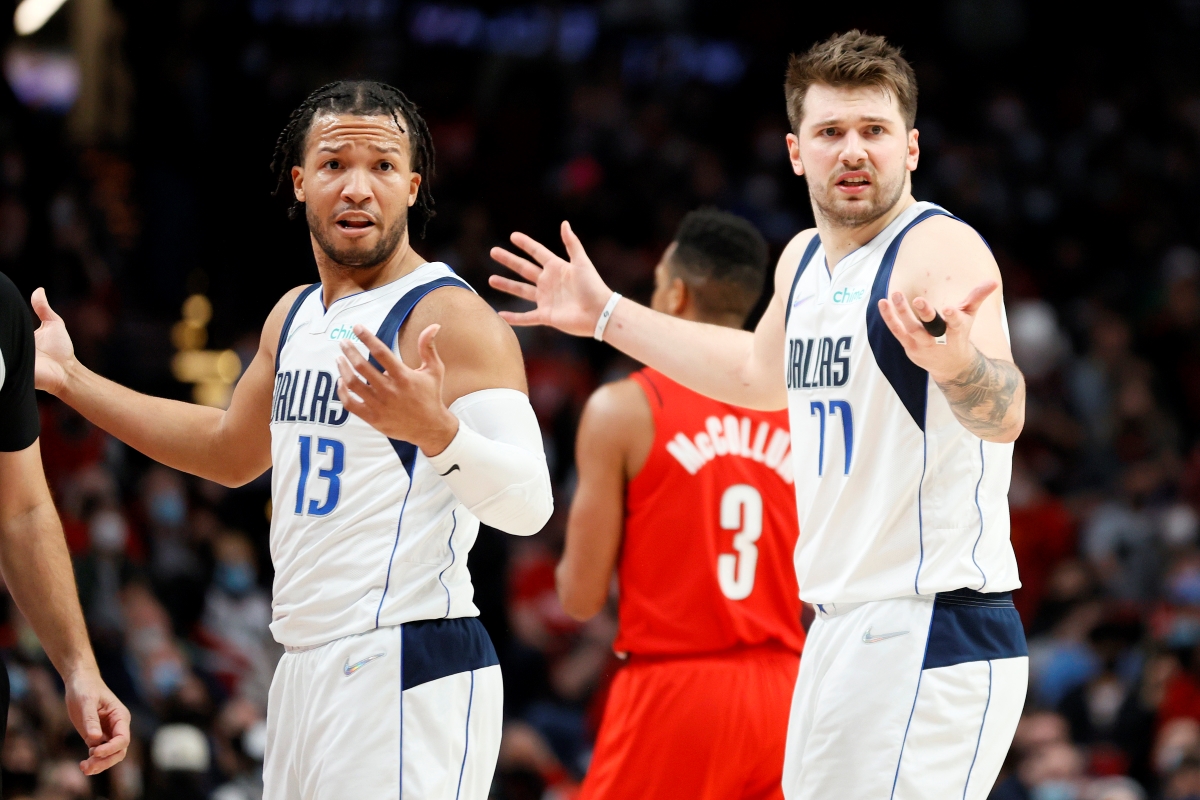 The Mavs lost to the Sacramento Kings (wow, by the way) on Dec. 29. That loss dropped the team to 16-18 on the year.
Since then, Dallas is 15-5 and has shot up to fifth in the Western Conference standings.
During that stretch, the Mavericks are the fourth-best team in the NBA by record but have surprisingly been led by their defense. They're just 16th in the league in offensive rating but second in defensive rating — not something one would expect from a Doncic-led bunch.
Dorian Finney-Smith has been a crucial part of that defense. The rangy 6-foot-7 wing has started every game but one this season and is almost always tasked with guarding the opposing team's best player.
Luka is a minus on that end of the floor, fellow wing Tim Hardaway Jr. is done for the year due to injury, and the 7-3 Kristaps Porzingis — meant to be the team's last line of defense at the rim — has missed 20 of the team's first 54 games.
Finney-Smith will be critical to any success the Mavs have in the playoffs. But he's also an unrestricted free agent at the end of the season, as is point guard Jalen Brunson, who is a free agency case study on his own.
How do the Mavericks decide to solve the Brunson dilemma?
The fourth-year Villanova guard has been far-and-away Dallas's second-best player in 2021-22. He's in the midst of a career year, averaging 16.0 points and 5.5 assists with shooting splits of 51/35/80.
(Side note: Based on stature, development timeline, and mentality, JB has a Kyle-Lowry feel. Both also played under Jay Wright in college.)
Brunson has been the perfect teammate next to Doncic, and with his uptick in production and age (25), thoughts around the league are that the Mavs' floor general could thrive in a bigger role.
He's been highly coveted by multiple teams heading toward the deadline, most notably the New York Knicks. But the Mavericks' asking price has been understandably high — a 2023 first-round pick from New York hasn't even warranted consideration, per Marc Stein.
However, Brunson will also be an unrestricted free agent after the season, and according to SI.com, he's planning to ask for somewhere "north of $20 million" per year.
Hence, the dilemma. Knowing it will cost a pretty penny to hold onto the 6-1 guard after this season, does Dallas keep him past the deadline and risk losing him in a bidding war once free agency starts? Do they find a desperate trade partner now to find value and avoid that scenario?
Or is he just too valuable to what the Mavericks want to accomplish this season?
What does a dream NBA trade deadline look like for the Mavericks?
In addition to Brunson's asking price of more than $20 million, Finney-Smith is looking for somewhere around $15 million per year in a new deal. That means clearing salary would be at least one of the Mavericks' goals at the deadline.
But does that run counterintuitive to the plan of making a deep playoff push? Hardaway Jr. is in the first year of a four-year deal worth $74 million and has underperformed. Zinger is a 7-3 center with a history of foot problems making $34 million next season and more than $36 million in 2023-24, per Spotrac.
Neither will be easy contracts to get off of.
The team does have a $10.9 million trade exception, but if the Mavs do decide to keep Brunson and Finney-Smith for the stretch run, possible buyout candidates like Robin Lopez or Tristan Thompson might have to do up front.
Dallas has been strongly linked with Toronto Raptors' guard Goran Dragic. If he's bought out, it would be a coup for head coach Jason Kidd as another backcourt option alongside Brunson and Luka.
If they can't unload salary and want to re-sign both of their key free agents, the Mavericks could see a hefty luxury tax bill in 2022-23. But via a separate story on SI.com, Cuban said, "We will do all we can to keep (both Jalen Brunson) and Dorian (Finney-Smith)."
Something, somewhere, at some point, has to give. Either Dallas trades one of their impending free agents before the deadline or the organization is going to be forced to clear a significant amount of cap space, now or in the summer.
Or, the dreaded third option would be to lose one or both if rival teams want to make poison pill contract offers after the season.
But that's the price (literally) of doing business when you have a generational superstar and a goal of winning an NBA Championship.
All statistics courtesy of NBA.com.
RELATED: NBA Trade Deadline: Luka Doncic and Quiet Mavs May Be Stuck Making the Best With Their Current Roster