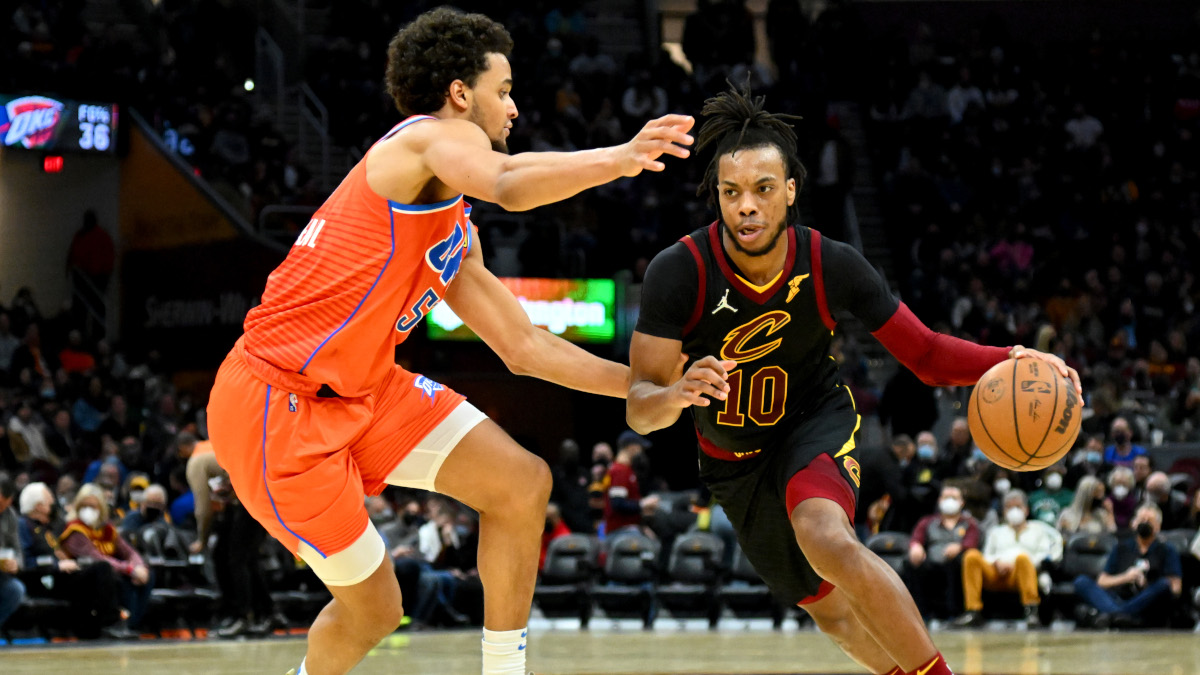 NBA Trade Rumors: Cleveland Cavaliers Officially Exit Rebuilding Mode as They Look for More Playmaking
Playmaking and shot creation top the wish list of the Cleveland Cavaliers, who surprisingly find themselves in the hunt in the Eastern Conference playoff race.
Forget about ping pong balls. The only tanks in The Land hold fish. The Cleveland Cavaliers officially entered the win-now zone. Even with an ugly 111–102 loss to the lowly Detroit Pistons on Jan. 30, Cleveland is fourth in the Eastern Conference and only two games behind the Miami Heat. The Cavs already have more wins than in any season since LeBron James' second departure in 2018.
But there are concerns in Cleveland. Injuries to Collin Sexton and Ricky Rubio left Darius Garland as the lone playmaker. General manager Koby Altman responded by getting veteran Rajon Rondo from the Lakers, but Cleveland still wants to solidify its backcourt depth before the Feb. 10 NBA trade deadline.
Garland emerged as a star for the Cleveland Cavaliers
The last time the Cleveland Cavaliers went into rebuilding mode after LeBron James left town as a free agent, the process ended when he came back four years later.
This time around, it's been organic.
First-round draft picks like Sexton, Garland, and Isaac Okoro are maturing into contributors. This year's selection, Evan Mobley, is solidly in the hunt for Rookie of the Year. They added Jarrett Allen via trade, and one-time superstar Kevin Love is thriving in a reduced role.
Sexton is out for the season with a knee injury sustained in early November. But the Cavs didn't miss a beat with Garland running the offense.
The 22-year-old leads Cleveland in scoring at 19.8 points a game while also dishing 8.2 assists a night. Both are career-highs for the fifth overall selection in the 2019 NBA Draft.
With the rapid rise of the Cavs, Garland is a contender for a reserve spot from the Eastern Conference in the 2022 NBA All-Star Game. The game is at Rocket Mortgage FieldHouse. That is a bonus since the franchise hasn't had an All-Star since James and Love in 2018.
Rubio played well before going down with a knee injury in late December. That prompted the trade for Rondo, who has been playing 20.4 minutes a game since his arrival.
Given the Cavaliers are in the hunt for a top-four seed in the playoffs, it makes sense Altman wants to secure more backcourt depth for down the stretch.
This year's first-round pick is in play as a potential trade chip
According to Chris Fedor of Cleveland.com, the Cleveland Cavaliers are willing to move their first-round pick in June's NBA draft to improve their backcourt situation.
Cleveland's only point guard behind Garland and Rondo is 29-year-old NBA rookie Kevin Pangos. The Canadian starred at Gonzaga from 2011–15. After going undrafted, he played the next six seasons in Europe, spending three seasons in Spain and two in Lithuania before spending last season with Zenit Saint Petersburg in Russia.
The Cavaliers signed Pangos in September. It was his first NBA contract despite getting Summer League flings with the Dallas Mavericks, Atlanta Hawks, and Washington Wizards from 2015–17.
Cleveland is 21–10 since Nov. 27 but would like another playmaker to help Garland in late-game situations.
According to Fedor's report, the Cavaliers would like to package their first-round pick with Rubio's expiring contract to get some help in that area. They could also use wing depth. Cedi Osman has been inconsistent of late, and Okoro's offensive game is limited.
The Cleveland Cavaliers have significant flaws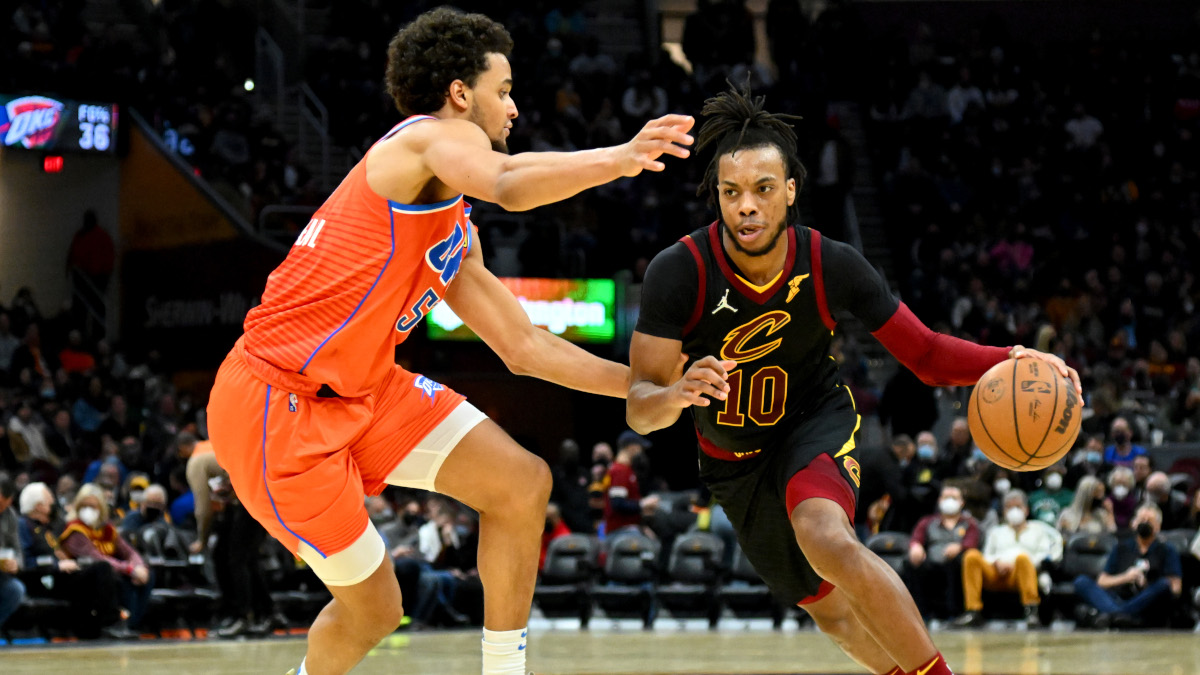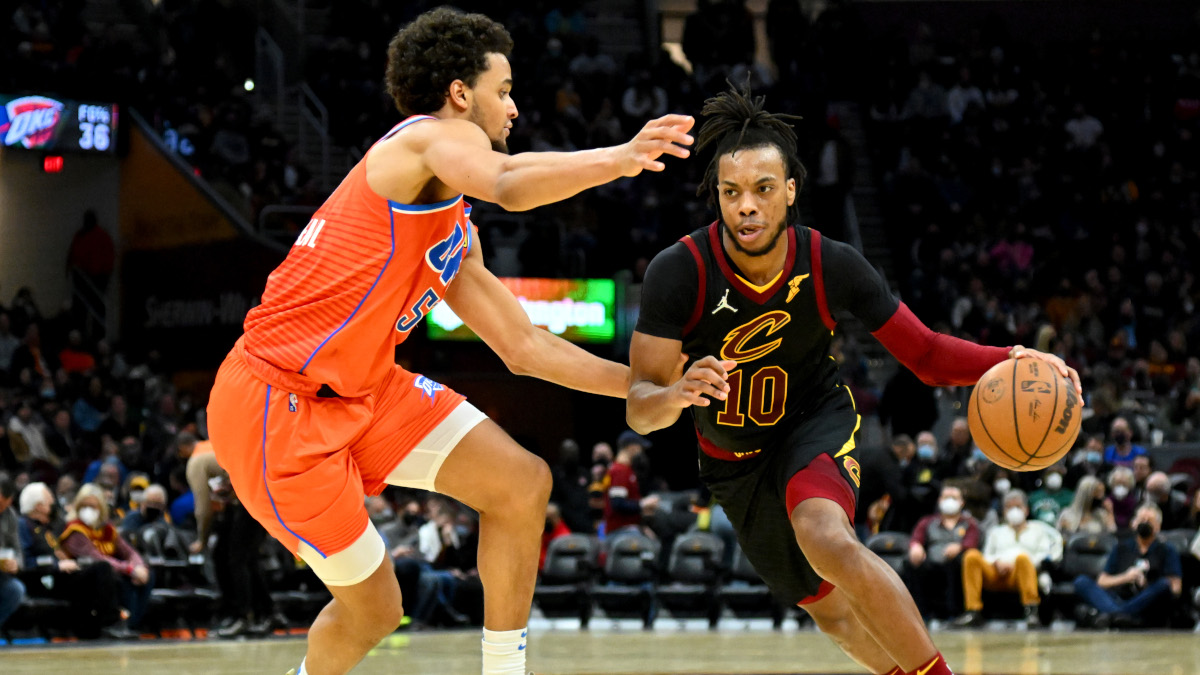 Only the Golden State Warriors and Houston Rockets turn the ball over more than the Cleveland Cavaliers, who average 15 giveaways a game. Their 35.1% 3-point shooting is 16th in the league, but their 34 attempts a night are in the bottom 10.
With Mobley and Allen providing excellent rim protection, Cleveland is third in the NBA with a 105.3 defensive rating. But offensively, the team can stagnate at times. It's also an adventure when the team gets to the foul line. Their 75.5% mark is 23rd in the NBA, and in clutch situations, it drops to 73.8%. That's a significant problem when points are at a premium in close games.
Osman's shot vanished after the New Year. In 12 January games, he's hitting just 37.9% overall and a grim 27.7% on 5.4 triple tries a game. Those figures are 43.0% and 36.1% for the season, respectively. Maybe the current slump is a glitch, but given their newfound status as contenders in the East, the Cavaliers might not want to gamble on that.
The Cavaliers got an $8.9 million disabled player exception after Rubio's injury and would have to use it before including him in a trade. They're also limited to only acquiring a player with an expiring contract.
Cleveland also has a $4.3 million trade exception available but is only $3 million below the luxury tax line.
That the Cleveland Cavaliers can think about buying at the trade deadline is remarkable given their 60–159 record the last three seasons. But it appears the front office is ready to go all-in and chase their newfound status to win now.
Statistics courtesy of Basketball Reference. Contract information courtesy of Spotrac.
Like Sportscasting on Facebook. Follow us on Twitter @sportscasting19.