NBA Trade Rumors: Dealing Jerami Grant Would Be the Ideal Move for the Detroit Pistons and Franchise Centerpiece Cade Cunningham
When the Detroit Pistons made Cade Cunningham the No. 1 overall pick in the 2021 NBA Draft, he immediately became the franchise's hope, savior, building block, cornerstone … whichever word you'd like to choose.
Cunningham has had a solid if unspectacular start to his rookie year. But the plan has always been to give the keys to The Motor City's shiny new star.
The Pistons need to jettison anyone competing for time on the ball in order to go all-in on Cade. Enemy No. 1 in that category is Jerami Grant.
Therefore, sending Grant packing in return for some more rebuilding pieces and letting the rookie take even more of the reigns is the best play for both Detroit and its franchise point guard.
Cade Cunningham has had a solidly normal rookie season for the Detroit Pistons
In terms of traditional stats, Cunningham is averaging 15.4 points, 6.2 rebounds, and 5.3 assists per game. He's averaging 32.5 minutes a night and has played 26 of a possible 35 games.
The 6-foot-6, 220-pound point guard has shooting splits of 38.9/31.8/84.9.
Essentially, Cade has been as advertised.
Coming out of Oklahoma State, the Big 12 Player of the Year was expected to use his NBA-ready body and high basketball IQ to dictate the pace of the game. His playmaking skills are ahead of his scoring abilities at this point — hence his shooting inefficiency.
However, Cade has yet to be in complete control of his team. Until he's the one behind the wheel, we won't know what kind of driver he really is.
So it's time to let the rookie start shifting the gears on his own.
Trading Jerami Grant and letting the franchise point guard cook is the ideal move for the future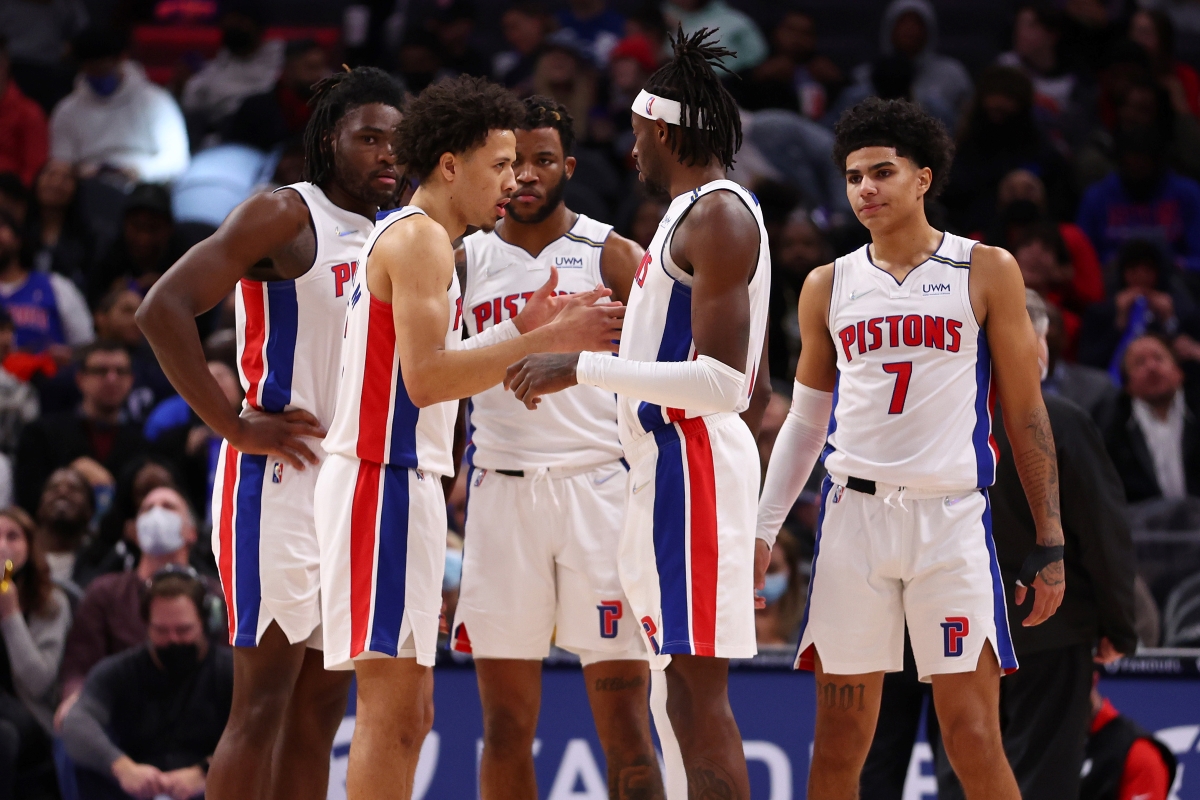 MotorCade sits one spot behind Grant in several categories with the Pistons:
Minutes: 33.2 to 32.5
Points: 20.1 to 15.4
Field goal attempts: 15.9 to 14.8
Field goals made: 6.6 to 5.8
But, perhaps most importantly, he's also second on the team in usage rate behind Grant (26.7 to 25.8) yet leads Detroit in assist percentage (28.2), per Basketball Reference.
Trade Grant and take him out of the equation and all of a sudden, Cade is the Pistons' leader in points, shot attempts, and assist percentage. He would be second in minutes behind Saddiq Bey's 33.8.
It would officially be the rookie's offensive show to run.
The end product for both Cade Cunningham and the Pistons is still years away
Detroit is 7-28 and second-to-last in the Eastern Conference standings. They're ahead of only the Orlando Magic in terms of winning percentage.
This year's goal isn't to win games, no matter what coach speak one might hear. It's to develop players like Bey, Cassius Stanley, Hamidou Diallo, Isaiah Stewart, and above all, Cunningham.
So rip what's left of the band-aid off. Trade Grant, put Cade in the driver's seat, and let him begin to earn his NBA license.
All statistics courtesy of NBA.com.