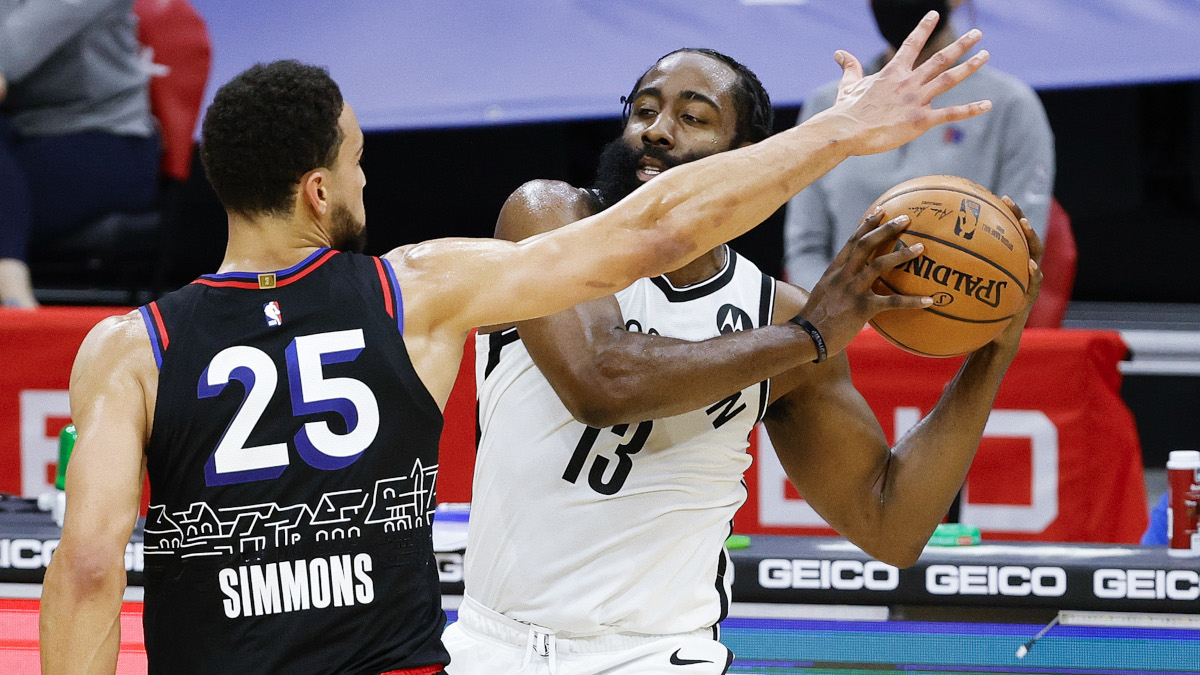 NBA Trade Rumors: If James Harden Ends up in Philadelphia, Ugly Allegations Will Follow
Rival executives are ready to challenge a potential James Harden-for-Ben Simmons trade if it happens, according to a report.
Where there's smoke, there is often fire. So goes the adage. According to a report, executives around the NBA see the smoke coming out of Philadelphia and Brooklyn regarding Ben Simmons and James Harden. They're wondering if there's an arsonist at work. While the Brooklyn Nets reportedly aren't interested in moving Harden before the Feb. 10 NBA trade deadline, there are also reports Harden isn't entirely happy in Brooklyn.
Meanwhile, the Philadelphia 76ers have a 6-foot-11, 240-pound elephant in the room. Simmons hasn't played this season and appears entrenched in his position that he won't play again for the Sixers. Rumors involving him have circulated all season, but none with the intensity of the potential Simmons-for-Harden blockbuster currently making the rounds.
The question rival front offices are asking: Is everything above board?
Ben Simmons' drama meets James Harden's reported dissatisfaction
It's not been sunny in Philadelphia for some time on Ben Simmons. Scapegoated for his role in the 76ers' early demise in last season's playoffs, Simmons refused to report to training camp and requested a trade.
If reports out of Philly are accurate, Sixers president of basketball operations Daryl Morey rejected offers for him because they weren't good enough. Morey reportedly wants a top-30 player to move the two-time All-Defensive standout.
Philadelphia fined Simmons, who reported to the team during the preseason. Fines continued intermittently through mental health treatment reports, a back injury, a practice walk-out, and some associated drama.
Meanwhile, in recent days, reports out of Brooklyn indicate James Harden doesn't like living in the borough, finds the ongoing Kyrie Irving vaccination situation frustrating, and is unhappy with coach Steve Nash's late-game personnel decisions.
Simmons has another three years and $108.8 million on the extension he signed in July 2019. Meanwhile, Harden has a $46.9 million player option for next season. He can decline the money and become an unrestricted free agent for the first time in his career.
Put it together, and it begins to look like a chicken and an egg coming together for a nice omelet in Philadelphia.
A trail of breadcrumbs links James Harden and Ben Simmons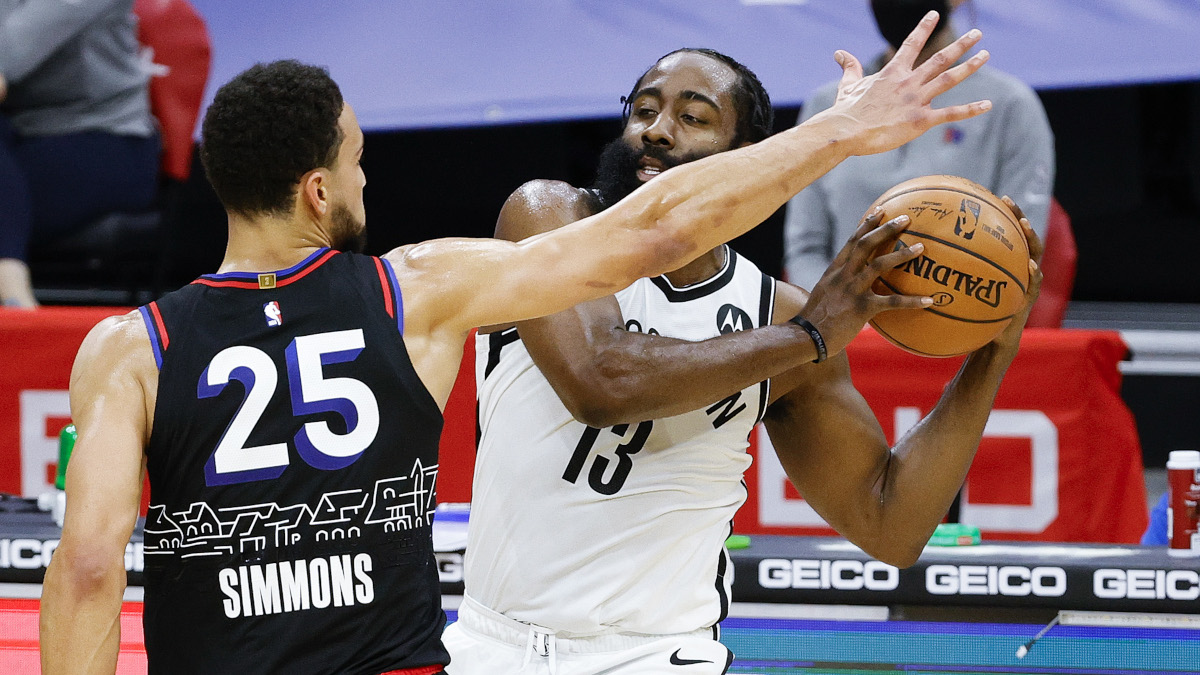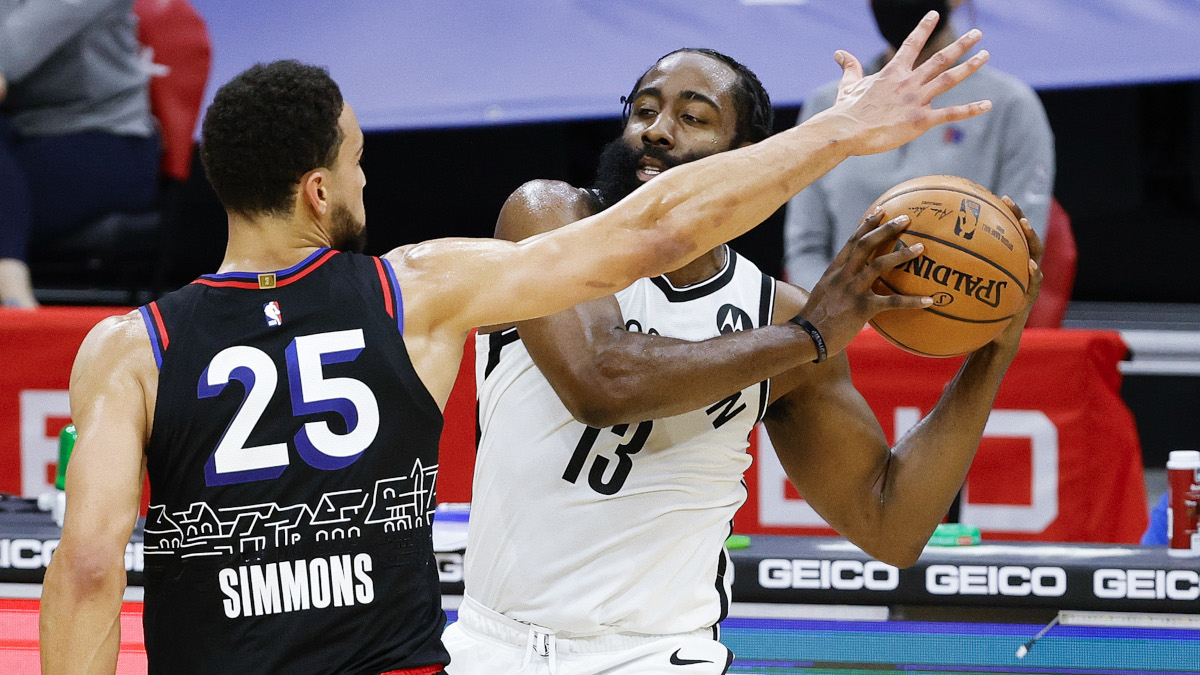 On the Posted Up podcast, host Chris Haynes and guest Vincent Goodwill of Yahoo Sports discussed the buzz surrounding a potential Ben Simmons-James Harden megadeal.
Goodwill said it was a matter of connecting the dots.
"If you are the Philadelphia 76ers, you have an inactive player in Ben Simmons who does not want to play for you, and you are desperately trying to create a market when there clearly does not look like there is a market for him," he explained. "Then you've got James Harden that's over there in Brooklyn, and let's say that James Harden is unhappy.
"James Harden is like, 'This ain't what I'm used to; this ain't what I thought it was going to be. My boy (Kevin Durant) is hurt, my friend of a friend Kyrie is doing all of this nonsense, and he ain't on the floor, and none of this is turning out the way I wanted it to be. So I got my buddy over there, Daryl Morey, who helped engineer the greatest individual success of my career, and I know he wants me, and I know there's another player out there.'"
Haynes said there are questions about legalities:
"Michael Rubin, for those who don't know, is the Sixers' co-owner (and) very good friends with James Harden. This is what I was told: Some front office executives are prepared to, when the time comes, if a deal does look like it's about to transpire where there could be some potential sign-and-trade in the offseason, they're prepared to get the league involved on a potential collusion case."
Some executives suspect Morey and Brooklyn general manager Sean Marks are already talking.
Harden's situation complicates the picture
In August, James Harden fired agents Jason Ranne and Chafie Fields. They are with the Wasserman sports agency, which helped do the legwork for the January 2021 trade that sent the nine-time All-Star to Brooklyn. Instead, he hired longtime friend Lorenzo McCloud.
In essence, Harden is handling his own business. So if discussions are happening behind the scenes, those talks are directly with the player. The collective bargaining agreement frowns on that sort of thing.
At the same time, Rich Paul of Klutch Sports, who represents Ben Simmons, recently met with Morey in Philadelphia. Shortly after that, leaks about potential Simmons trade packages from the Sacramento Kings, Detroit Pistons, and Atlanta Hawks circulated.
Put it all together, and one can see how a reasonable person might conclude there's some hinky business taking place.
Fast forward to July. The Nets trade James Harden for Ben Simmons and Tyrese Maxey (according to Goodwill, that is what's on the table). In that case, rival GMs are ready to force the NBA to investigate the deal. That means the drama could ramp up to an entirely new level.
Contract information courtesy of Spotrac.
Like Sportscasting on Facebook. Follow us on Twitter @sportscasting19.