NBA Trade Rumors: James Harden's Hamstring Problems Not Related to Rumors, Says Brooklyn Nets Coach Steve Nash
Purveyors of conspiracy theories had their interest piqued on Feb. 6 when James Harden missed his second consecutive game because of tightness in his left hamstring. Trade rumors involving the 2017–18 MVP are percolating, and, well, it wouldn't be the first time a veteran player developed an injury during trade talks. But Brooklyn Nets coach Steve Nash said one has nothing to do with the other. Nash said the Nets aren't trading Harden.
But The Beard no-showed his way off a roster before. In 2020, he stayed away from the Houston Rockets' training camp just long enough to miss all of it. Harden finally got the trade he wanted on Jan. 13, 2021, when the Rockets dealt him to the Nets.
Hardly more than a year later, rumors indicate there's already trouble in what was supposed to be paradise.
James Harden's durability isn't what it once was
James Harden missed only 40 of 661 possible games in parts of nine seasons with the Rockets. In a little more than a year with the Brooklyn Nets, he's sat for 32 of 112. To be fair, the 10-time All-Star is 32 and has averaged 34.6 minutes per game into his 13th season. In the last 10 years, he has had a usage rate of 32.7%.
It's not exactly low mileage.
But it's natural to have questions when a player rumored on the trading block sits out games near the trade deadline.
Jonathan Feigen of the Houston Chronicle reported the Rockets ruled out Eric Gordon for their Feb. 6 matchup with the New Orleans Pelicans because of a heel injury. The first thought was that general manager Rafael Stone was packing the veteran in bubble wrap in preparation for shipping him before 3 p.m. Eastern on Feb. 10.
Harden hasn't played up to his former MVP standards this season. He's shooting 47.6% on two-pointers, his lowest mark since his rookie year, while his three-point accuracy of 33.2% is a career-low.
It seems the player perhaps most responsible for the NBA's emphasis on not awarding free throws to offensive players who initiate contact has adjusted to that change. After some early struggles, Harden is averaging 8.0 foul shots per game, ahead of last season's 7.3 mark.
Harden is a career 63.7% shooter in the restricted area but is making only 57.4% at the rim this year. His accuracy from floater range is also down markedly, from 45.5% a season ago to 38.6% in 2021–22.
But Nash insists The Beard is committed to Brooklyn.
Nash shoots down the idea the Brooklyn Nets will trade James Harden
Before the Brooklyn Nets' eighth consecutive loss, a 124–104 pummeling from the Denver Nuggets on Feb. 6, Nash said he'd had multiple conversations with James Harden. Per a tweet from Brian Lewis of the New York Post, Nash shared that Harden wants to be in Brooklyn, and the Nets want him there.
That was before Nash dropped the bombshell declaration that Brooklyn won't trade Harden before the deadline.
Nash's statement flies in the face of reports from just 48 hours earlier that indicated the Nets are open to listening to offers for the three-time scoring champion.
However, it is general manager Sean Marks, not Nash, who makes the personnel decisions in Brooklyn. If the Nets do trade Harden, it wouldn't be the first time a coach declared the opposite shortly before the deal occurred.
When Houston traded The Beard in 2021, the finalists were the Nets and Philadelphia 76ers. Reportedly, Harden chose Brooklyn to reunite with former Oklahoma City Thunder teammate Kevin Durant and star guard Kyrie Irving as part of perhaps the most talented Big Three in the NBA.
But the trio grande has played just 16 times together, 10 in the regular season and six games in the playoffs. Irving isn't playing home games because of his vaccination status. A sprained knee has Durant sidelined at least through the All-Star break.
Brooklyn led the Eastern Conference after its Christmas road win over the Los Angeles Lakers. They're 7–15 since and have fallen to seventh in the conference, play-in tournament territory. The Nets are as close to first in the East, 4.5 games, as 11th.
As for Irving? He's not precisely repeating the company line.
Irving sounds noncommittal on Harden's future with the Brooklyn Nets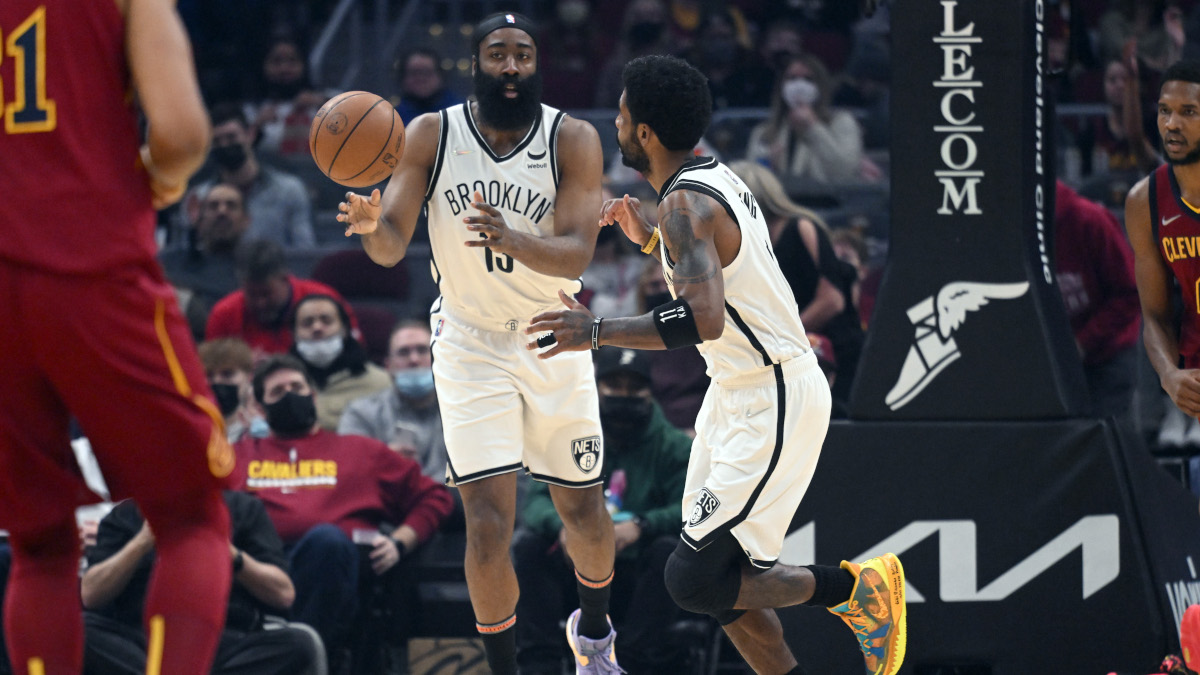 Irving addressed the James Harden situation after the Nuggets dismantled the Brooklyn Nets. Per another Lewis tweet, the 2016 NBA champion said his teammate seems committed. But he added wiggle room.
"But who knows what's going to happen?" Irving asked.
The unvaccinated superstar is at the heart of some of Harden's reported frustration in Brooklyn. The Beard signed up to be part of a Big Three. With Durant injured, it's Harden and a bunch of role players when the Nets play at Barclays Center.
It's not just Durant and Irving that are missing. Sharpshooter Joe Harris hasn't played since mid-November. Veteran mid-range savant LaMarcus Aldridge is nursing a sprained ankle. Another former All-Star, Paul Millsap, is away from the team as Marks tries to find a trade. Undrafted rookie Kessler Edwards, on a two-way contract, has started Brooklyn's last 14 games, during which the team is 4–10.
The preseason favorites to win the NBA title, the Brooklyn Nets are struggling to stay in the top six in a crowded Eastern Conference race. Will James Harden still be on the roster after 3 p.m. on Feb. 10? We won't know for sure until then. Like most everything else related to the team this season, it's a chaotic mess.
Statistics courtesy of Basketball Reference.
RELATED: The Nets Wouldn't Dare Trade James Harden After Kevin Durant Makes His Feelings Known