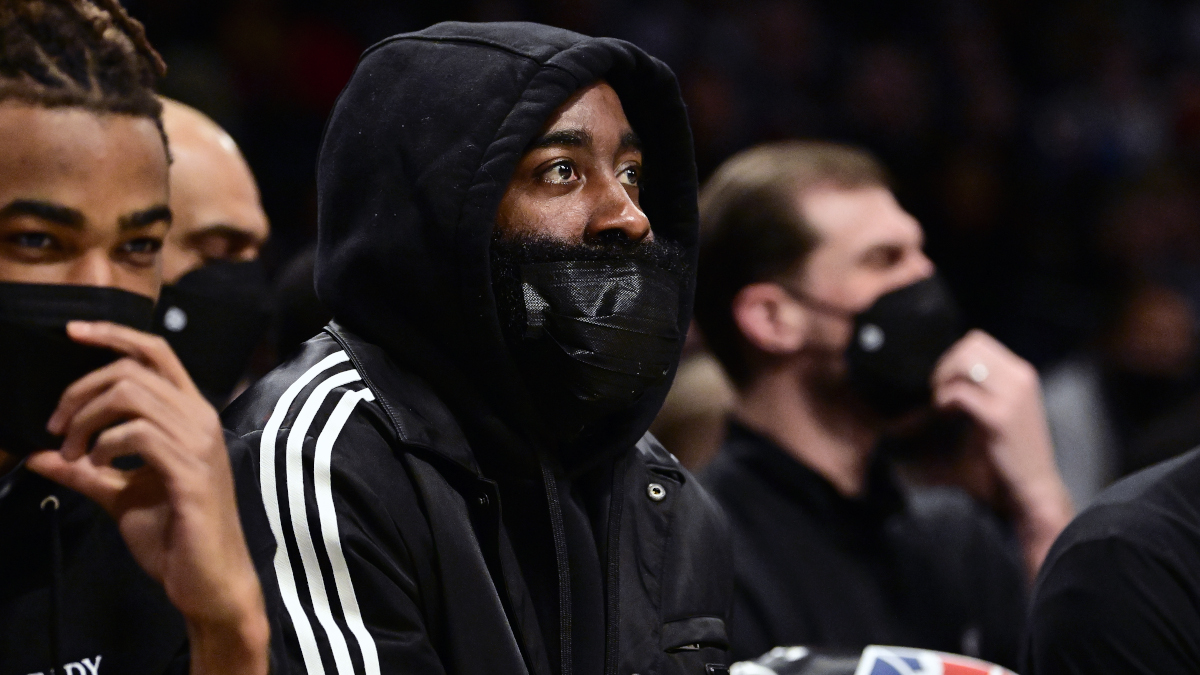 NBA Trade Rumors: James Harden Sits as the Brooklyn Nets Burn
James Harden missed his third straight game and the Brooklyn Nets took their ninth straight loss. Is a trade imminent? That depends on whom you ask.
On the latest episode of As the Brooklyn Nets Burn, the preseason favorites to win the NBA title lost another nailbiter, falling to the Boston Celtics at Barclays Center on Feb. 8, 126–91. It was Brooklyn's ninth consecutive loss as the Nets fell to eighth in the Eastern Conference. Any drama was strictly off the court, as James Harden did not dress, and trade rumors increased from swirling to cyclonic around the former NBA MVP.
For the rapid-fire history, Brooklyn led the Eastern Conference on Dec. 27. Kyrie Irving returned from his team-imposed exile to take on a part-time role two days later. Since then, Kevin Durant injured his knee, and the Nets have gone 6–16, careening down the standings like a Plinko chip on The Price Is Right.
Will Brooklyn trade Harden? Did he sit out because of his hamstring or because he was packing? Only general manager Sean Marks knows.
And he's not talking, even if everyone else on the planet is.
James Harden is giving off that 'I've already checked out' vibe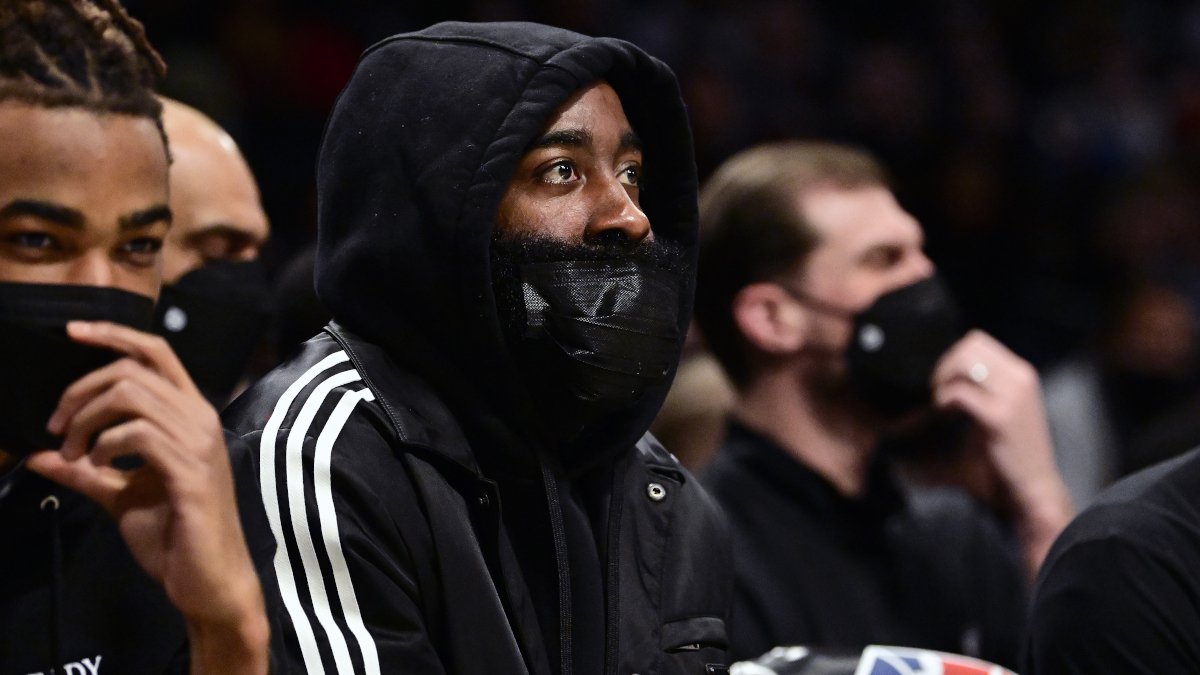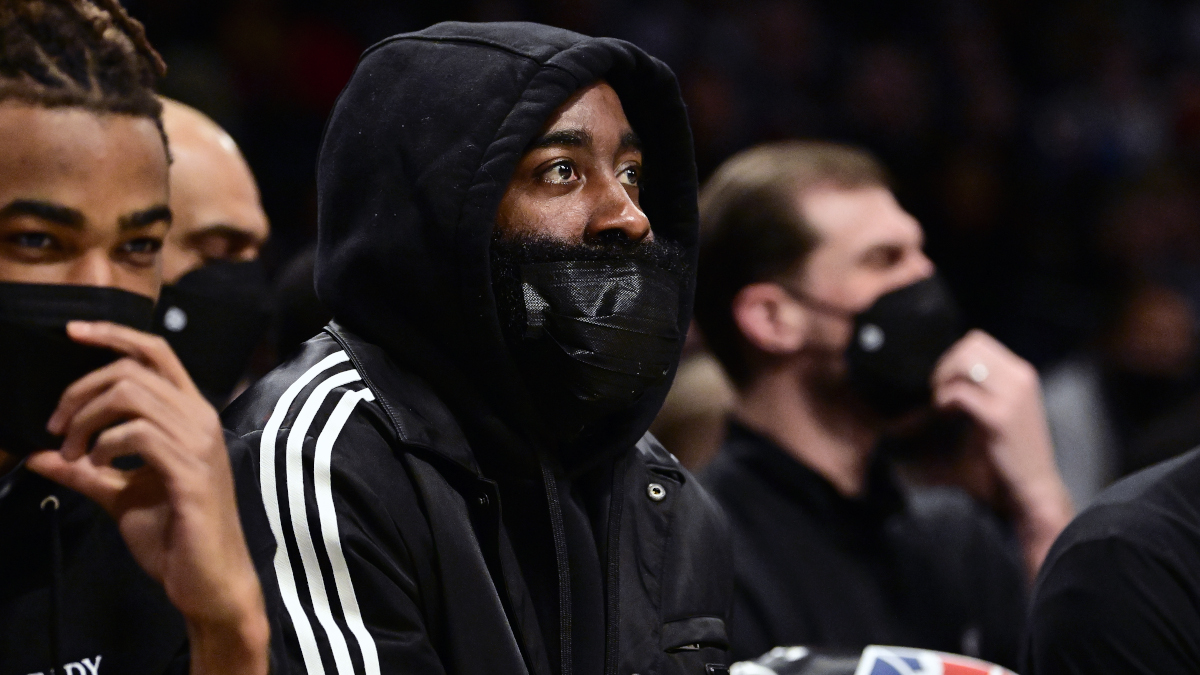 James Harden wasn't setting the world on fire before missing the last three games with left hamstring tightness/a pouty lower lip/impending relocation.
The Beard's performance cratered after posting a 37-point triple-double in the Brooklyn Nets' most recent victory (on Jan. 21).
In four games since his outburst against the San Antonio Spurs, Harden averaged 18.0 points, 11.5 assists, and 7.3 rebounds in 36.9 minutes a game. But he shot 39.5% inside the arc and was 6-of-24 (25.0%) outside it.
In an 11-point loss to the Sacramento Kings, now in year 16 of the rebuilding plan launched in 2006, a disinterested Harden scored four points on 2-of-11 shooting in 37 minutes. If not the worst game of his 13-year career, it came close. But at least he gave zero effort most of the night defensively, so there was that.
The 10-time All-Star missed two games with soreness in his right hand and the last three with the hamstring. But it's at least conceivable sitting out against the Celtics was part of a grander design.
Harden participated in the Brooklyn Nets' shootaround
Before the Brooklyn Nets closed out an 0–5 Western Conference trip with a 20-point loss in Denver on Feb. 6, coach Steve Nash unequivocally stated the team was not trading James Harden.
The morning before the Nets lost their ninth straight game, Harden participated in the shootaround at Barclays Center. But he told the media he wasn't playing.
According to Nick Friedell of ESPN, Nash cited the hamstring injury. But Philadelphia-based podcaster Jack Settleman tweeted a different story.
"James Harden is intentionally being held out of tonight's game," Settleman wrote.
To be clear, we are unaware of any players accidentally held out of games. No coach wants to be the one to have to tell a player, "Whoops. Totally forgot you were on the roster. My bad."
As Brian Lewis of the New York Post reported, it's a master class in NBA trade deadline drama. And Nash continued to toe the line he drew in the sand in Denver when asked if the roster would look different after the deadline passes at 3 p.m. Eastern on Feb. 10.
"No, I mean, honestly, I think we will be exactly the same," Nash said. "I think the chances of trades or deals happening before the deadline are so slim, especially for our group."
Instead, the coach wants to get his Big Three (or two plus Irving occasionally) healthy and choreographed before the playoffs. Or the play-in tournament. Whichever destination ends up being applicable.
If James Harden ends up anywhere else, it will be Philadelphia
A pair of significant trades on Feb. 8 altered the landscape ahead of the NBA trade deadline. The Portland Trail Blazers sent CJ McCollum to the New Orleans Pelicans, while coveted former All-Star big man Domantas Sabonis is now with the Sacramento Kings.
Marks is navigating some murky waters with James Harden. The 2017–18 NBA MVP rejected a three-year, $161 million extension and holds a $47.4 million option for next season. Traded twice in his career, Harden has never been a free agent. That opportunity is available in July.
Daryl Morey, president of basketball operations for the Philadelphia 76ers, traded for Harden while he was the front-office boss of the Houston Rockets. All indications are he'd like to do so again, with a return package centered around inactive three-time All-Star Ben Simmons.
The Brooklyn Nets reportedly want young guard Tyrese Maxey as part of any deal for Harden, but the 76ers aren't willing to include him. At least not at this point. Both teams have leaked a willingness to ride out their respective situations into the offseason.
For a couple of weeks, there have been reports of Harden's dissatisfaction with Brooklyn. He issued a non-denial denial, telling reporters on Jan. 26 that they didn't hear anything from him about his reported unhappiness.
That is not the same thing as saying the reports were untrue.
All we know is that James Harden might still be with the Brooklyn Nets at 3:01 p.m. on Feb. 10. Or he won't be. Stay tuned.
Statistics courtesy of Basketball Reference. Contract information courtesy of Spotrac.