NBA Trade Rumors: The Los Angeles Clippers May Punt On This Season and Attempt a 'Warriors Model' Mini Rebuild
The LA Clippers have had championship-or-bust aspirations since adding both Kawhi Leonard and Paul George to their roster. So far, though, they haven't reached that goal.
Kawhi could miss the entire 2021-22 season after tearing his ACL last July, and now there's a chance George is also out for the year with an elbow injury.
A team built around two superstars that doesn't have said superstars isn't competing for a championship. The Clippers are well aware of this.
And now it appears LA could throw the towel in on this season and attempt to re-tool the roster around Leonard and PG13 in anticipation of a title chase in 2022-23.
Injuries have derailed the Clips 2021-22 aspirations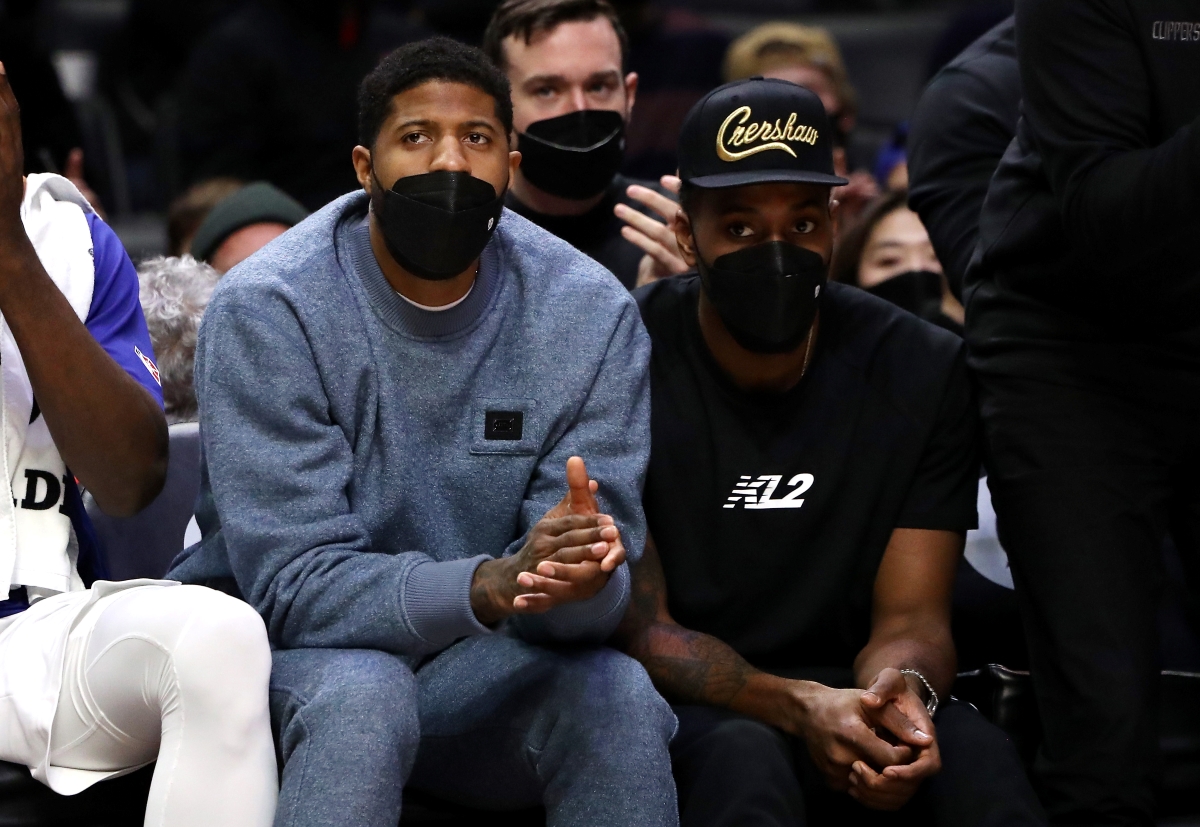 Kawhi partially tore his ACL against the Utah Jazz during the second round of last year's playoffs.
Typically, ACL injuries take about a year to recover from, and The Claw is notoriously slow and cautious when returning from any malady.
Leonard is also known for his rest days even when he is healthy, something that dates back to his time in San Antonio.
Despite a report from Chris Haynes earlier this month that said there was a "strong possibility" Kawhi could return this season, based on his history, no one should be holding their breath.
The second member of the Clips Big Two, George, has played in only 26 of LA's 43 games. PG13 isn't exactly a picture of health either.
Nicolas Batum has missed 19 games, as has Serge Ibaka. Marcus Morris Sr. has missed 21.
Despite George being in the running for MVP earlier this season, the accumulation of injuries has caught up to the Clippers, who sit eighth in the Western Conference standings at 21-22.
Although the team is only two games back of the fifth-seeded Dallas Mavericks, LA has dropped six of its last 10, and without its stars, is likely poised for a free fall.
A championship is likely out of the picture for a team that's only goal is to win titles. So perhaps it's time to pivot for the rest of the 2021-22 campaign and try something a little different.
Paul George's injury may be the catalyst for an LA Clippers mini roster rebuild
According to Jake Fischer of Bleacher Report, PG13's injury and its fallout could cause the Clips to attempt a rebuild now dubbed (pun intended) the "Warriors model."
Apparently, among front offices, that's become the term for a one-year tank job with the goal of acquiring more assets for a quick championship turnaround.
However, the biggest issue with this plan is that the Clippers likely won't have a first-round pick until 2027 because of the deal that brought George from Oklahoma City to LA.
This year's pick goes to the Thunder, as does the team's 2024 and 2026 selections. 2023 and 2025 are pick-swap years, but OKC is mired in a full (not a mini) tank job and will likely hold on to its own pick rather than take the Clippers', which would presumably come later in the draft.
So, according to Fischer, the goal of this specific LA rebuilding season would be to develop the young players already on the team's roster.
Terance Mann is a third-year guard who has shown two-way potential and averages more than 10 points and five rebounds on 48.4% shooting and 38.1% shooting from three.
Amir Coffey is a 6-foot-7 wing already playing 18.7 minutes per game. Isaiah Hartenstein has shown potential as a future option at center. The 7-footer averages 7.7 points, 4.7 rebounds, and 1.3 blocks on 66.2% shooting.
Brandon Boston Jr. is a 6-6, 20-year-old rookie combo guard, and the Clips drafted Keon Johnson in the first round of the 2021 draft because of his athleticism and potential as a defensive stopper.
Without the chance to bring in more young players via the draft, LA can still go the tank route and give the majority of its minutes to its young players for the rest of the season.
LA is a franchise hoping to win titles, and maybe marginal adjustments could help get it there
There are other adjustments available for the LA Clippers to make to their roster as well.
They might not net significant returns, but Morris, Ibaka, Eric Bledsoe, and Ivica Zubac could be sent out in hopes of recouping some of the franchise's lost draft capital.
If Leonard doesn't return — which was questionable to begin with, but now in a lost season becomes doubtful — and George is shut down as well, the Clippers' ultimate goal is out the window.
Maybe the "Warriors-style" rebuild is the way to go. If the team can develop some of its young assets so they're ready for more critical roles when Kawhi and Paul do return, the Clippers would theoretically have more depth and balance.
For teams like LA, every season is championship or bust. In this case, it looks like bust. So a bit of a rebuild in the hopes that next season leans more toward the championship end is a logical way to go.
All statistics courtesy of NBA.com.