NBA Trade Rumors: The New Orleans Pelicans' Desperation to Keep Zion Williamson Happy May Lead Them to Blazers' Guard CJ McCollum
The New Orleans Pelicans are awaiting Zion Williamson's return, and the franchise is already becoming desperate with each passing day.
No NBA player has ever ignored a rookie extension. And with Zion's injury history continuing to build, he likely won't be the first.
But the Pelicans need to start proving to their centerpiece they can put a title-contending team around him. If they continue to toil at the bottom of the Western Conference, the former Duke star may begin to wonder about his future in New Orleans.
One of the more recent NBA trade rumors has the Pelicans targeting Portland Trail Blazers guard CJ McCollum as his organization heads closer and closer to a rebuild.
Acquiring McCollum would show Williamson the franchise is making an effort to surround him with better pieces for the long haul, but it would also benefit the team in starting to build a more robust roster in the short term.
The New Orleans Pelicans are struggling this year waiting for Zion Williamson to return
After a 93-90 loss to the upstart Cleveland Cavaliers on Jan. 31, the Pelicans dropped to 18-32 on the season. Though they remain just 2.5 games behind Portland for the final play-in spot, that's not where NOLA expected to be.
Williamson was drafted with the No. 1 overall pick in 2019, one spot ahead of breakout superstar Ja Morant. But injuries have kept the burly power forward off the floor for the majority of his career, at least so far.
The 6-foot-8 power forward (listed officially on Basketball Reference at 284 pounds) has only played 85 NBA games. That total comes more than 2.5 years into his career.
When he has been healthy, though, the acrobatic lefty has been a marvel to watch — and he's also been productive.
Zanos averaged 22.5 points on 58.3% shooting his rookie season (24 games). In his sophomore campaign, he upped his scoring to 27.0 points per game, increased his rebounding to 7.2 boards a night, and shot a higher percentage (61.1%).
But Zion hasn't taken the floor at all this season as he continues to rehab a fractured foot, and he's doing so away from the team.
Nearly a month ago, ESPN announced that it was a mutual agreement for the franchise to part ways with Williamson while he received treatment elsewhere.
That's not a major red flag. But it does cause at least some concern that the franchise gem isn't entirely on board with the organization.
Dealing for McCollum would add a solid piece to the franchise's foundation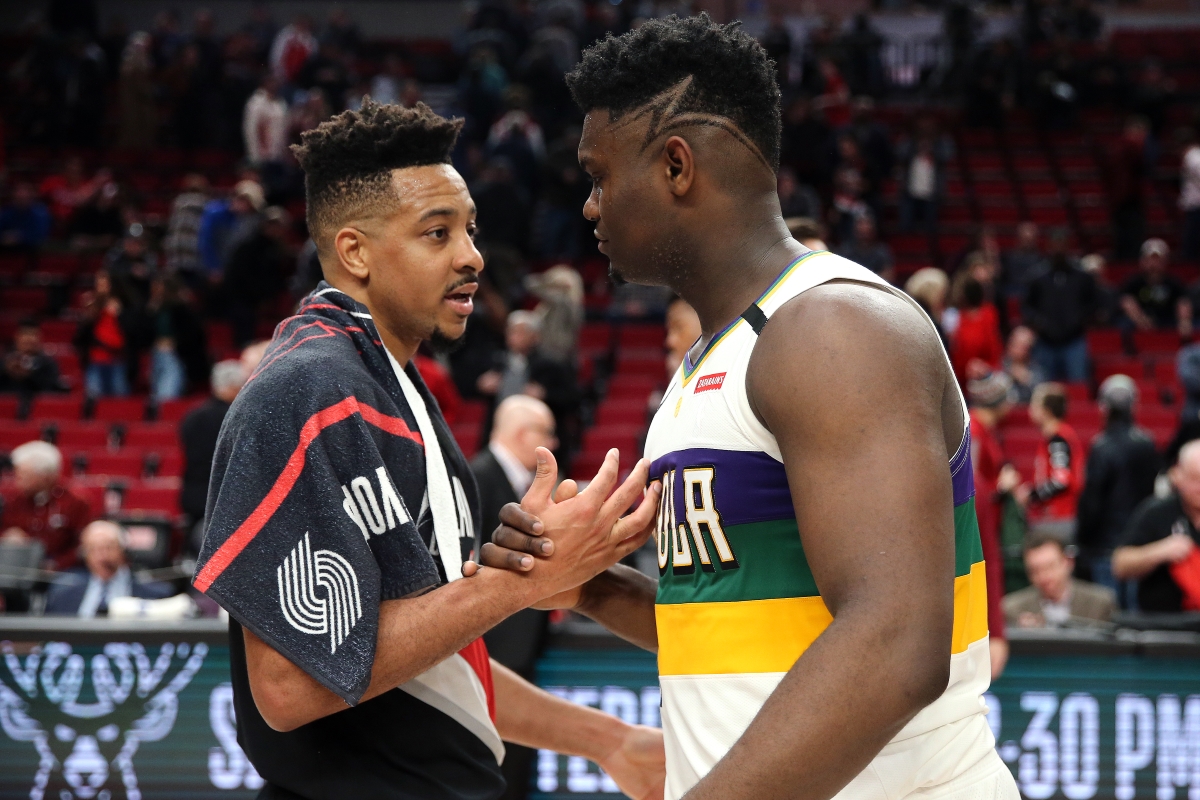 According to Bleacher Report, New Orleans "may focus" on adding McCollum ahead of this year's trade deadline.
The Trail Blazers should be heading for a rebuild, and if they do, CJ would be the most attractive asset Portland would be willing to part ways with.
An expensive 30-year-old guard who missed a good chunk of this season with a collapsed lung doesn't sound like he would be in high demand — but that could play to the Pels' advantage.
The Lehigh product played at least 70 games between 2015-16 and 2019-20. He scored 21.7 points per game and hit nearly 40% of his 6.2 threes a game during that span.
New Orleans currently has a three-guard rotation consisting of Devonte' Graham, Josh Hart, and Nickeil Alexander-Walker. All three are good rotation players, but not necessarily core starters.
McCollum would give head coach Willie Green precisely that.
The 6-3 combo guard's skill set would also be a good fit around Williamson and the team's leading scorer, forward Brandon Ingram, and would provide the roster with above-average players at all three levels.
The Pelicans have young assets to send back to Portland, like Alexander-Walker, Jaxson Hayes, and Herbert Jones. If McCollum entered the picture, Hart would become expendable as well.
And according to Fanspo, the team owns six first-round picks in the next three drafts.
A package could pretty easily be made for CJ, and his value may be at his absolute lowest, which would make said package even more digestible for a franchise trying to build a winner around Zion.
The Pelicans need to straddle the line of building for both the present and future
Although NOLA is still waiting on Zion Williamson's return, the franchise can't ignore the present. Winning now will be important to Zion in the future.
But at the same time, the Pelicans can't mortgage that future (a treasure trove of picks) to concentrate on the present. It's a fine line to walk, but one they need to figure out.
General manager David Griffin's time with the franchise may be coming to a close, regardless of what New Orleans does at the Feb. 10 deadline. If that's the direction the organization decides to move in, fine. But the next GM could end up being the person to sway Zion's eventual decision.
Williamson was the first overall pick in 2019 for a reason. His upside — if he stays healthy — is still even higher than Morant's.
But the franchise is in a precarious position. Zion will decide the Pels' future. It's on them to make sure that future remains in New Orleans.
All statistics courtesy of NBA.com.
RELATED: Damian Lillard's Surgery Only Accelerates the Timeline for the Portland Trail Blazers' Imminent Rebuild