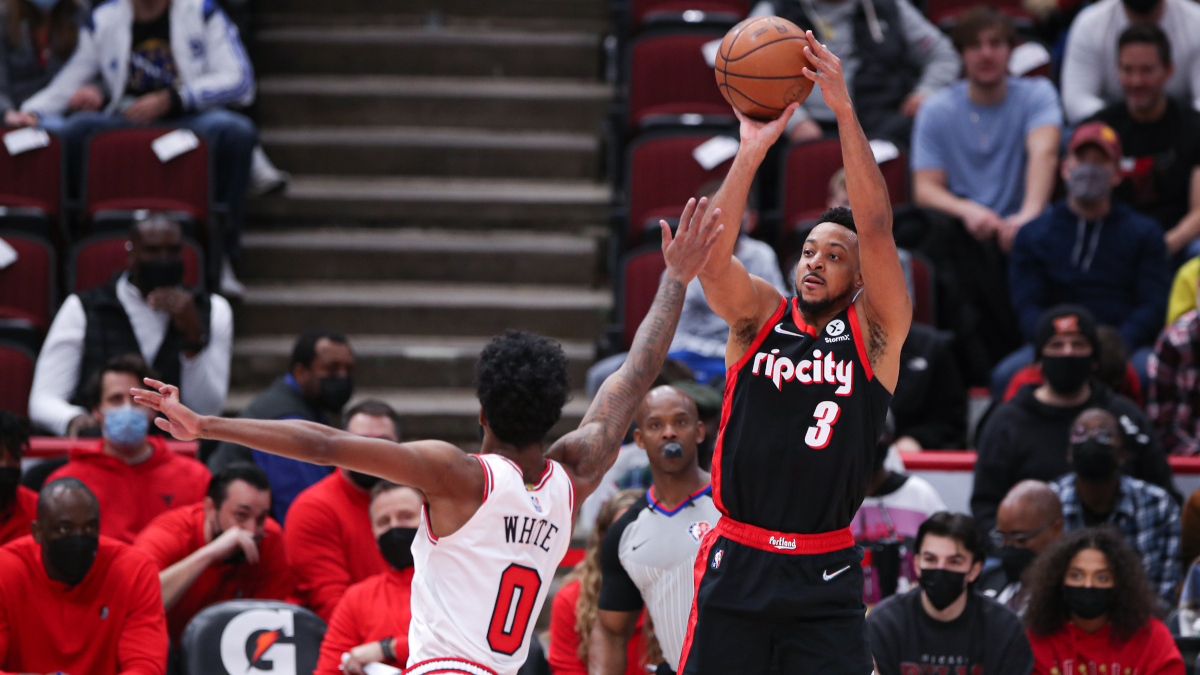 NBA Trade Rumors: New York Knicks Emerging as a Suitor for Portland's Pricey CJ McCollum
The New York Knicks are rumored interested in making a move for Portland's CJ McCollum in an effort to kick start their stagnant offense.
The Portland Trail Blazers fired the first shot with the Feb. 10 NBA trade deadline approaching, but reports indicate they're still open to wheeling and dealing. The New York Knicks are reportedly interested in taking one of Portland's one-time cornerstones by acquiring guard CJ McCollum. The Knicks are one of the poorest shooting teams in the NBA, and the 30-year-old could inject some life into New York's perimeter attack.
After dealing Norman Powell and Robert Covington to the Los Angeles Clippers, Trail Blazers interim GM Joe Cronin effectively posted the "no reasonable offer refused" sign. Superstar Damian Lillard underwent abdominal surgery, but Portland remains in the play-in tournament conversation in the not-so-wild Western Conference.
The New York Knicks struggle from inside the arc
It's been a strange season for the New York Knicks at the offensive end. Despite ranking 12th in the NBA in three-point shooting at 35.5%, the Knicks are 27th overall, hitting only 43.6%.
That's because they're one of only four teams in the league, hitting less than half of their shots from two-point range. Their 49.7% mark is 27th in the NBA, ahead of only the Toronto Raptors (49.3%), the Oklahoma City Thunder (49.3%), and the Detroit Pistons (48.6%).
None of their wings are exceptionally proficient at finishing twos. Among rotation regulars, Evan Fournier leads the way at 46.9%. It drops from there to RJ Barrett (45.4%), Kemba Walker (44.4%), Immanuel Quickley (41.7%), and Alec Burks (36.5%). Derrick Rose hit 46.7% on deuces before going down in December with an injured ankle.
New York is 24th in the league in true shooting at 54.7%, buoyed by their slightly above-average performance from deep.
CJ McCollum might not be the complete answer, but he'd be an improvement even in a down year.
CJ McCollum is on the radar of the New York Knicks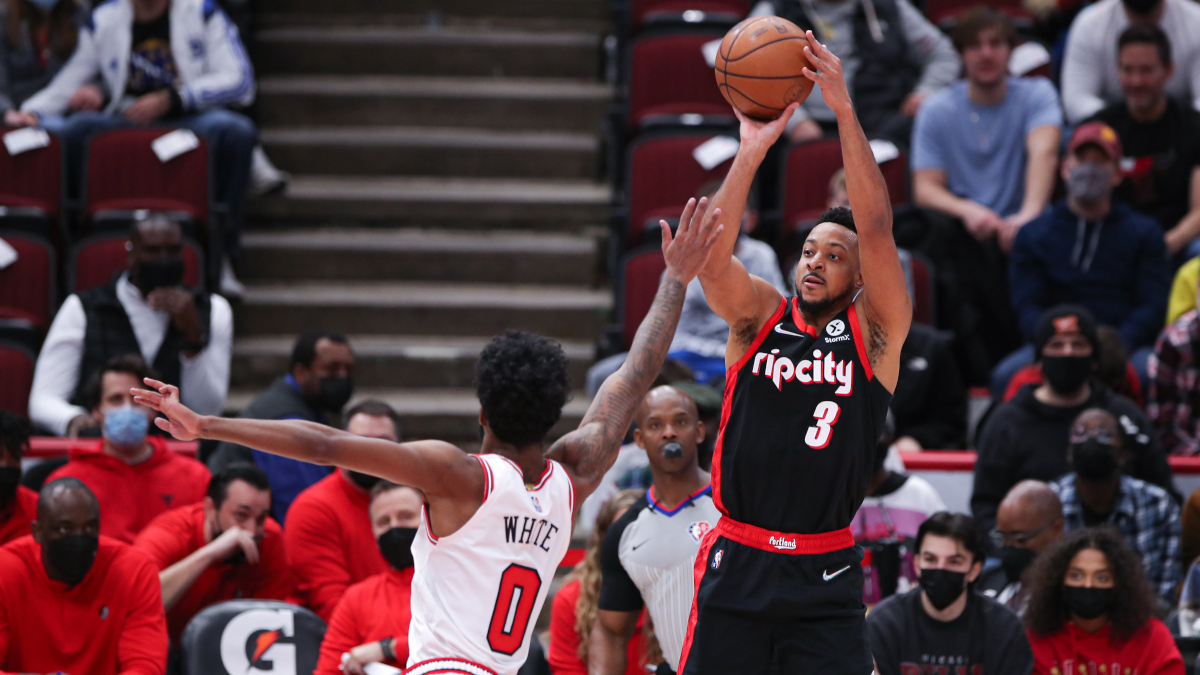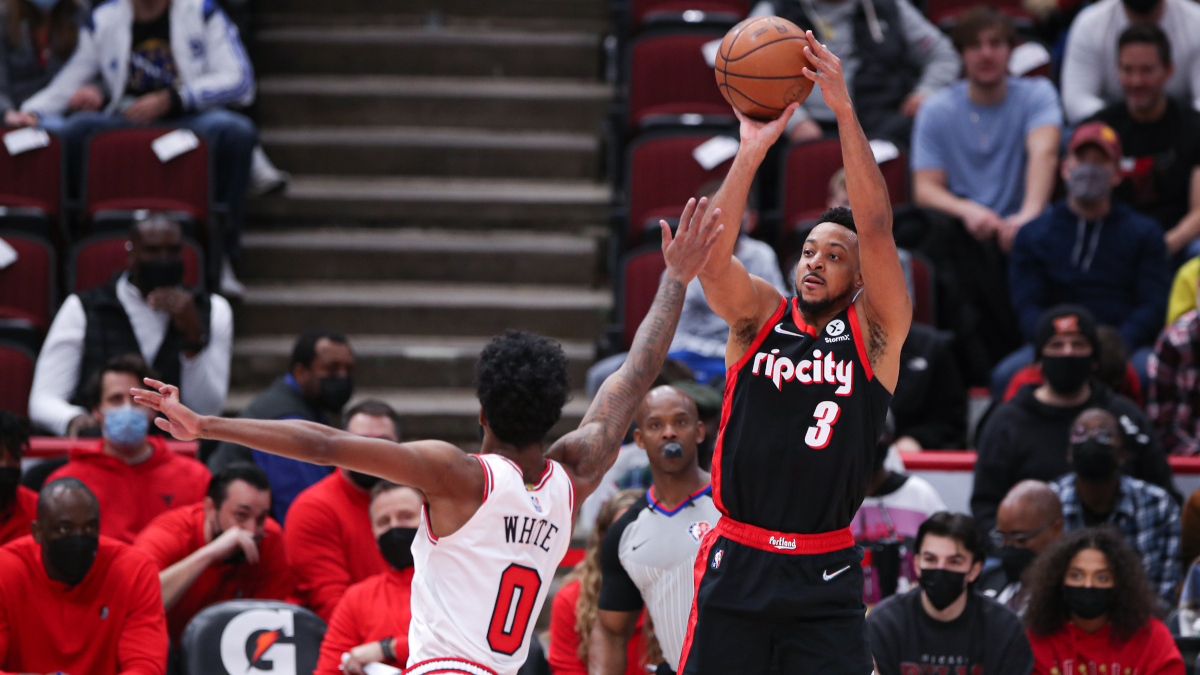 Marc Stein reported on Substack that the New York Knicks joined the New Orleans Pelicans in pursuit of Portland shooting guard CJ McCollum.
McCollum missed 18 games in December and January with a collapsed lung. He's averaging 20.5 points in 35.2 minutes per game while hitting 47.6% inside the arc and 38.4% on 8.0 attempts a night outside it.
At 18.5 shots a game, the ninth-year veteran is firing more frequently than anyone on the Knicks' roster. Embattled Julius Randle fires 16.3 times nightly, making 46.9% from two-point range and hitting a woeful 30.6% on 5.3 deep tries a game.
Last season, McCollum made 50.9% and 40.2%, respectively. He's a hybrid guard who would provide more playmaking than Fournier, who essentially only receives passes rather than sending them.
CJ McCollum is in the first year of a nine-figure contract
The Trail Blazers accomplished something with their much-panned trade with the Clippers that brought Eric Bledsoe, Keon Johnson, and Justise Winslow. Portland got their payroll below the luxury tax line by moving Powell and Covington. At 21–33 and 11th in the West, a play-in spot is as good as it gets for the Blazers. So why write a big check?
The New York Knicks aren't in as dire a position. While they are $7.4 million over the salary cap, they have nearly $16.8 million in wiggle room under the tax threshold.
That's important when considering adding CJ McCollum, who has a cap figure of $30.9 million in the first season of a three-year, $100 million extension he signed in July 2019. After this year, he still has two seasons at $69.1 million on the books.
That's where Fournier comes in. Last summer, he signed a four-year, $73 million deal as an unrestricted free agent. That includes a $19 million team option in 2024–25.
According to FanSpo, a straight-up deal sending out Fournier to get McCollum doesn't work. The Knicks are sending out $17.1 million in this scenario and taking back $30.8 million. They need to add another $8.7 million to the deal to meet the conditions of the collective bargaining agreement.
Adding Walker, who makes $8.7 million this season and is guaranteed $9.2 million next season, makes the trade workable.
This hypothetical deal also trims another $4.9 million off Portland's cap sheet and doesn't threaten New York's tax status. The Knicks would remain $11.9 million clear of the line.
After a stunning top-four finish in the East last season, the encore disappoints the Knicks. CJ McCollum might be enough to bump them back into the play-in conversation. At 24–29, they are a game behind the Atlanta Hawks for the 10th spot. New York is five games behind sixth-place Toronto.
The East is wide open. If the New York Knicks want to shoot their shot at the trade deadline, it's hard to blame them.
Statistics courtesy of Basketball Reference and NBA.com. Contract information courtesy of Spotrac.