NBA Trade Rumors: Philadelphia 76ers Going All-in for a Title With Aggressive James Harden Pursuit
There might be a megadeal before the Feb. 10 NBA trade deadline, after all. According to a report, the Philadelphia 76ers are chasing a trade to bring James Harden to pair with MVP frontrunner Joel Embiid. The Brooklyn Nets are reportedly open to listening to a deal centered around former All-NBA point guard Ben Simmons.
Without Simmons, the 76ers were 31–20 entering their Feb. 4 contest at Dallas, one game behind the Chicago Bulls and Miami Heat in the Eastern Conference. With Harden, but often without Kyrie Irving and currently sans Kevin Durant, Brooklyn has lost six straight games heading into a Feb. 4 matchup at Utah. The Nets are 29–22, sixth in the East, and three games behind the Bulls and Heat.
It's not as simple as a one-for-one trade because of salary cap implications.
What's at stake for the Philadelphia 76ers?
Shams Charania of The Athletic reported the possibility of talks between the Philadelphia 76ers and the Nets getting more serious.
Joel Embiid is playing the best basketball of his NBA career. He leads the league in scoring at 29.1 points per game and is dishing a career-best 4.4 assists per game. The 27-year-old is the backbone of the 76ers. More importantly, he's healthy. He's played in 39 games, in which Philadelphia is 27–12. They are 4–8 when he sits.
The bulk of that lost time came in November when he spent nine games in health and safety protocols. The 76ers won just twice in that span. After a couple of games to regain his timing, Embiid stormed to the front of the MVP race, according to Vegas Insider.
In 27 games since Dec. 3, Embiid averaged 32.2 points, 10.8 rebounds, 4.5 assists, 1.3 blocks, and 1.0 steals in 33.3 minutes a night on 52.6% shooting overall.
Given the five-time All-Star's medical history, the 76ers don't want to waste a year of his prime. Philadelphia is only 6–8 against the other teams with the 10 best records. Adding James Harden gives the team a second star with Simmons inactive.
In 2012, 76ers president of basketball operations Daryl Morey detailed his 5% theory to Zach Lowe of now-defunct Grantland. Then the general manager of the Houston Rockets, Morey had just acquired Harden from the Oklahoma City Thunder and signed him to an extension.
His 5% theory is straightforward. Morey believes that if your team has even a 5% chance to win the championship, you push your chips to the center of the table and go all-in. A second blockbuster trade to acquire Harden fits the theory.
Why would the Nets give up James Harden?
The Philadelphia 76ers were interested in James Harden last season when the 2017–18 NBA MVP forced his way out of Houston. It's no coincidence that interest flared shortly after Morey took over the Philadelphia front office.
With Brooklyn, Harden became a piece of perhaps the best Big Three in the NBA. At least in theory. Since The Beard came to the Nets in January 2021, the Harden-Durant-Irving trio has played only 10 regular-season and six playoff games together.
Harden also declined a contract extension. He has a $47.4 million option for next season and has never been a free agent. Brooklyn must weigh the risks of trading Harden now or potentially losing him with nothing in return in July.
The Nets have floundered since sweeping consecutive road games in Los Angeles on Dec. 25 and 27. They are 6–13 since and have won back-to-back games just once. Irving plays in road games only; Durant has been out with a sprained knee since Jan. 15.
Just named to his 10th All-Star Game, Harden has battled hamstring and hand injuries recently. He also sounds increasingly frustrated with the situation in Brooklyn.
Why a straight-up James Harden-for-Ben Simmons trade isn't possible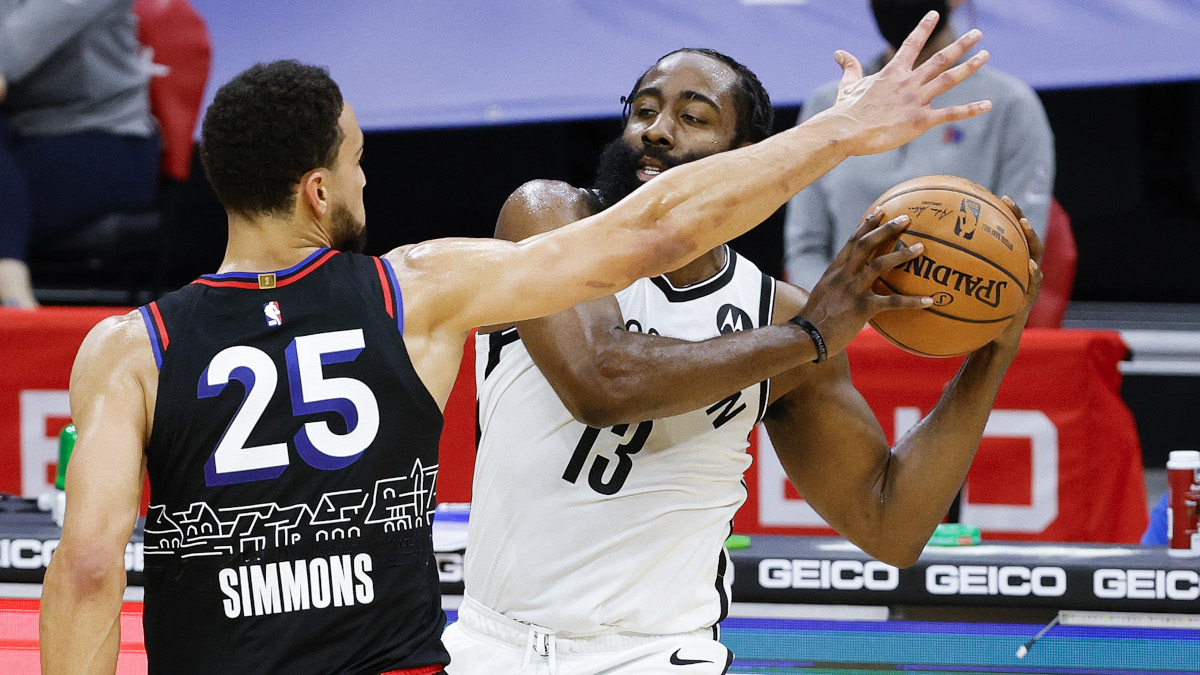 Both the Philadelphia 76ers and the Nets are projected taxpayers. Brooklyn is $35.3 million over the luxury tax line, while the Sixers' payroll exceeds the threshold by $6.3 million.
Because of that, neither team can take back more than 125% of the salary they are sending out, plus $100,000.
James Harden has a $44.3 million cap number this season. Conversely, Simmons is on the books for just $33 million this season. Based on that, the most Philadelphia can take back in a trade for Simmons alone is $41.3 million.
The 76ers have Furkan Korkmaz ($4.6 million) and Georges Niang ($3.3 million) available to make the trade math work. Or they could dangle Seth Curry ($8.2 million) or young players Tyrese Maxey ($2.6 million) and Matisse Thybulle ($2.8 million).
Brooklyn also has some movable contracts in Patty Mills ($5.8 million), Bruce Brown ($4.7 million), and Jevon Carter ($3.6 million).
Morey has been fascinated by the idea of bringing James Harden to the Philadelphia 76ers since he got to town. Whether the Sixers and Nets can hammer out the details before Feb. 10 appears to be the new question.
Statistics courtesy of Basketball Reference. Contract information courtesy of Spotrac.
RELATED: Shaquille O'Neal Refuses to Criticize Ben Simmons After Receiving DM From Sixers Star: 'I'ma Back Off'