NBA Trade Rumors: Raptors Are in the Driver's Seat to Flip $19.4 Million Benchwarmer Goran Dragic for an Impact Player
Since winning the NBA Finals in 2019, the Toronto Raptors have been on a roller-coaster ride against their will. COVID-19 forced the Raptors to play home games in Tampa, Fla. last season and in an empty Scotiabank Arena for portions of this season. On top of that, a seven-year postseason streak came to a screeching halt after Toronto ended an abbreviated 2020-21 campaign at 27-45.
Yet despite all the concerns, this year's Raptors are thriving.
The 29-23 Raptors are leaving little doubt that last season's struggles were simply a fluke. Thanks to efforts from All-Star Fred VanVleet, an improved season from Pascal Siakam, and an outstanding rookie year from Scottie Barnes, Toronto is just 4.5 games out of the one-seed in an ever-changing Eastern Conference playoff picture.
Ahead of Thursday's deadline, the resurgent Raptors are in a prime position to acquire an impact player for a playoff push. And Goran Dragic, their sparingly-used veteran who's been glued to the bench since November, can help them obtain him.
Goran Dragic has been a healthy scratch for the majority of the season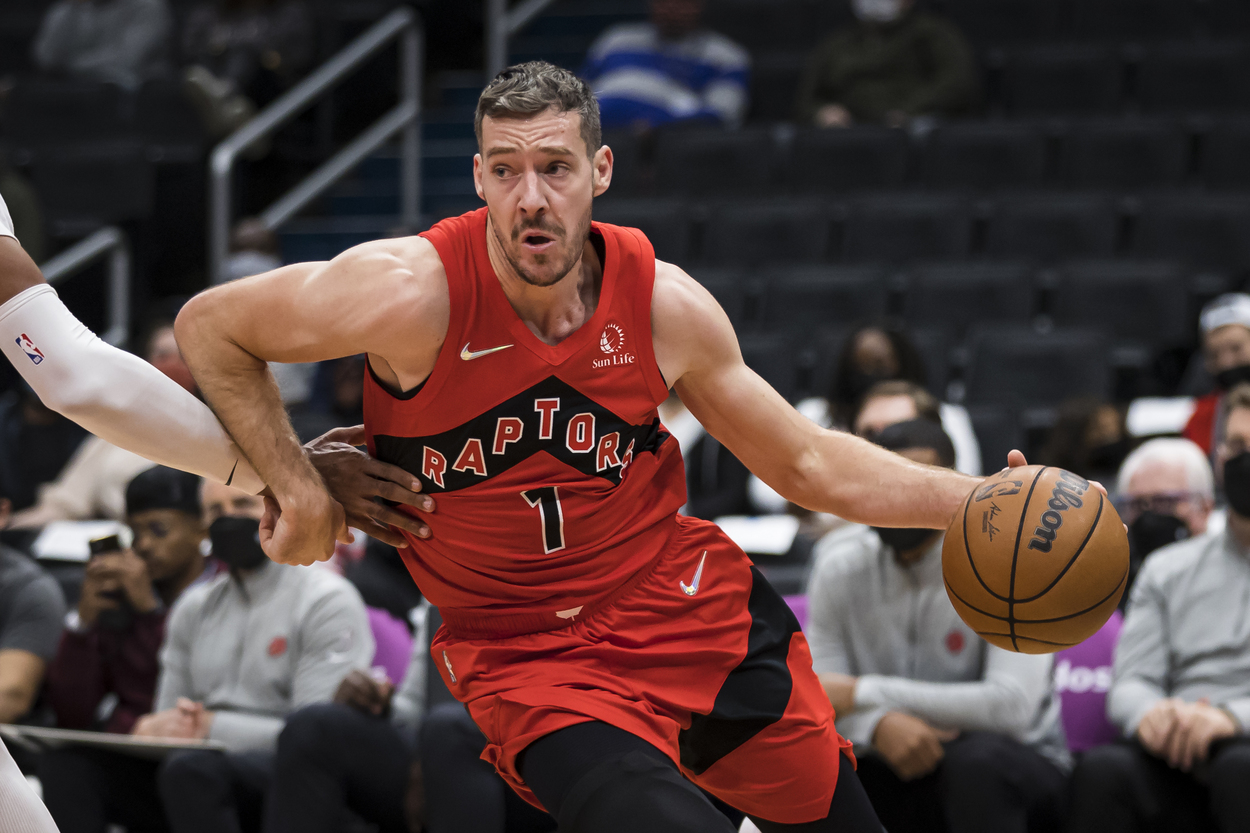 Toronto suffered one of its great losses in franchise history with the departure of Kyle Lowry. The six-time All-Star inked a three-year, $85 million contract with the Miami Heat last summer. As a result, Dragic and Precious Achiuwa went north as part of the sign-and-trade.
Dragic's inclusion in the deal was merely for salary-matching purposes. Even though the Raptors viewed the 35-year-old as a leader and mentor, it was clear from the jump he wouldn't be a major part of the team's on-court plans.
As it turns out, Dragic wasn't going to be in any part of Toronto's on-court plans. After starting on opening night, the 14-year veteran was relegated to the bench for the next three games. He was then removed from the rotation altogether, playing one final game on Nov. 13.
Considering Dragic hasn't been active for over 2.5 months, his Raptors chapter should close this week. Either the former All-Star is traded to another team, or a buyout is reached and he becomes an unrestricted free agent.
The Raptors believe they can move Dragic and his contract for an impact player
On the surface, a 35-year-old benchwarmer making $19.4 million doesn't exactly scream "trade deadline coup." But after seeing how the Cleveland Cavaliers turned Ricky Rubio and his $17.8 million expiring contract into Caris LeVert, Toronto is confident it can do the same.
Rubio, who's out for the season with a torn ACL, was packaged with a 2022 first-round pick and two future second-round picks for LeVert. Using that deal as inspiration, Toronto could land someone like LeVert or better, assuming it throws in a couple of draft picks to sweeten the pot.
"The Raptors have been exploring a variety of trade packages within a similar framework over the past several weeks," wrote Josh Lewenberg of TSN. "The sense is that they would be willing to part with a first-round pick and a prospect or two, but the players they're targeting at that cost are ones that fit both their short and long-term plans."
With Toronto unlikely to be a big free-agent player, the trade deadline is its greatest opportunity to improve. Moving Dragic and his $19.4 million cap hit, along with draft picks, allows the club to add talent without having to lose significant roster pieces.
Assuming the Raptors find a home for Dragic, what's next for the well-respected veteran? For one, he could stay with his new team and serve as a mentor. Or, he could be bought out and join a contender. The second option seems more likely, with the Dallas Mavericks a likely destination.
The Raptors have a few different options at the trade deadline
Dragic and draft picks will be at the heart of most, if not all of Toronto's trade conversations. What that package lands, however, won't be known until Thursday afternoon at the latest.
With VanVleet, Siakam, Barnes, and OG Anunoby, the Raptors don't need a game-changing star. But they could use some more shooting or an improvement at the center position.
New York Knicks guard Evan Fournier could make sense. The Knicks are hoping to unload Fournier and the three years, $56 million left on his contract. And as Chris Mannix of Sports Illustrated reported, they're willing to take on Dragic too.
Michael Grange of Sportsnet also mentions a few possible targets. Atlanta Hawks guard Bogdan Bogdanovic, Houston Rockets guard Eric Gordon, and Sacramento Kings forward Harrison Barnes could all be on Toronto's radar. All three are under contract for at least one more full season and have cap hits almost identical to Dragic.
Whoever Toronto is able to find, expect them to be a significant addition to the roster. And although any deal would likely mean losing a first-round pick, flipping the benchwarmer Dragic for a high-caliber shooter would give the Raptors a deadline victory.
All statistics courtesy of Basketball Reference and contract figures courtesy of Spotrac.
RELATED: NBA Trade Deadline: Should the Toronto Raptors Be Buyers or Sellers?