NBA Trade Rumors: Teams Are 'Ramping up' Conversations Surrounding Indiana Pacers Big Man Myles Turner, Who Could Be a Season-Altering Acquisition
The Indiana Pacers have already let teams know they're willing to be sellers at this year's NBA trade deadline, so the rumors have been flying for weeks. Myles Turner, Domantas Sabonis, and Caris LeVert are all available should teams meet the Pacers' asking price.
Turner is perhaps the most likely to be moved. Indiana values Sabonis more highly, and teams may need to shell out a bit more to land a playmaking scorer like LeVert.
But if a contending team is able to acquire Turner, it could end up changing the outcome of their season.
The Indiana Pacers and Myles Turner are involved in trade rumors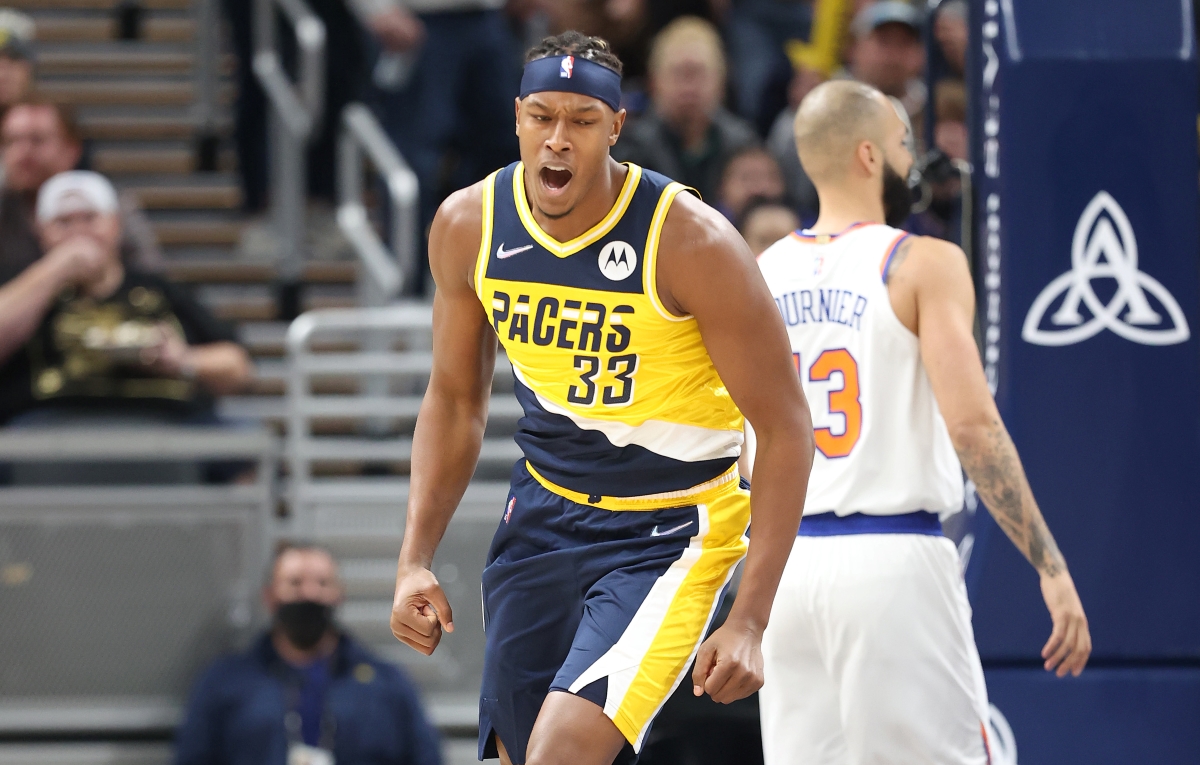 The trade rumors started to fly early in December when it became known the Pacers were willing to trade away three of their most valuable assets. Turner was one of them.
Indiana was in the midst of a disappointing season at that point. And things haven't gotten any better since.
The team is 15-26 as the halfway mark of the season approaches. That puts the Pacers in 13th place in the Eastern Conference standings. They're now hanging out with the Detroit Pistons and Orlando Magic, two teams that are openly tanking.
Sabonis has been the team's best player and continues to be, leading Indiana in scoring, field-goal percentage, and rebounds. Malcolm Brogdon has been another leading man for the Pacers since he landed with the franchise, and LeVert statistically completes the team's Big Three (ouch).
Turner, though, has been consistently undervalued and has been once again this season. He could be had at a lower price than any of those three, yet he could also play a more significant role on a championship contender than any of them.
A deal for Turner could alter the trajectory of a contender's season
Shams Charania reported on The Athletic, "Rival teams are ramping up conversations with the Pacers involving guard Caris LeVert and center Myles Turner."
Shams then goes on to say that the Dallas Mavericks, New York Knicks, Los Angeles Lakers, and Charlotte Hornets have all had some level of interest in the sixth-year big man.
Turner is underrated as a prototypical center in the modern NBA. He can space the floor on offense and protect the rim on defense. He leads the NBA in blocks at nearly three per game and shoots 34.9% from deep on 4.4 attempts a night.
His averages of 12.9 points and 7.2 rebounds this year aren't indicative of his full talent. Turner's skills would shine in the right situation (not next to another center like Sabonis).
As for those four teams mentioned by Shams, it's been relatively well documented at this point that it will be hard for the Lakers to make a significant trade at the deadline.
Turner would be ideal next to Luka Doncic in Dallas, but what happens with Kristaps Porzingis? It seems unlikely Indiana would move on from the former Texas Longhorn to bring in an even more highly paid player at the same position.
The Knicks could look to be a buyer at the deadline and have pieces like Obi Toppin, Immanuel Quickley, and possibly RJ Barrett to dangle in front of the Pacers if they want to try and go all-in this season.
Charlotte, though, might be the most fun possibility. The Hornets don't have a player like Myles on the roster. On offense, he could be either a pick-and-roll lob threat or pick-and-pop threat with LaMelo Ball.
Melo and his team are quietly climbing the Eastern Conference standings. Charlotte is second in the league in scoring but 29th in defense and 21st in rebounding. Enter an athletic, 6-foot-11, exceptional shot-blocker.
Perhaps that's the best fit, and the Hornets have the assets to make the deal if they so choose.
It's time for the Indiana Pacers and Turner to part ways
The Pacers need a reset — their current roster isn't taking them anywhere near a championship. They've admitted as much.
Turner is also more than ready to move on, as The Athletic reported in December:
"It's clear that I'm not valued as anything more than a glorified role player here, and I want something more, more opportunity," Turner said at the time.
"I'm trying really hard to make the role that I'm given here work and find a way to maximize it. I've been trying to the past two, three seasons. But it's clear to me that, just numbers-wise, I'm not valued as more than a rotational role player, and I hold myself in a higher regard than that."
He should hold himself in higher regard. And he is a better player than he's able to show in Indiana.
He's a season-altering acquisition for a team that pulls the trigger on a deal. Now it's just a matter of which team that is.
All statistics courtesy of NBA.com.
RELATED: Kyrie Irving's Impressive Season Debut Was Overshadowed by the Most Unlikely 30-Point Game in the NBA All Season