NBA Trade Rumors: Whether Ben Simmons Is Involved or Not, It Would Be a Colossal Mistake for the Wizards to Hold Onto Bradley Beal
The closer we get to the Feb. 10 NBA trade deadline, the more Bradley Beal trade rumors seem to be popping up. The most significant hypothetical deal spreading across the league with only one week to go involves a swap of Beal and Philadelphia 76ers disgruntled star Ben Simmons.
Sure, there's a chance that could happen. Maybe that's the best-case scenario for the Washington Wizards front office.
But whether Simmons is the return or not, the Wizards need to move on from Beal before it's too late. Holding onto the star shooting guard past this year's deadline could be a mistake of epic proportions for the franchise.
Beal and the Wizards are once again out of the championship race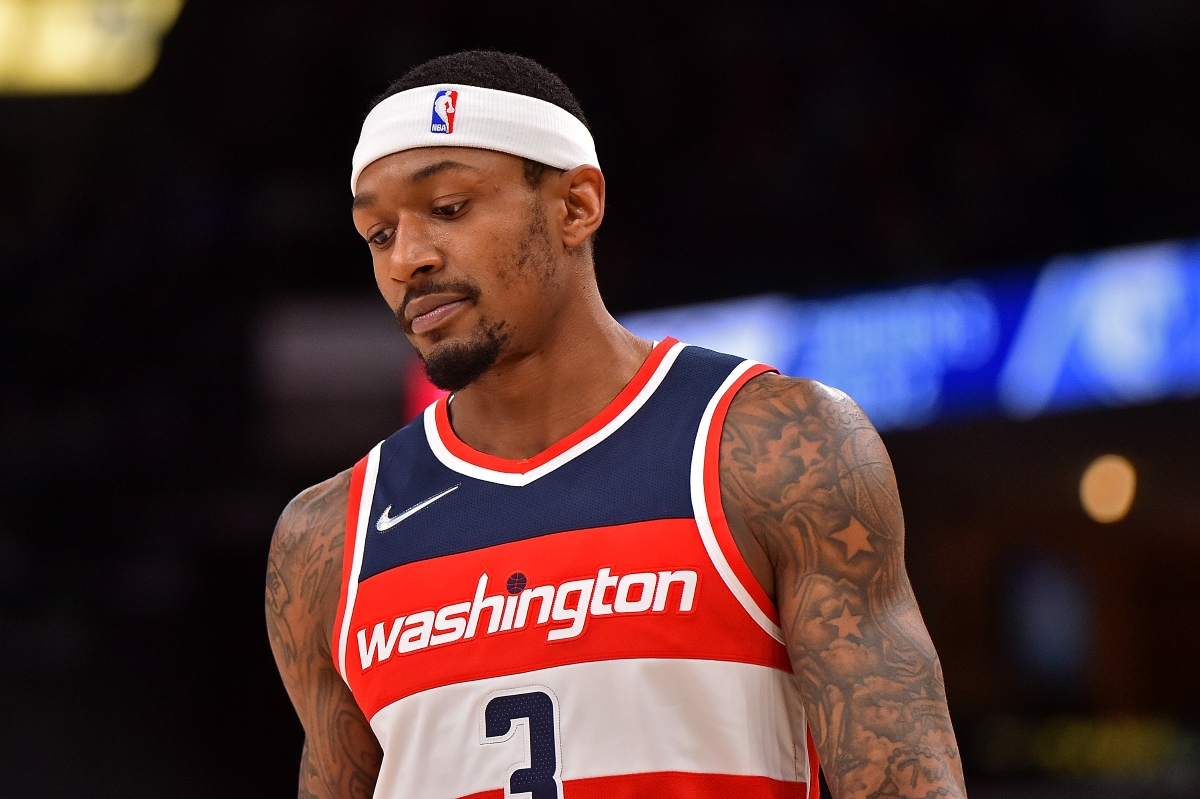 Washington was the talk of the NBA town when they started the season 10-3. Everything seemed to be sunshine and rainbows in the Nation's Capital.
Then came a slide, which still hasn't stopped. The sunshine and rainbows have turned into dark clouds hanging over the franchise.
Beal and Co. are 24-27 as of Feb. 3, which puts them 11th in the Eastern Conference standings. At best, Washington could find its way into the play-in tournament, but a championship run is surely out of the picture.
To make matters worse, Brad is having a down year individually. He's averaging 23.2 points, his lowest since the 2017-18 campaign. In 2019-20 and '20-21, the Florida product scored more than 30 points a night.
Beal has developed a reputation as a sharpshooter during his NBA career. Well, he's shooting 30.0% from three on more than five attempts per game and 45.1% on the field overall. That's by far a career-low for the 28-year-old from deep and his poorest field-goal percentage since 2015-16.
And realistically, what has Beal done to help Washington get close to a championship? Since being drafted by the Wizards in 2012, his team has made the playoffs five times, never advancing past the second round, per RealGM.
Until 2017-18, John Wall was Washington's best player. Since Beal took that mantle, the team has made two playoff appearances and won three total games.
At this point, it's fair to legitimately question whether or not Brad can be the best player on a title-contending team.
Washington needs to find a Bradley Beal trade before it's too late
To recap:
The Wizards are not going to win a championship this year and may miss the playoffs altogether
Beal isn't playing anywhere near his best
The franchise star has yet to show he can carry a team past the first round of the playoffs
And the icing on the cake? Beal is an unrestricted free agent at the end of the season and is free to sign anywhere he wants.
The word out of both camps — Washington's and Beal's — has been patience. Brad has reiterated that he wants to stay (although that has begun to falter in the past few days), and the Wizards don't want him to leave.
That's led to speculation that Washington could actually be buyers at the trade deadline, hoping to find another player to pair with their three-time All-Star. That would be an unnecessary, frankly desperate move.
The right call is to go in the other direction and sell (relatively) high on Beal while the team still can. If that's in the form of Simmons, great. But 28 other teams would love to have the nine-year vet in their lineup too.
What if the organization decides to stand pat and hope Beal takes the max extension to stay in Washington? That sounds all well and good.
But it wouldn't be the first time a player took the most money he could and then decided he wanted out shortly thereafter. That would reduce the Wizards' leverage — now they're trying to trade a player on a max deal that runs through his age 33 season and one who could decide to force Washington's hand as to where he ends up.
This is not the path the organization wants to go down. It's time to deal Beal before it's too late.
If the Wiz gamble and their franchise centerpiece leaves for nothing, it's another major setback for an already struggling organization
Neither of those scenarios is attractive for a franchise that hasn't reached the conference finals since the 1978-79 season.
Beal leaving in free agency after Washington held onto him during a season with nothing tangible on the line would be the worst possible decision. But signing him just to be forced into trading him isn't a much better option, nor is signing him and dealing with another five years of mediocrity.
And the team has a handful of young, talented players right now, which provides at least a little bit of hope.
Hopefully, the Wizards decide to make the right call. Brad would fetch another good young player or two and/or some first-round draft picks. That would provide fans with an even wider sliver of that hope.
Washington needs to make a Bradley Beal trade by Feb. 10. It would be a colossal mistake not to.
All statistics courtesy of Basketball Reference.
RELATED: NBA Trade Deadline: 5 Names Every Basketball Fan Needs to Know