NBA Trade Rumors: Why the Portland Trail Blazers Should Regret Refusing to Trade Damian Lillard Before the Season
Hindsight is always 20/20. But the Portland Trail Blazers and point guard Damian Lillard were in the middle of the trade mill all offseason and into the beginning of the 2021-22 campaign. Portland ultimately made the decision not to deal its franchise superstar.
But the Blazers' season didn't get off to a great start, and it's wholly disintegrated from there.
At this point, Portland should regret refusing to move Lillard. The franchise had a chance to tear things down and begin to rebuild, but they chose not to.
Now it's too late to recoup the value they could have gotten had they moved Dame before the season.
The Portland Trail Blazers' season has been a shining example of Murphy's Law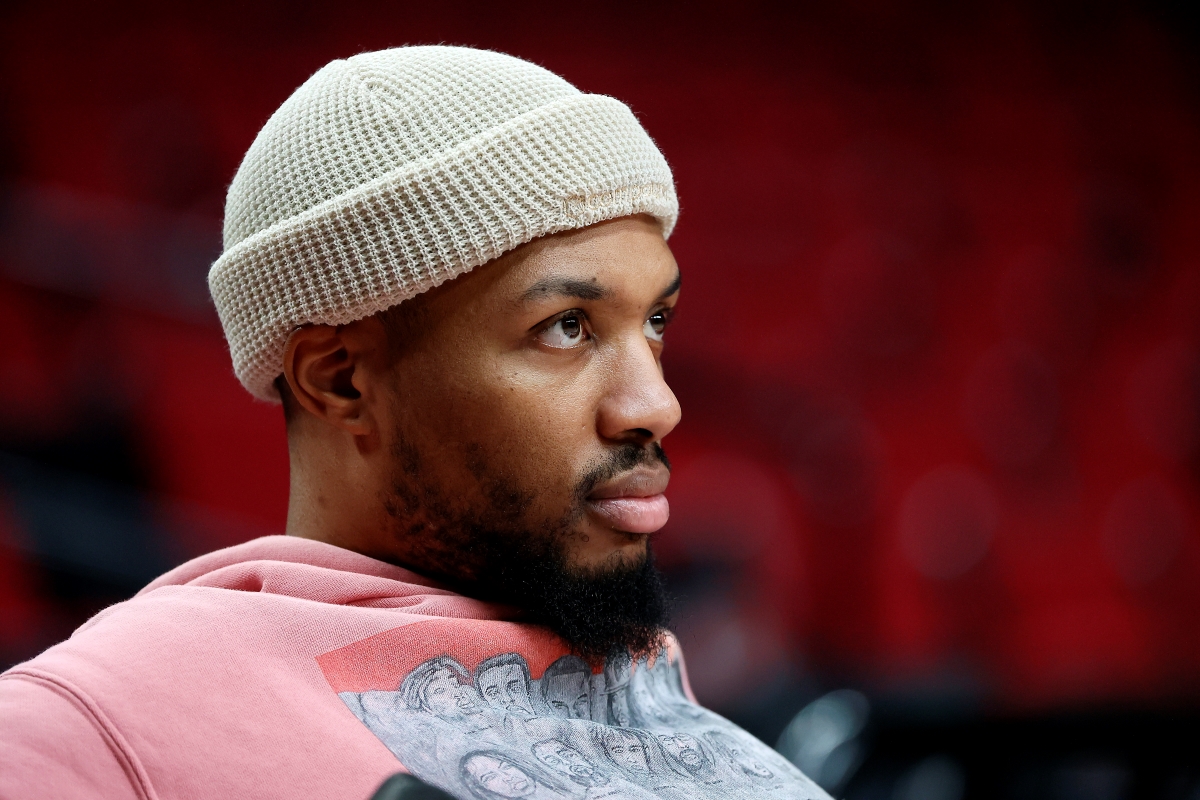 Murphy's Law states that everything that can go wrong will go wrong.
That essentially sums up the Blazers' 2021-22 season.
With almost half the season gone, Portland is 12th in the West with a record of 14-24. The team is dead last in the NBA in defensive rating and 14th in offense, scoring only 108.8 points per game.
Offensively, they're playing worse than teams like the Sacramento Kings and San Antonio Spurs.
Lillard is currently out with abdominal tendinopathy. It's an injury that's bugged him all season long and has, in part, led to the worst statistical season of the superstar's NBA career.
The 31-year-old is in the midst of his worst scoring output since 2014-15 (24.0 points per game) and has career lows in field-goal percentage (40.2) and 3-point percentage (32.4).
Since Dame became the Blazers' franchise player, Portland has gone as far as he can take them. This season that's proving to be to the bottom of the NBA.
Even his backcourt running mate, CJ McCollum, missed time with a collapsed lung.
At this point, it's fair to say the organization should have struck while the iron was hot and dealt Lillard before its season became a disaster.
A preseason Damian Lillard Trade would have been the right move
It's certainly within the realm of possibility that if Portland had decided to move on from Dame before the start of the season, the franchise would have gotten a return similar to what the New Orleans Pelicans got for Anthony Davis.
In that swap, the Pels got back Lonzo Ball, Brandon Ingram, Josh Hart, and a slew of unprotected first-round picks and pick swaps. That's two young potential superstars, a legitimate young rotation player, and a ton of chances to swing for the fences for another superstar in the draft.
The Blazers could have slammed their fist down on the red reset button — honestly, why not, if you're trading your franchise superstar — and dealt McCollum as well.
Now the team's best moves are around the fringes, like trading the expiring contracts of Jusuf Nurkic and Robert Covington.
There's no sense in moving young players like Anfernee Simons — who has been playing like a future star in Dame's absence — or Nassir Little, for example.
Instead, Portland is left with a roster that's hemorrhaging games, can't stay healthy, and has no legitimate path to a championship.
Had they pulled the trigger on Dame — who had several suitors, including the Philadelphia 76ers who quite possibly would have just given the Blazers the entire city of Philadelphia — the future would look a lot brighter than it does right now.
The Blazers have to blow it up, but now it's significantly more difficult
Regardless, this iteration of Portland has maxed out. The team made one conference finals with Lillard at the helm. The backcourt of Dame and McCollum has also maxed out.
There's no sense in re-signing Nurkic or Covington. It's time to say goodbye to Norman Powell, too. Young players like Simons and Little (and that's about it) need to be given a chance to shine.
But when the Blazers do blow it all up, they're going to get a significantly lesser return than they would have done had they moved Lillard, McCollum, etc, prior to this season.
Tanking and rebuilding is the route to go. But by holding onto Dame, the franchise has only made it harder on itself.
All statistics courtesy of NBA.com.