NBA Trades: What Tobias Harris Deal Means for the Pistons
The Detroit Pistons are tittering on the fringes of the playoff picture and may have made a move that could put them squarely in the mix by acquiring forward Tobias Harris from the Orlando Magic in exchange for point guard Brandon Jennings and forward Ersan Ilyasova. Orlando had just recently made Harris available in the trade market, and it didn't take too long for the Pistons to jump on the opportunity to grab one of the promising young forwards in the game.
Although Harris has seen a significant drop in his scoring, he's averaging 13.7 points and 7.0 rebounds and started in 49 games so far this season. This includes scoring in double figures 39 times with six 20-plus point outputs and leading the Magic in scoring six times and in rebounding 16 times. He also has 13 games with 10 or more rebounds and 10 double-doubles this season. Harris can immediately step into the starting lineup as either forward spot and could become a major part of their young nucleus that already includes emerging star center Andre Drummond and point guard Reggie Jackson.
He's also just 23 years old, which will allow him to further hone his game alongside Jackson and Drummond over the next several seasons. Another huge benefit: Harris is locked for three more years after this season due to the four-year, $64 million contract that he signed last offseason with Orlando. He could become the team's second scoring option behind Jackson, and his ability to stretch the floor with his outside shooting ability could allow Drummond to flourish and further develop his game more in the paint.
This move has the potential to make an immediate positive impact from the get-go, especially after the team sputtered heading into the All-Star break, losing six out of their last eight games, including their final three contests. The Pistons possess a roster that should be in the mix for a playoff spot, but their inconsistent play through this season puts them on the edge of missing it entirely. It's a critical time for Detroit with a little less than 30 games left in the season, which may have intensified their push to make a move in order to shake up things a bit down the stretch.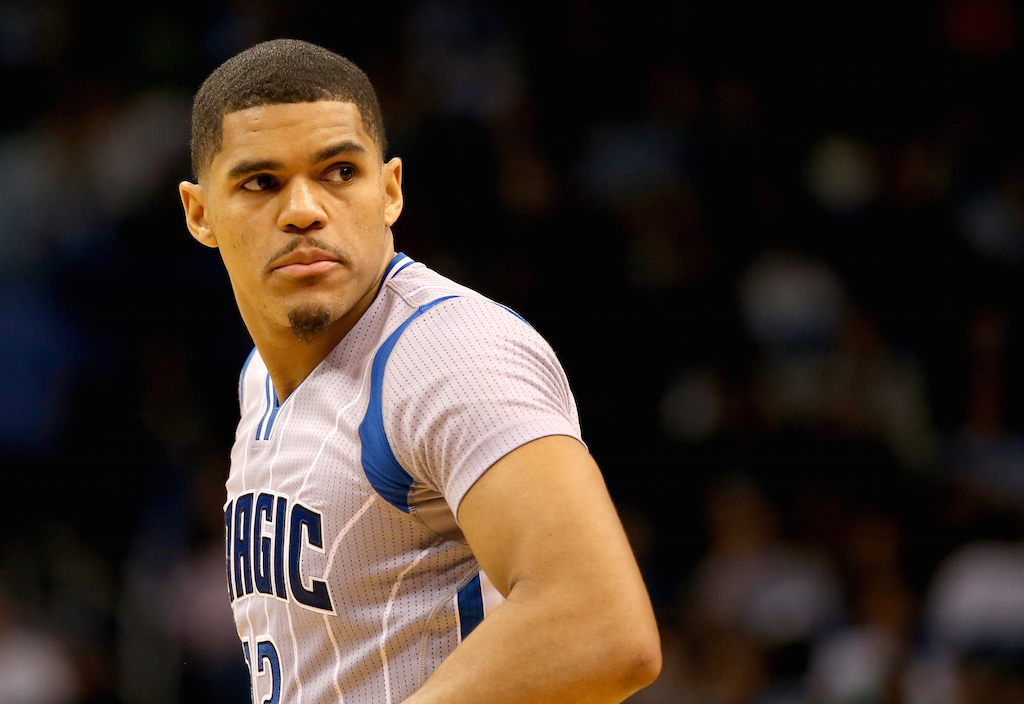 It was a bit of a hefty price to move Jennings, but he's still working his way back from a serious leg injury and has struggled at times, playing alongside another ball-dominant player in Jackson. With the 26-year-old now out of the picture, it allows Jackson to take more control of the team's primary ball-handling responsibilities as the lone point guard in the starting lineup.
That said, Jennings is going into a new situation playing under one of his former head coaches, Scott Skiles, who knows what type of player he is and what he can bring to the table for the Magic. He will likely step in right away and compete for the starting gig with Elfrid Payton, possibly taking on a leadership role with his new team's young core of players, including Aaron Gordon, Victor Oladipo, Nikola Vucevic, and Evan Fournier.
Another added bonus for Jennings is that Orlando is also within arms length of competing for a playoff spot, sitting 3.5 games out of eighth place in the Eastern Conference. The Magic have shown flashes of promise this season, and making the postseason isn't entirely out of the question. Although they are dealing away one of their young core players, it gives them a chance to see what rookie Mario Hezonja and Fournier can do in more expanded roles.
In truth, it could be a blessing in disguise for the team, allowing their other young players to develop in larger playing capacities. All in all, it was a move that could greatly benefit the Pistons in their playoff push this season. It gives them another reliable scoring option and potential piece to the puzzle of their young core, which could build a solid foundation for years to come.