NBA: Vegas's Top 5 Early Picks For the MVP Award
Every player in the National Basketball Association wants to win a championship, but every single player would be happy being recognized for individual excellence. Particularly when that honor is bestowed upon the person who's most valuable to their team's success.
In case you didn't see what we did there, we were obviously referring to the NBA MVP Award. Despite all the skilled players in the league, only one person will find himself walking away with this prestigious accolade. And while we expect it will take most of the year for any one player — if not more —  to completely distinguish himself from the bunch, that doesn't mean there aren't a few players making an early case for themselves.
Everyone is entitled to their own opinion, however, the oddsmakers in Vegas have decided to put theirs out there for the whole world to see. With that in mind, as the 2015-16 NBA season continues to move forward, here's a look at the top five early-season candidates for MVP.
5. Anthony Davis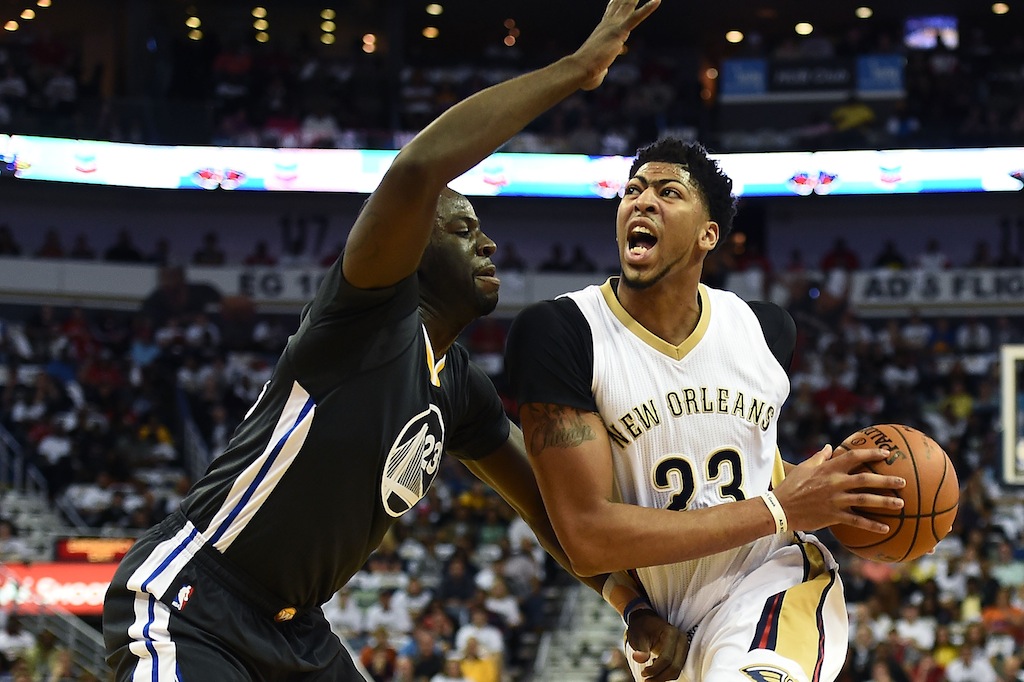 As much as we love Anthony Davis' game, we happen to think his position on this list of latest Vegas odds is actually a bit high. Sure, The Brow is putting up 24.0 points, 9.0 rebounds, 2.3 assists, and 2.6 blocks per contest, but he hasn't been dominating on a consistent enough basis for our liking. Throw in the fact that his New Orleans Pelicans are currently sitting at 1-7, and we can't in good conscience support this decision. In our humble opinion, this No. 5 spot belongs to Detroit's Andre Drummond. The 6-foot-11 center is averaging 18.8 points and an NBA-best 19.3 rebounds per game, and the Pistons are second in the Central Division with a 5-3 mark. Consider use Team Big Penguin.
4. Kevin Durant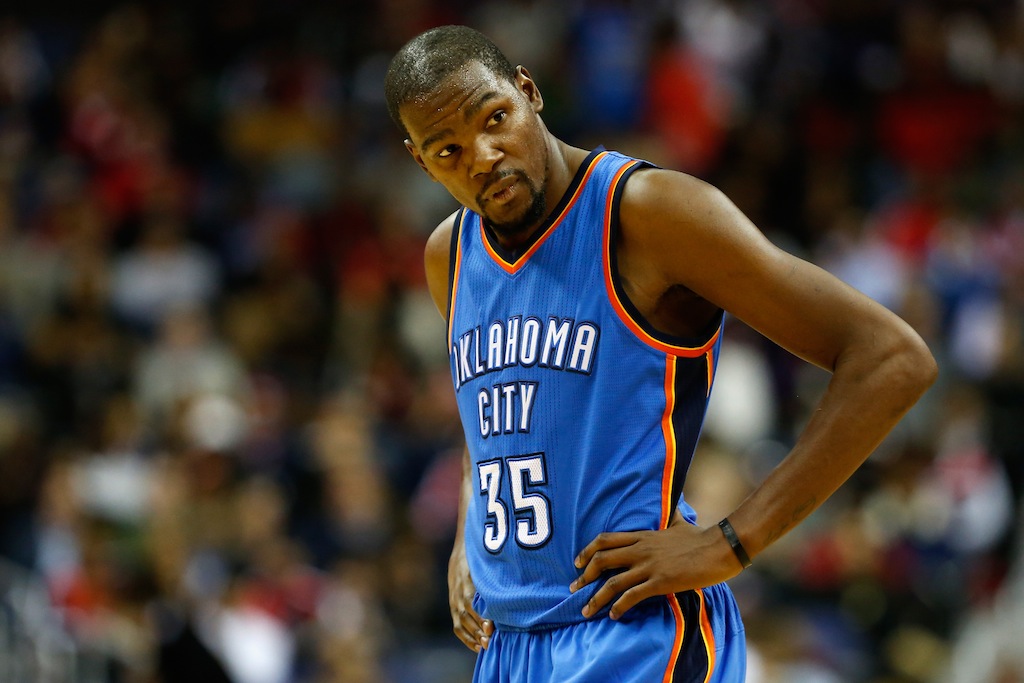 Excuse us for stating the obvious, but the NBA is a much better place when Kevin Durant is on the floor. Granted, he's expected to be out seven-to-ten days with a strained hamstring, but when he has been on the court, he's been pretty much the same KD: lethal. In eight games, Durant is shooting 50.3% from the floor, averaging 28.1 points and 7.3 rebounds per night, and the Oklahoma City Thunder hold the top spot in the Northwest Division. And just like that, all is right in the National Basketball Association.
3. Russell Westbrook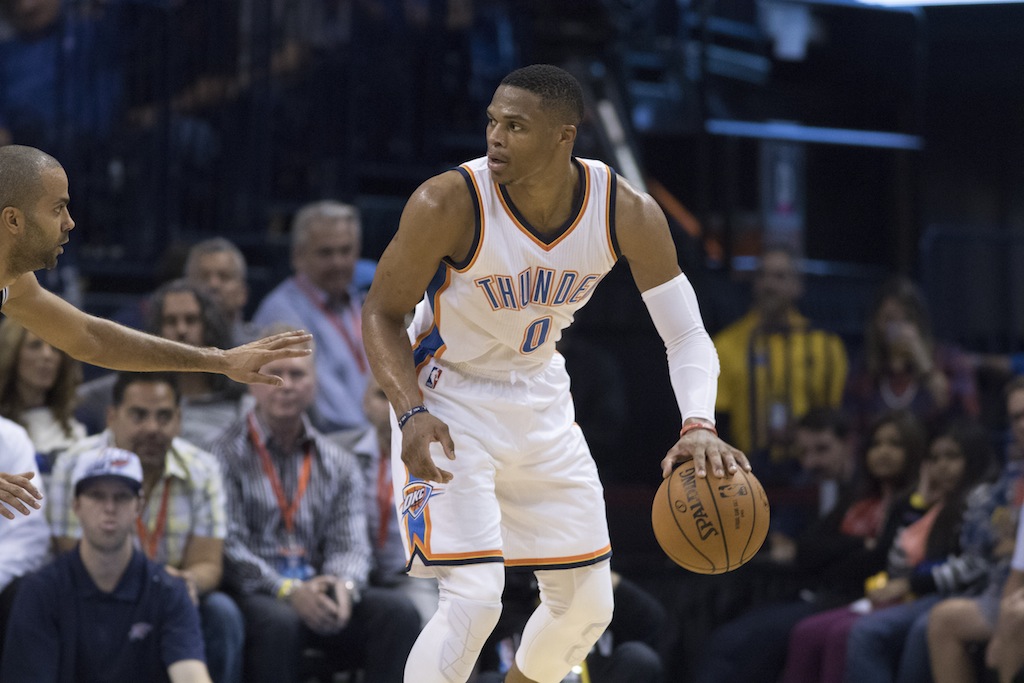 While it's nice to see KD back in the fold, point guard Russell Westbrook has continued to be the engine that makes this OKC team go. Aside from the freakish athleticism he displays on a nightly basis, the All-Star point guard is still putting up 25.8 points, 7.5 rebounds, and a league-leading 10.9 assists per game. With numbers like that, is it any wonder Durant recently referred to Westbrook as "our best player"? You won't hear us arguing.
2. LeBron James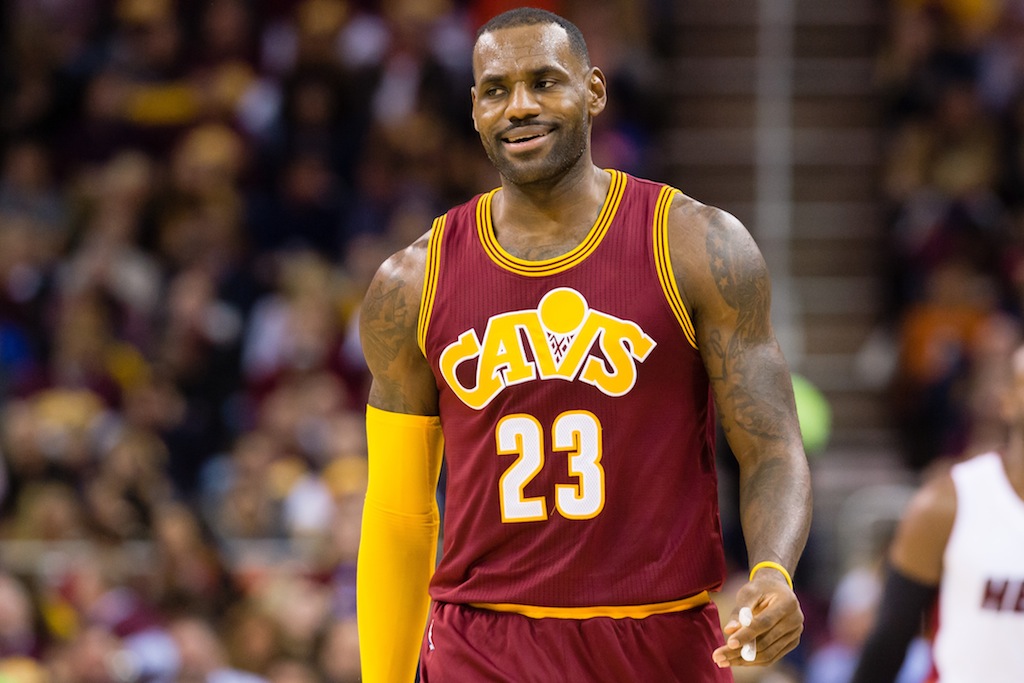 Prior to the start of the 2015-16 NBA season, Vegas considered LeBron James the odds-on favorite to win MVP. And while he may not be at the top of the list anymore, he's done nothing to remove himself from the conversation. Despite less-than-inspiring outside shooting, the King is still averaging 25.3 points, 6.6 rebounds, and 6.6 assists per game. More importantly, Cleveland is 7-1 and hold the best record in the Eastern Conference. Individual honors are nice. However, we're sure James is more focused on helping the Cavs get over that championship hurdle.
1. Stephen Curry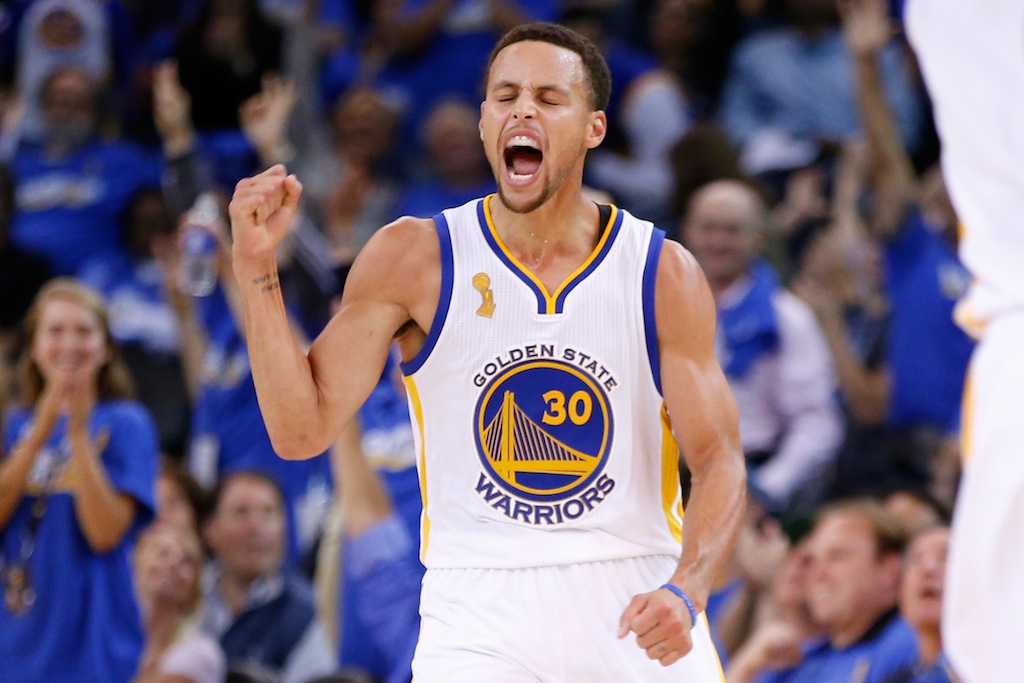 In the early 2015-16 season, Stephen Curry has been far and away the best player in the National Basketball Association. And it hasn't been close.
Not only are the defending champion Golden State Warriors 10-0, but the reigning MVP has been nothing short of a one man wrecking crew. In only 34.3 minutes a night, Curry is shooting 53.3% from the field, 47.3% from three, and averaging 33.3 points per game. But that's not all.
The Baby-Faced Assassin also has four 20-point quarters and has scored 40 or more points in three games so far this season. Should we wait and see out the rest of Curry's 2015-16 campaign plays out, or should we just hand him his second straight MVP award now? Honestly, we can't decide.
Odds are courtesy of sportsbook.ag.
All statistics are courtesy of Basketball-Reference.com, ESPN.go.com, and ESPN Stats & Info.