NBA: Warriors Announce Klay Thompson's Expected Return Date
Throughout the offseason, Golden State Warriors All-Star guard Klay Thompson has continued to move forward in his recovery from a torn ACL. This has kept Golden State's status as a title contender up in the air. Thompson's steady progress in the rehab has paved the way for the organization to publicly set when he will get back on the court in the 2019-20 campaign.
How Klay Thompson suffered a torn ACL
In his first eight seasons in the NBA, Thompson has proven to be one of the league's most durable players. His presence has been a vital part to the Warriors' success over the last five years as he played more than 73 regular-season games in each of the past seven campaigns overall, including an entire season once and more than 80 three times.
However, the wear and tear finally caught up to him after taking part in 103 playoff games during their five straight appearances in the NBA Finals. Thompson suffered a torn ACL in Game 6 of the 2019 NBA Finals after landing awkwardly on his left leg following a foul on a dunk attempt.
He was able to impressively remain in the game to make a pair of free throws but exited the contest on the next possession. It is the first major injury of his career that will keep him sidelined for a significant portion of time on the floor, marking the first time he will play under 66 games in a single campaign.
Warriors say Klay Thompson will be out until after All-Star Break
Thompson has continued to make steady progress in his recovery from a torn ACL, which has brought to the forefront the expected timetable for his return.
The Warriors remained mum on that topic over the last several months with an exact time frame. Golden State finally placed an official mark on it during the team's Media Day on Monday morning, according to Anthony Slater of the Athletic.
This gives Thompson roughly eight-plus months to heal and rehab, which is around the typical nine months to a year time frame that it takes to get back from that ailment. The Warriors are clearly in no rush to get their star guard back on the court, especially after what they went through with Kevin Durant and DeMarcus Cousins last season when they were both brought back sooner than expected.
Thompson will have the necessary time to get his body right so that he can be back in time to help the team make a strong second-half push to the playoffs and possibly much further than that.
Warriors' plan with Klay Thompson sidelined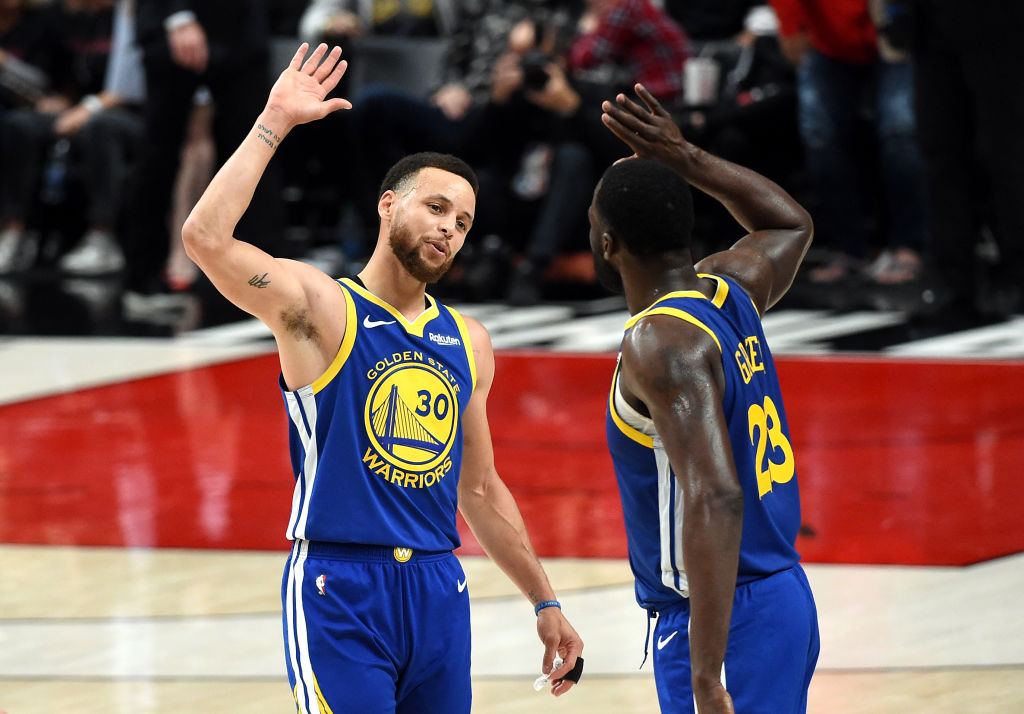 Golden State has made it evident from the get-go this past offseason what they are aiming to do while Thompson is sidelined. The team quickly acquired All-Star point guard D'Angelo Russell in a sign-and-trade deal that sent Durant to the Brooklyn Nets.
Russell will immediately step in as the secondary scorer behind Curry that should provide immediate offensive firepower. He is coming off a career-best campaign where he averaged a career-high 21.1 points while shooting 43.4% from the floor and 36.9% from beyond the arc along with 7.0 assists per contest.
It will also see an expanded offensive role for All-Star forward Draymond Green, who has shown he has the ability to contribute in that department in the past when injuries struck the roster. Prior to Durant's arrival, Green put together a career-best campaign averaging triple-double like numbers with 14.0 points, 9.5 rebounds and 7.4 assists per contest in the 2015-16 season.
Thompson's absence will surely be felt, but the Warriors will be able to find success while he is on the mend.