NBA: Warriors Coach Steve Kerr gives Gregg Popovich, Spurs High Praise
Golden State Warriors head coach Steve Kerr is about to face a challenging stretch of his career, one that serves as a direct test of a coach's impact on their team.

After five straight NBA Finals appearances, the top super team in the NBA is no more. The next version of the Golden State Warriors goes forward without Andre Iguodala, Shaun Livingston, and the incomparable Kevin Durant. Klay Thompson is sticking it out, but he won't recover from his shocking Game 6 injury until midway through next season. 

In light of that, the Spurs' longtime coach Gregg Popovich never seems to be far from Kerr's thoughts. In fact, Kerr questions whether he can get anywhere close to Pop's legendary career.

On matching Popovich: "It may be a pipe dream, honestly."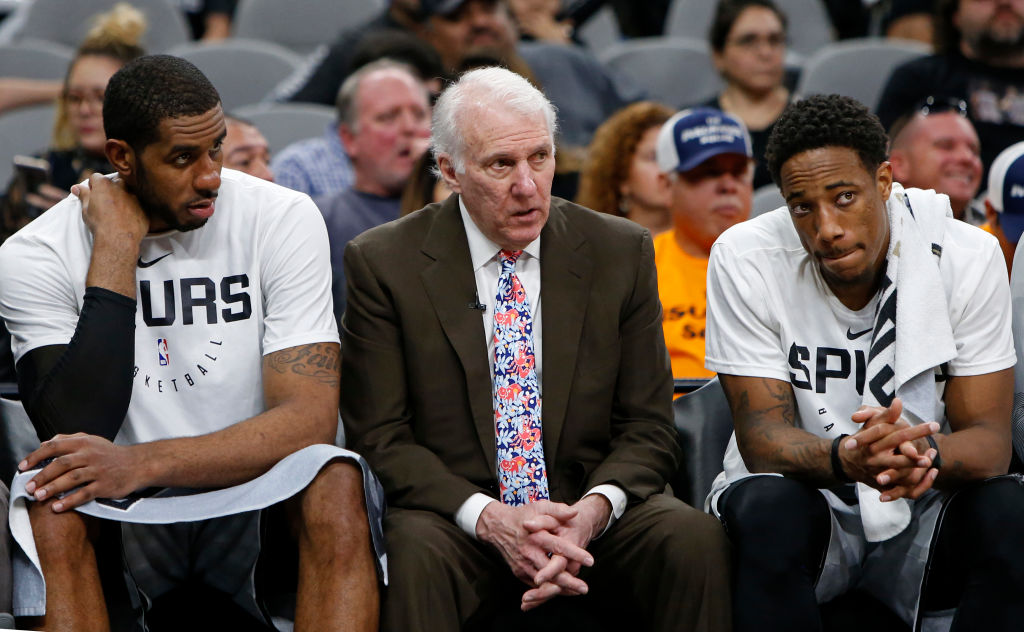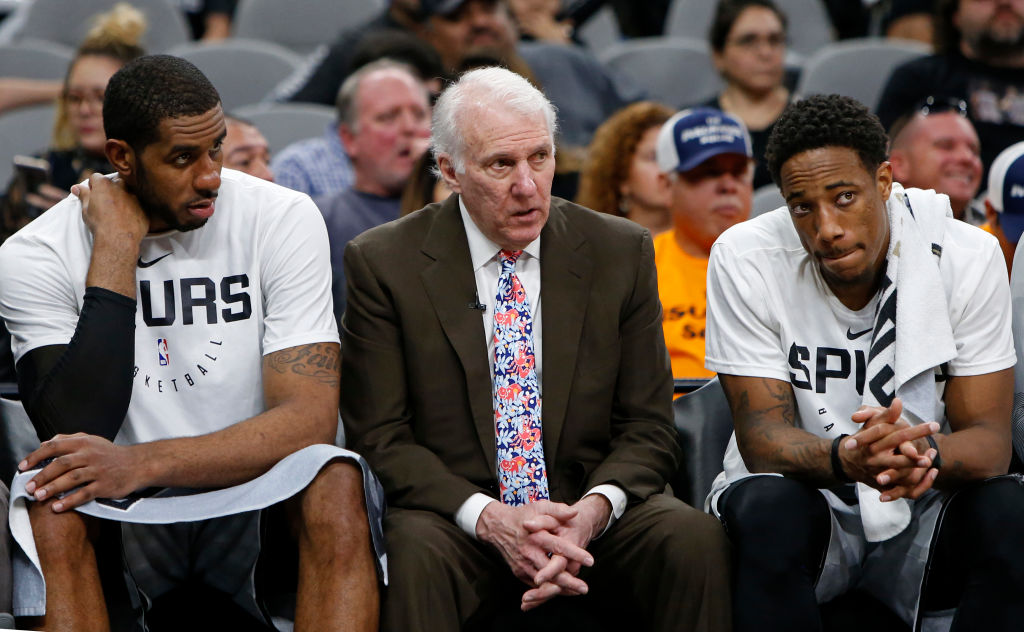 Steve Kerr never shies from honesty with the press. He always acknowledges the gift that coaching his run of Warriors squads truly is. Now, Kerr helms a beleaguered team. In terms of superstar-level talent, only Draymond Green and Steph Curry will hold down the first half of the season. On a team once stacked with top-flight talent, Kerr's coaching will be under the magnifying glass.

Popovich is the obvious model for Kerr to emulate.
In a recent interview, Kerr outright said that he doubts his ability to come close to Pop's leadership with the Spurs. That organization hasn't missed the playoffs since 1997, tallying five NBA Finals victories in the process.
Maybe Kerr, by his own standards, isn't a one-to-one match to Pop's battle-tested wisdom. But he's prepared to try his best to measure up. On the challenge to come, Kerr said "this summer was painful in many ways losing the guys that we did. But it was reassuring in the sense that we brought back some key guys that will help us get to that next era."

How Stever Kerr mirrors Gregg Popovich's best qualities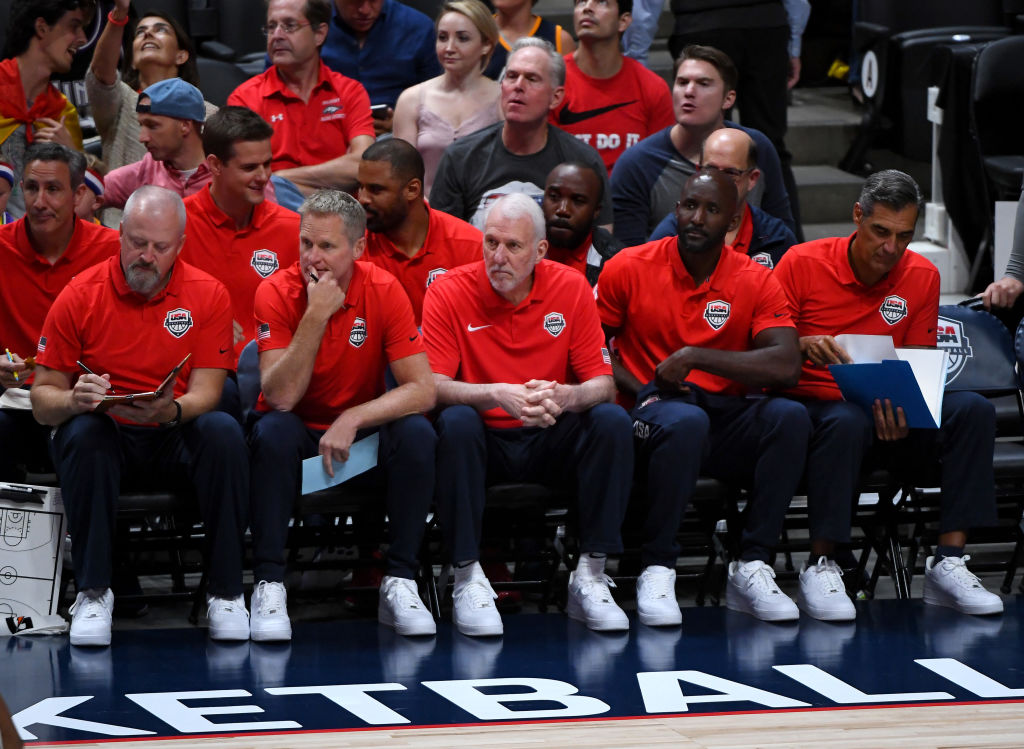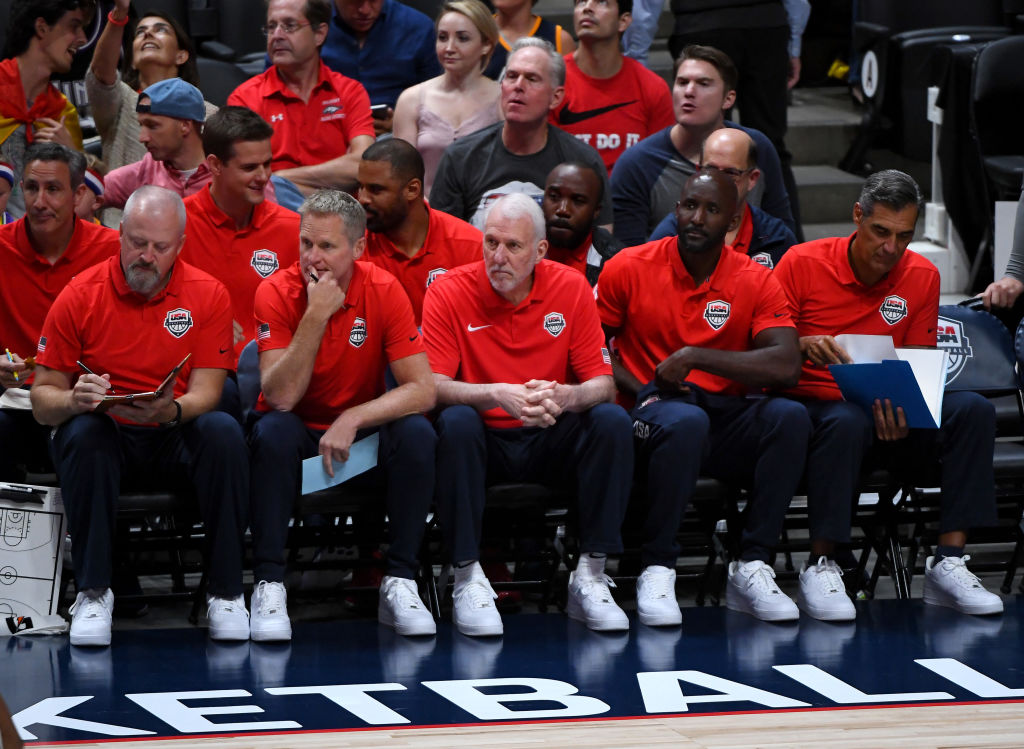 Kerr's modesty in comparing himself to Popovich comes off as genuine. Still, in his blunt approach, he skips acknowledging the many ways he already matches Pop's attitude and approach to the game.

He probably absorbed some of those great instincts from his days playing under Popovich. Kerr was a point guard for the Spurs from 1998-2001, and once more during the 2002-03 season. That's plenty of time to absorb what separates Pop from the rest of the coaching field. Oh, and winning two championships together probably didn't hurt the relationship much.

Their styles are similar off the court. Popovich speaks his mind politically without the slightest hesitation, with a big interest in defending activism among athletes. Kerr does the same.

On the court, Kerr now looks to be in a position similar to the bulk of Pop's career. He'll now need to emulate his mentor more directly. Green and Curry need support from role players. As strengths and weaknesses emerge in the course of the upcoming question mark of a season, it's up to Kerr to pull a Pop and fill in the gaps in ingenious ways.

Kerr to work under Popovich at 2020 Olympics
Kerr and Pop are close friends. They're often spotted together, usually over a bottle of wine. They're coy about these conversations, which are probably more casual than fans and press like to imagine.

If Steve Kerr needs a refresher on the Popovich method, he's about to get it. He's an assistant to Popovich at the FIBA World Cup in China next month. After that trial run, the two will reunite once more in Japan to go for gold at the Olympic Games.

There will surely be a few NBA fantasy pairings on the court in 2020. But it's the collaboration of two guys in suits on the sidelines who might have the biggest impact on the upcoming NBA season.