NBA: What Jimmy Butler is Doing for the Chicago Bulls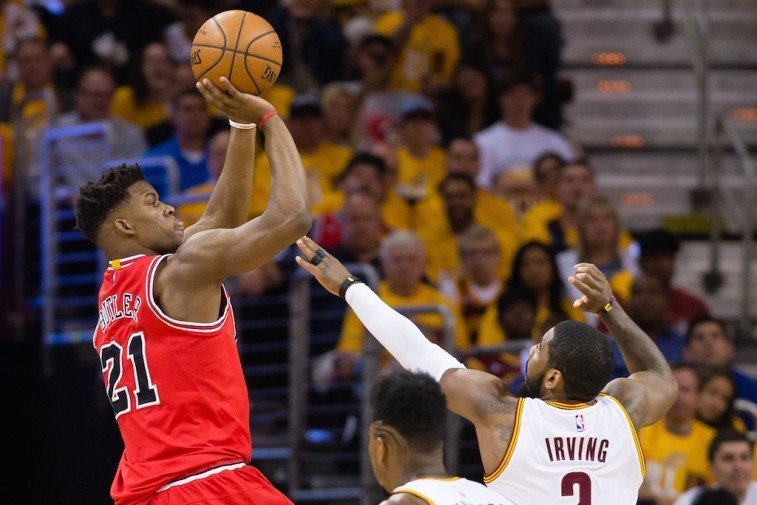 In the last two years, Chicago Bulls All-Star guard Jimmy Butler has taken a huge step forward in his development by becoming an all-around talent, creating a strong argument for being the best player at his position in the Eastern Conference. After establishing himself as a defensive stalwart over his first three seasons, the 26-year-old saw major strides on the offensive end of the floor last year with a large increase in his scoring from 13.1 points per game to 20.0. He also improved his shooting percentage from 39.7 percent last season to 46.2 percent despite missing 17 games due to injury.
Butler took advantage of a larger offensive role due to Derrick Rose's extended absence caused by a meniscus tear of the right knee as well as Joakim Noah missing a stretch of games. The fifth-year guard continues his offensive ascension this season despite Rose being in the lineup as he's averaging a career-high 22 points per game, which is fourth-best in the Eastern Conference and third among shooting guards.
Butler took his abilities to another level in January, when he had a four-game stretch averaging 31.3 points — the highest scoring average in the league over that time span. This includes breaking the Bulls' franchise record for most points in any half when he scored 40 points in the second half against the Toronto Raptors, surpassing Michael Jordan's 39 points set in the 1988-89 regular season. It has been an impressive campaign for Butler, who has other career-best marks such as recording at least one steal in 41 consecutive games (one short of the franchise mark set by former Bulls great Scottie Pippen).
For the first time in his career, Butler posted four assists or more in each of the last nine games and scored a career-high 21 points in the first quarter against the Oklahoma City Thunder. He also posted his two highest scoring performances of his career last month with 36 points against the Boston Celtics and surpassed that mark with 43 points in a quadruple overtime loss to the Detroit Pistons. Butler has experienced a highly productive season, currently boasting 20 games scoring 20-plus points, including five contests with at least 30 points.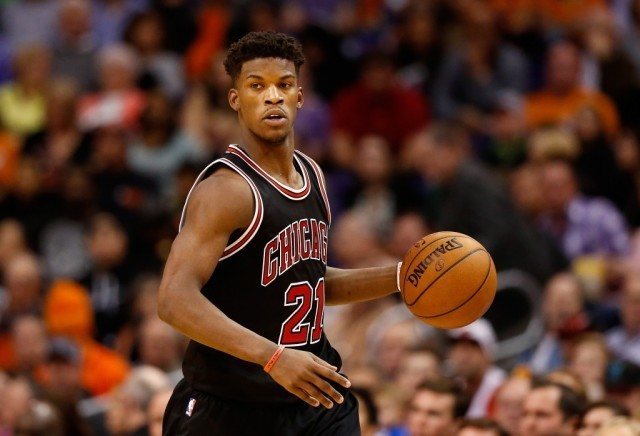 Butler's continued upswing in scoring production this season, in particular over the last four games, has caught the attention of Rose, who recently stated that the former Marquette product is the most talented player he has played with in his six years in the NBA. "I think so, man. I think so,'' Rose said, according to the Chicago Sun-Times. "Who knows how good he can become … I just love his patience right now. He's playing with unbelievable patience. He's not rushing anything, he knows what he's getting whenever he's in the pick-and-roll or whenever he's in the isolation. He's reading everything right, right now.''
However, what Butler has accomplished this season, more than anything, is his role as the primary scorer for the Bulls — above both Rose and Pau Gasol. With Rose struggling to find consistency due to persistent health issues, Butler has shown more comfort offensively, taking over in key spots of the game. He has the ability to be an effective scorer who can create his own shot off the dribble and has been more efficient from three-point range over the last couple of seasons.
In a sense, Butler's vast improvement offensively makes him one of the league's best two-way players alongside San Antonio Spurs forward Kawhi Leonard and Indiana Pacers forward Paul George. His talent also creates a more concrete argument that he belongs in the conversation as one of the top players in the NBA. He already proves to be worth far more than the five-year, $95 million contract he signed last offseason.
What is also clear: He is now the Bulls' most talented player, and his continued improvement offensively on that end of the floor could be what Chicago needs to overcome the hump in the playoffs. With that yet to be determined, Butler can now be considered the top shooting guard in the Eastern Conference.
Want more great content like this? Sign up here to receive the best of Cheat Sheet delivered daily. No spam; just tailored content straight to your inbox.