NBA: Where Did Hassan Whiteside Come From?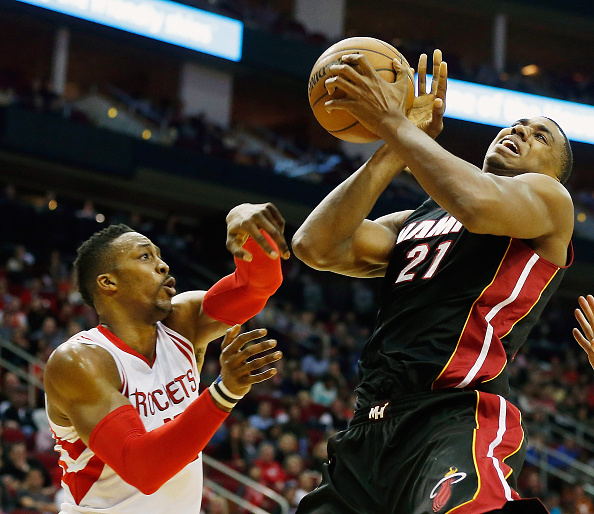 It's been quite some time since the Miami Heat have had a dominant center patrolling the paint. We're talking the likes of an Alonzo Mourning, a guy with a physical presence. The kind of guy who can not only give you consistent points but who also strikes fear into the hearts of the opposing team's front court. A guy who makes you think twice about taking the ball to the rim. The Heat have been missing that guy for a while now.
Don't get us wrong — it's not like there haven't been some reliable big men playing down low for the Heat. Udonis Haslem has spent his entire 11-year career in Miami, and he's been one of the more trusted figures in franchise history. And then there is Chris Anderson: the Birdman. He's a major spark off the bench, providing the team with energy, excitement, and a high-flying ability. But neither of these guys are 'Zo. Very few are. You know when you have that kind of guy on your team, and so do your opponents.
Apparently the Miami Heat do have that guy. His name is Hassan Whiteside. And when you put up 14 points, 13 rebounds, and 12 blocks (a triple-dozen) in your team's win against the Chicago Bulls, the rest of the league tends to take notice.  But where did he come from?
All statistics are courtesy of Basketball-Reference.com
In case you weren't aware — and we can't fault you if you aren't — this isn't Whiteside's first rodeo. The 7-foot-tall, 235-pound center was actually drafted in the second round by the Sacramento Kings in 2010. Prior to this massive coming-out party against the Bulls, Whiteside had actually played in 19 previous NBA games. However, he'd been out of the league for past two seasons, quietly dominating opponents in the D-League and abroad.
If you take into consideration all the experience that Whiteside has had prior to joining the Heat, then he has racked up around 138 combined professional appearances. And during that span, his numbers were extremely impressive. In fact, since the Heat started giving the 25-year-old quality minutes, there had already been rumblings about his potential. But it took the performance against Chicago to give Whiteside the boost he wanted. Now, everyone knows his name. And it doesn't appear that he will be leaving the NBA any time soon.
The Miami Heat are well aware of the special talent they have in Whiteside. He's young, and yet he has all the tools to be a world-class NBA player. This is one of the reasons why the Heat are making sure to provide him with the right guidance, courtesy of Mourning and Juwan Howard. These two know what it takes to be great in the NBA. Their wisdom and mentorship can only help Whiteside in his pursuit of greatness.
Even though the NBA has turned into a guard-dominated league, teams will always be in search for the next great center. This position is the perfect building block for any organization. If you have a force in the middle, then you already have a crucial foundational piece that can help make you a championship-caliber franchise. It's been a long time since they've had that in Miami. With Whiteside, it appears the search is over.