NBA: Where Does Isaiah Thomas Rank Among Point Guards?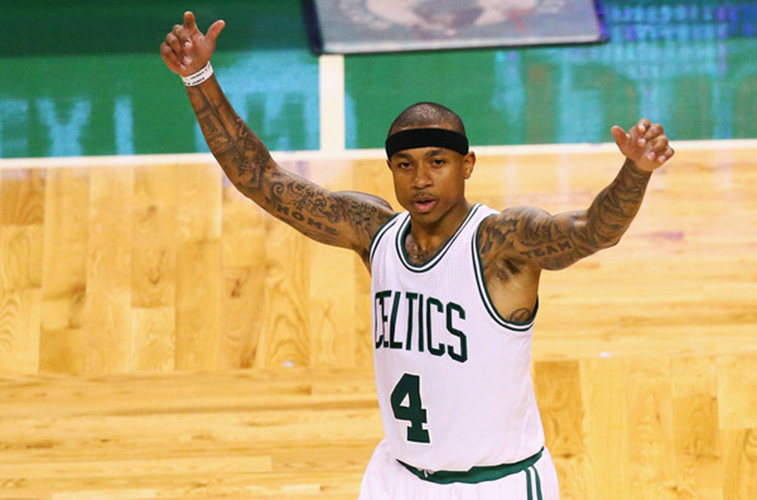 Over the course of his first four NBA seasons, Isaiah Thomas was an above-average point guard who was a fringe-starter with the Sacramento Kings and Phoenix Suns. He had some solid scoring seasons with the Kings — including a 20 points per game average in 2013-14 — but he certainly wasn't considered one of the best point guards in the game.
However, when he was traded to the Boston Celtics in 2015 (after having a cup of coffee in Phoenix), the course of the Celtics' franchise as well as Thomas's career changed for the better. Prior to his arrival, the Celtics suffered through a 25-win campaign in their first season under head coach Brad Stevens in 2013-14. However, with Thomas and a strong group of young players, Boston managed to qualify for the postseason in 2015.
Last season, they finished as one of the top teams in the Eastern Conference with a record of 48-34 and hope to qualify for the conference semifinals for the first time since 2012. A big part of that success was thanks to the play of their point guard. In his fifth NBA season, Thomas played in all of the Celtics' regular season games, starting a career-high 79 in the process.
With the increase in games, he managed a career-high scoring average with 22.2 per night (good for 11th in the league) to go along with 6.2 assists per game. While his production in the regular season was noteworthy, the way Thomas played in the postseason was been truly special. He averaged 28.3 points per night in the first four games of the Celtics' series against the Atlanta Hawks to lead all postseason scorers — he would eventually finish the series with an impressive 24 ppg average to go along with over five dimes in each outing.
With his team down 2-0 and needing a win to get back in the series, Thomas stepped up with a brilliant 42-point outburst in Game 3 before having another great outing in Game 4 with 28 points and six assists (both performances led to Boston victories, although the C's would go down to the Hawks in six games).
Despite his 5-foot-9 stature, no one in the first round played as big as Thomas did in the playoffs to this point. With his improvements and emergence as the go-to guy for a good-looking Celtics team, where exactly does Thomas fit in the conversation of best point guards in the NBA? To answer that question, we broke down the best the position has to offer, sorting players into a few categories to position them among one another.
Top flight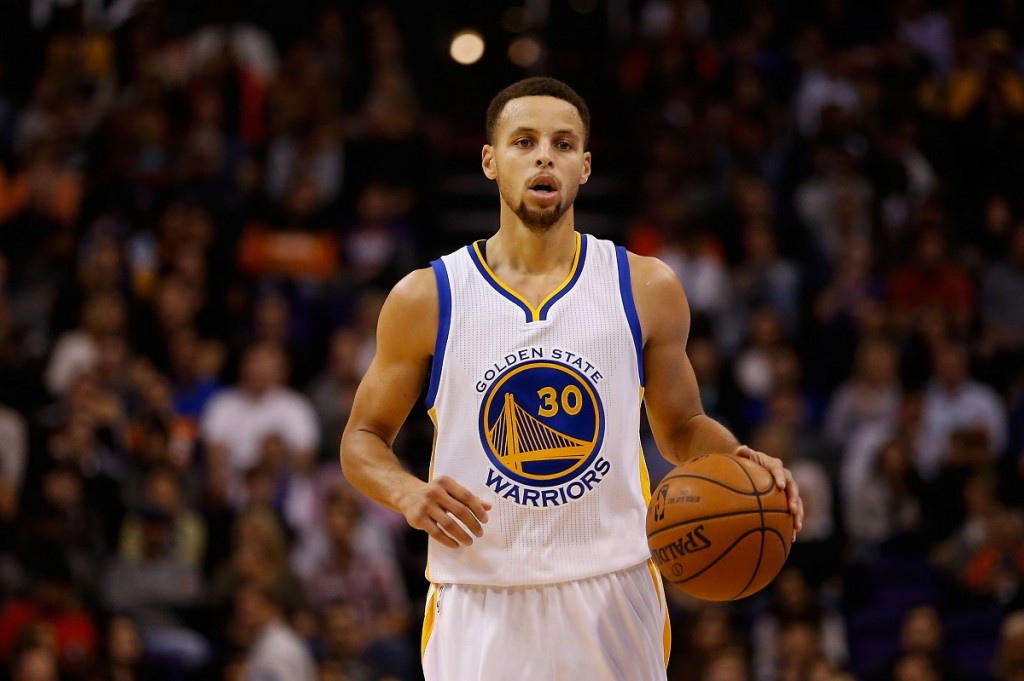 When you're discussing top-flight point guards in the NBA today, you have to start with Warriors' superstar Stephen Curry, owner of two consecutive MVP awards. Curry is one of the best scorers in the game (his 30 per night led the NBA this season), but he also excels in making plays for his teammates — proven by his 6.7 assists per game — and on the defensive end. In reality, he's on his own level.
Joining Curry among the NBA's elite point guards are Chris Paul and Russell Westbrook. Even though Paul doesn't have the awards or postseason success to support his case, his numbers certainly do. For his career, Paul average 18.8 points and 9.9 assists per game and he averaged a double-double this season with 19.5 points and 10 assists per night. His production isn't as flashy as Curry's, but CP3 deserves respect. He's also transformed the culture of the Los Angeles Clippers into one of success.
Westbrook is a stat lover's dream for the Oklahoma City Thunder. He averaged 23.5 points, 10.4 assists, and 7.8 rebounds per game this season, but with his intensity and passion for the game, it wouldn't be surprising if he ends up averaging a triple-double for an entire season before his career is over. With 18 triple-doubles this season, Westbrook would be MVP if it wasn't for Curry.
Next in line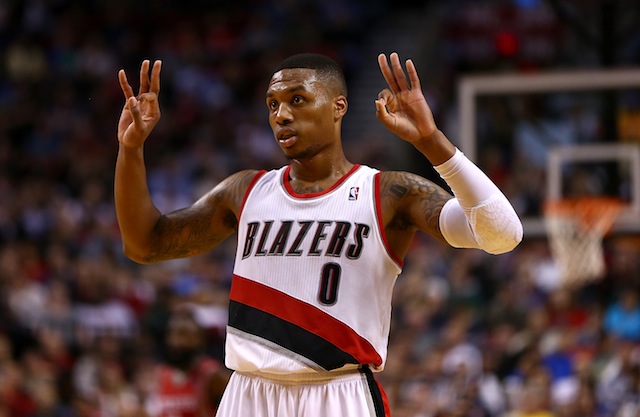 This next level behind the top three point guards in the league today includes a group of players who are fighting for status as top-five point guards. Our players here are Damian Lillard, Kyle Lowry, and Kyrie Irving. Lillard's incusion at this level comes without needing explanation.
He is one of the best scorers in the NBA (finished sixth with 25.1 per game this season) and also dishes out nearly seven assists per game as the clear leader of the Portland Trail Blazers. If he could lead his team to the second round of the playoffs this season, he would receive more consideration to be included among the top three.
As for Lowry, he scored less than Lillard this season but was nearly equal in assists, putting the Raptors' guard right up there. Irving is a dominant scorer, but his assist numbers don't match up with the other players in the group, which leaves him at this level until he proves to be more of a playmaker for the Cavaliers. These three have already established themselves as great NBA point guards for multiple seasons.
Making waves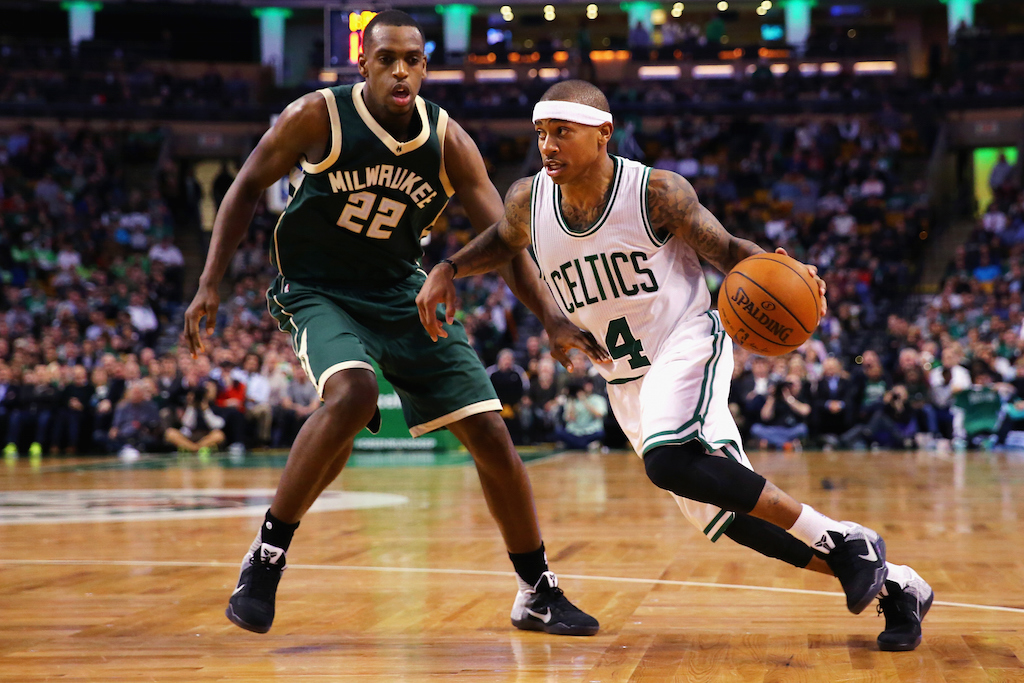 This is where Isaiah Thomas falls. His play last season clearly propelled him into the top-10 point guards in the league, as he is arguably playing on the same level as players like Kemba Walker and John Wall. Compared to Wall and Walker, Thomas had a higher player efficiency rating, scored more points, and shot the ball better from three-point and two-point range this season.
Walker and Wall have the advantage in terms of assists, steals, and rebounds, but Thomas belongs in the same conversation as those two solid point guards. So, while Thomas isn't yet among the best of the best at point guard, his improved play for the Celtics this season definitely has him on the rise.
If he keeps getting better over the coming seasons, he can continue to elevate his status. With the way he played in the 2016 playoffs, there's no telling the magic Thomas can bring to Boston over the next season.