NBA: Why Boston's Isaiah Thomas Should Be an All-Star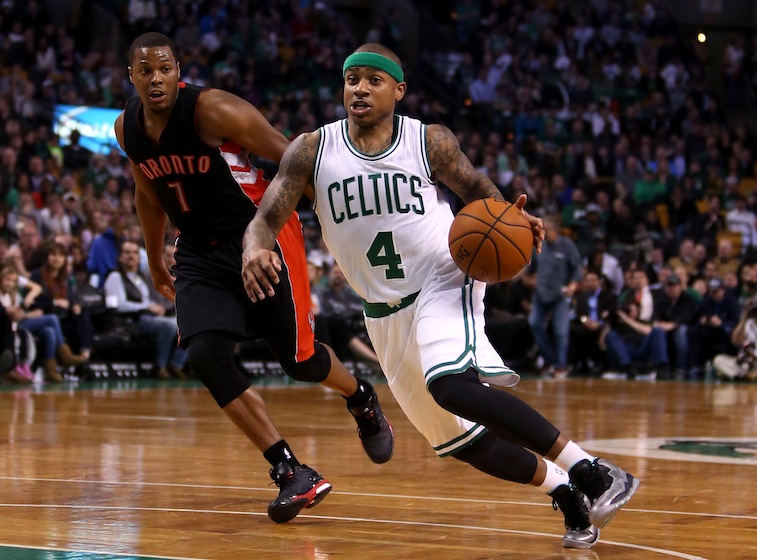 Through the early portion of this season, the Boston Celtics are one of the most surprising teams in the Eastern Conference, sitting at a 14-13 record — only 1.5 games away from the eighth spot. Much of the team's success can be directly correlated to the play of fifth-year guard, Isaiah Thomas, who is experiencing the best season of his young career, which could very well earn him his first All-Star game selection.
The 26-year-old is averaging career highs in points (21.4), assists (6.6), and steals (1.4) through his first 27 games. He currently ranks 14th in scoring, 10th in assists, and fourth in free-throw percentage (90.1). Prior to this season, Thomas made the bold statement that he could become an All-Star because of the opportunity he had to play a significant role with the Celtics.
"I definitely feel like I can be an All-Star," Thomas said, according to ESPN.com. "I'm not just saying that. I honestly feel that way. With hard work and dedication and just taking my craft serious. And, with the opportunity given with the Boston Celtics, I feel like I can reach that goal." Since becoming the team's starter in the season's fourth game, Thomas has become a reliable offensive option, scoring at least 12 points in each contest while dishing out 5 or more assists 22 times.
Since the beginning of December, he has taken his game to the next level, averaging 22.7 points on 45.1% shooting from the field and 43.5 from 3-point range along with 7.4 assists in nine games played. He had seven 20-plus point performances during this stretch, which was capped off with a tie for his career-high: 38 points against the Detroit Pistons. He also posted a career-best 13 assists against the Charlotte Hornets.
Thomas made franchise history by becoming the first player since Larry Bird to net 500 points and 161 assists in the first 24 games of the season. What is most impressive about Thomas's strong start is his effectiveness as a scorer; he's currently ninth in the league in points per 48 minutes (32.0), behind several perennial All-Stars such as Stephen Curry, LeBron James, James Harden, Paul George, Blake Griffin, Kevin Durant, Russell Westbrook, and Damian Lillard.
Thomas is just one of four players in the NBA averaging at least 21.0 points and 6.4 assists, joining James, Harden, and Westbrook. He has been an offensive spark plug since joining the Celtics, which was quite obvious last season after the Celtics acquired him at the trade deadline as they made a playoff run, holding a 20-10 record with him on the floor. This carried over into the current season — with the team once again vying for a playoff spot.
What changed with Thomas? Well, his game has evolved as he becomes more of a distributor. Boston proves to be a much more effective team offensively with him on the court; there is an 11.0 increase in overall offensive rating from 96.2 to 106.2, which caught the attention of head coach, Brad Stevens. "He's done a good job of obviously scoring the ball," Stevens said, according to the Sacramento Bee. "But he also can create for our team, and we need him to continue to defend at the level he's capable of because he's really had an impact on that end, too."
That said, Thomas faces an uphill battle for a spot on the Eastern Conference All-Star team, as he will go up against the likes of Washington Wizards guard John Wall, Toronto Raptors guard Kyle Lowry, Pistons guard Reggie Jackson, and Chicago Bulls guard Derrick Rose. What doesn't help his case is that All-Star voting groups together both backcourt position, which adds to the competition. Regardless, Thomas has elevated his game to the point where he should receive serious All-Star consideration.