NBA: Why John Wall Deserves to Be an All-Star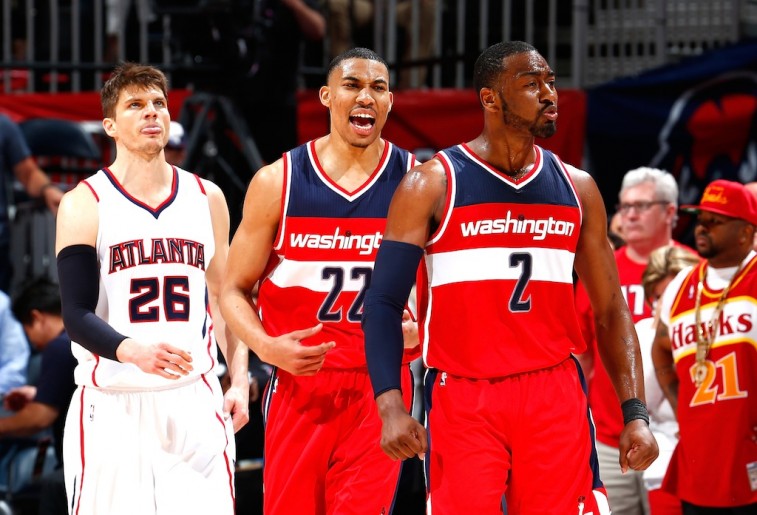 It hasn't quite been the season that the Washington Wizards hoped for, especially coming off their second straight trip to the Eastern Conference Semifinals. Expectations were high for the franchise that experienced its first back-to-back playoff berth since 2008. However, injuries have derailed their potential success, with key players such as guard Bradley Beal, center Marcin Gortat, and forward Nene all sidelined for extended periods of time this season. This thrust several of the team's players into larger roles that have been a difficult to fill at times .
Even with this being the case, there has been one constant source of reliability throughout the season, All-Star point guard John Wall. In his sixth year, he has been asked to do more than ever before by putting the bulk of the offense on his shoulders. The 25-year-old responded by upping his play on the court, averaging career highs in points (20), three-point percentage (35.3), and steals (2.2) while dishing out nearly 10 assists per game. He currently ranks second in the league in assists, fourth in steals, and eighth in scoring among point guards.
Wall has 17 games with at least 11 assists and 19 contests with 20 or more points. He is the first Wizards' player since Gilbert Arenas in December 2006 to earn Eastern Conference player of the month for his impressive play in December when he averaged 22.6 points, 11.7 assists, 4.8 rebounds and 2.3 steals per game. Wall also became the first player in franchise history to have 26-plus points, 12 assists, and five rebounds in three straight games (December 9-12). The last NBA player to accomplish that feat was Dwyane Wade from November 24-27, 2006.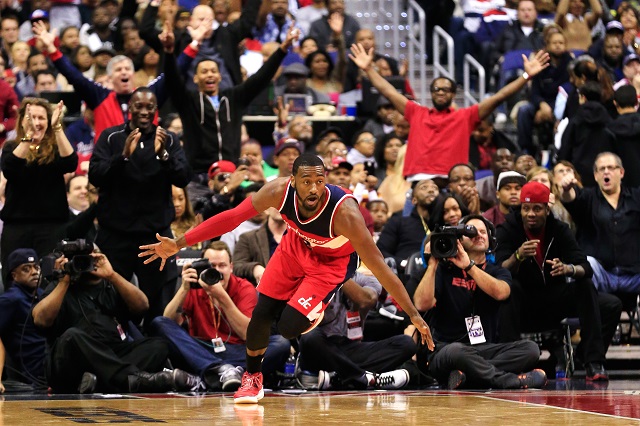 Wall also set a franchise record for most assists (187) and games with 20-plus points and 10-plus assists (10) in a month. His 11 games with at least 2o points is a personal career-high for the most in a single month. His seven straight 11-plus assists performance is the best mark in the league this season. Finally, he became the first player since Chris Paul in April 2009 to average at least 22 points, 11 assists, four rebounds, and two steals in a single month. 
What is most impressive about all this is that Wall accomplished it while dealing with a myriad of injuries and playing without two of his best teammates in Beal and Nene for much of this past December. He has played through injuries such as an ankle sprain, bruised ribs, and a sprained knee and not missed any time on the floor. He also underwent an MRI on a leg muscle that makes it difficult for him to bend his left knee (but he doesn't expect to miss any playing time).
Wall is the primary reason that the Wizards have stayed in playoff contention as they sit just two games out of the eighth spot in the Eastern Conference standings. His play this season is deserving of his third All-Star game nod. The second returns for the voting for the 2016 All-Star game ranked Wall in the fifth spot among Eastern Conference guards even after his stellar month of December. The four players ahead of him were Wade, Kyrie Irving, Kyle Lowry, and Jimmy Butler.
Wade has remained a fixture in the All-Star Game while Irving has become a fan favorite over his short career despite missing most of this season due to a knee injury. Butler is in the midst of a career-best season, and Lowry has established himself over the last couple years as one of the premier point guards in the Eastern Conference.
A strong case could be made that Wall is playing better basketball than these players given his circumstances, but the fact of the matter is that he should earn another All-Star selection. Wall has played like an elite point guard for much of the season in what has been arguably his best campaign of his career. Leaving him out of the All-Star Game would be an atrocity.
Statistics courtesy of Basketball Reference, ESPN.com, and NBA.com.