NBA: Why Playing Paul George at Power Forward Is Too Risky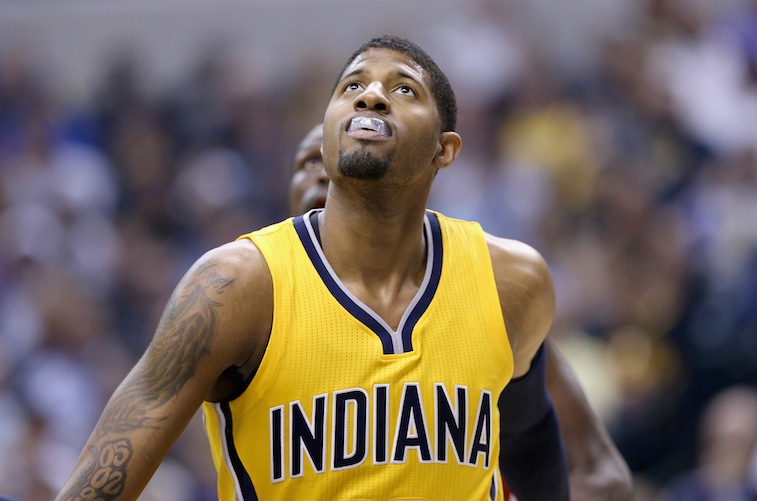 Heading into the upcoming 2015-16 NBA season, the Indiana Pacers are the latest organization that plan to utilize the current small-ball trend that has become popular in the league over the past few years. Unfortunately, not everyone on the team is excited about this particular development.
While speaking with USA Today's Sam Amick, All-Star Paul George expressed concerns about moving to the power forward position when the teams opts to go small.
"Um, you know it's, uh, I was open for — to try it out," George said via phone while promoting his place on the cover of the NBA 2K16 mobile app. "It's definitely a change. It's something new. We'll see how it goes. As the season goes, it might be better for me to just be at my regular position. But I told them I was open to the situation and (we'll) see where it goes."
That's what team players do — they sacrifice their personal well-being for the betterment of the organization. Clearly, George is willing to put team success before his own comfort. However, considering what he's been through over the past year — particularly rehabbing that gruesome leg injury — it's not hard to understand why he'd be a bit reluctant to bang inside with the bigs.
We certainly see the benefits of moving George to the four — especially from an offensive perspective. He is a gifted scorer whose ability to extend the floor and knock down jumpers should prove to be difficult for slower power forwards to handle. Of course, when it comes to the fifth-year pro, this is the least of our worries. For us, it's more about the beating his body will be forced to take on the defensive side of the floor. And as far as that is concerned, we just don't see the rewards outweighing the risks.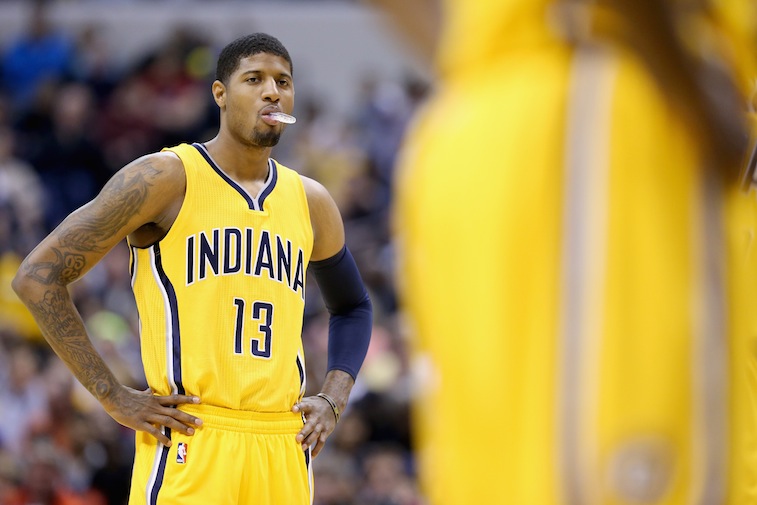 If we were just going by the numbers, George's 6-foot-9, 220-pound frame wouldn't be much of a deterrent. Sure he'll be giving up weight while trying to guard the bigger players in the post, but he's a smart enough defender that he should be able to make up for these deficiencies. Still, we can only imagine how taxing this transition will be on his body. And we're not alone in that respect.
"It's just being outmatched strength-wise with guys at the four spot is really the only concern," George told USA Today. "It's not really the concern for one game. It's the concern just over the course of a season just how my body would take it, especially coming off the injury that I had and a whole year of rehabbing. Just not sure of how it's going to take it. (We'll) start camp, see how camp goes. Again, I'm not too thrilled on it, but it could change the more comfortable I get at the position. But we'll see. But again, I could very much end up loving it, so it's all up in the air. I'm open to the position."
As much as we'd love to see the Pacers All-Star expand his overall repertoire, we just wish the team would exercise a bit more caution as far as his body is concerned. It's impossible to think about George and not constantly be reminded of the severity of his injury. It was hard enough to watch as a viewer, so we can only imagine how painful it was to experience firsthand (not that we'd ever want to).
At the end of the day, Paul George is going to play wherever the Indiana Pacers want him to play — something President Larry Bird is not hesitant to remind everyone. However, it wasn't too long ago that we were preaching patience when the Pacers claimed George could potentially return in March of last season. It wasn't that we didn't think he could handle it; we just didn't think it was worth the risk. As far as him playing power forward is concerned, we feel the same way. PG13 is more than capable of making the transition to the four. We just hope, for everyone's sake, his body is able to withstand the punishment.
All statistics are courtesy of Basketball-Reference.com, SB Nation, and USA Today.