NBA: Why Stephen Curry's Fall Should've Kept Him Off the Floor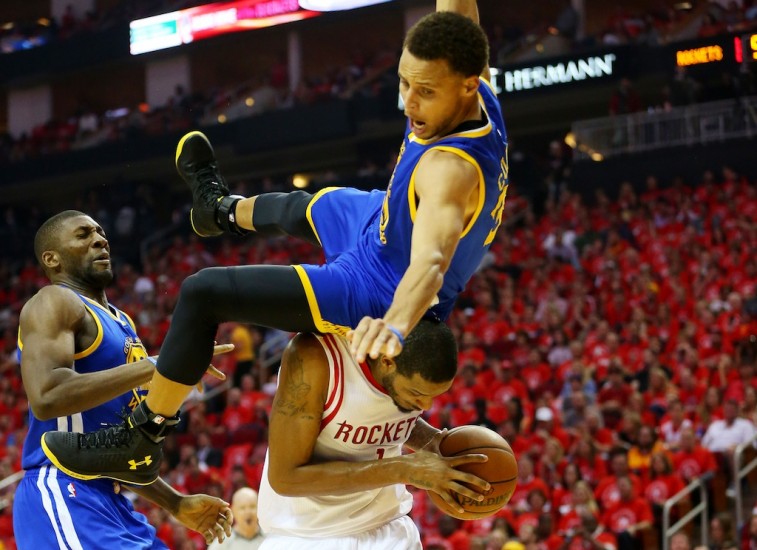 Silence.
That was the sound — or lack thereof — after Stephen Curry landed hard on his head, back, and neck after falling over Houston's Trevor Ariza during the second quarter of Monday night's Game 4 of the Western Conference finals.
The MVP laid on the floor for what seemed like an eternity. As the Warriors' medical staff tended to the face of their franchise, fans of the sport and the NBA community alike held their collective breathes. This fall looked bad. Real bad. Curry flew backwards over Ariza and seemed to barely brace himself before contact. This had all the makings of a devastating injury. And this was one player the National Basketball Association could ill-afford to lose. Fortunately, it didn't have to.
Curry would get up and be escorted to the Golden State locker room. He would be diagnosed with a head contusion and his return to the contest would be questionable. And that should've been it. Except it wasn't.
After undergoing further tests, Curry showed no signs of a concussion, and he re-entered the game toward the end of the third quarter. Yes, you read that right. He re-entered the game. And from the moment this occurred, we couldn't help but think to ourselves: This is not a good idea.
Like everyone else, we were extremely relieved that the Warriors point guard wasn't seriously hurt. It could've been a lot worse. Curry even admitted that this incident wasn't as bad as the other times he was forced to go through the concussion protocol. The Baby-Faced Assassin elaborated afterward:
"I felt a lot better than I did those last couple times, so that was just good news on my end," Curry said. "Rode the bike for a little bit, got my heart rate up and made sure it didn't get worse, and ran up and down the hallway and all the balance tests and stuff like that."
Curry added, "Once they said I was all right, I went out and played and tried to do what I could to help my team get back in the game."
There's nothing like the competitive spirit of a true warrior. Curry believed he could help Golden State mount a comeback. He was cleared to play and he didn't hesitate to return. Of course, it shouldn't have mattered that Curry passed the test.
The Rockets were dominating the game and the Warriors already held a 3-0 series lead.Why risk bringing Curry back onto the court? Could you imagine if something else happened to him? Under the circumstances, there was no decision to be made. The Golden State Warriors were foolish to put him back in the game.
There's also something else to consider — did the Warriors definitively know that Curry didn't have a concussion? Golden State's general manager Bob Myers suggested that was the case, however, there is reason to believe that that's not entirely possible.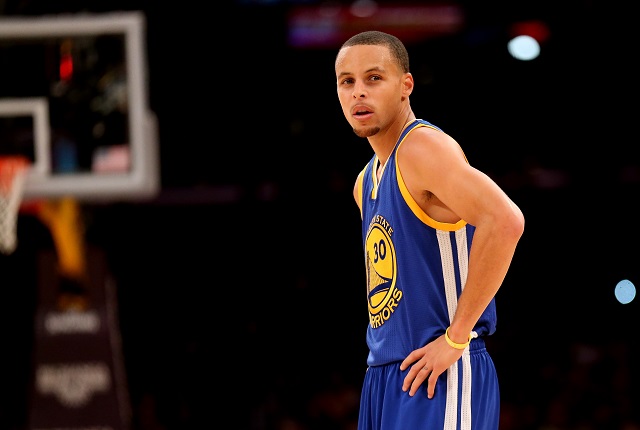 According to Deadspin, based on the NBA's concussion protocol and how everything revolves around a player's symptoms, "…a test taken in time to determine whether or not a player can return to action can't take into account symptoms that haven't presented themselves yet." This is something that can't be taken likely. Deadspin would continue:
"So structural problems are hard to see, and symptoms don't always present until after the window during which a player is being evaluated. This is why a review of current literature on brain injuries suggests that even players who aren't showing symptoms should probably be held out of play, due to the compounded structural risk as well as the risk of unrelated injuries if a guy's balance gives out all of a sudden after he's returned to the court."
Given what this analysis is suggesting, there was no good reason to put Curry back on the floor. He may have appeared fine after clearing the concussion test, but there was no way to be certain of any lingering symptoms. In the end, even with Curry's return, the Rockets would take the game by a score of 128-115. With Game 5 back in Golden State, Houston still has a chance to make a historic comeback. And yet, in our opinion, it's the Warriors who should feel fortunate. They may have lost the contest, but they didn't lose their star player. And by taking the chance and putting him back in the game, they very well could have.
All statistics are courtesy of Basketball-Reference.com.