NBA: Why the Cavs Were Right to Fire David Blatt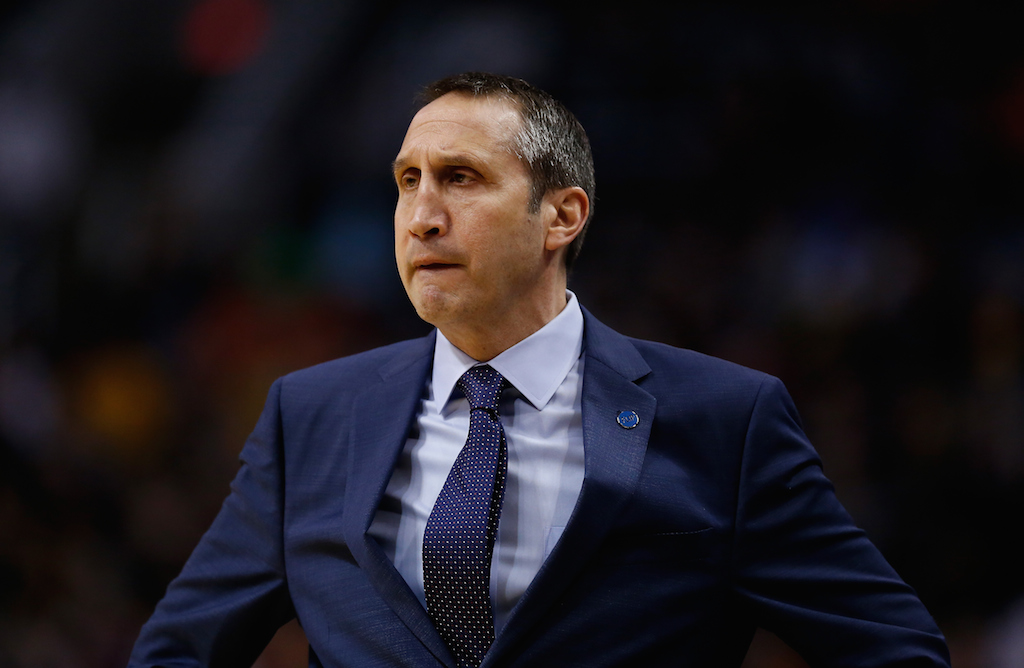 To the outside world it probably seemed like a sudden decision. To insiders, the writing's been on the wall for a while now. Either way, as reported by Yahoo Sports' Adrian Wojnarowski on Friday, change has come to the Cleveland Cavaliers with the firing of second-year head coach David Blatt.
It's not everyday that a team in Cleveland's position makes this sort of move. After all, not only are the Cavaliers the defending Eastern Conference champions, but through the first 41 games of the 2015-16 NBA season, they are 30-11, winners of eight of their last 10 outings, and sit three games clear at the top of the conference standings. And yet, when you're a team built to titles win now, made up of the trifecta of LeBron James (the greatest player of his generation), Kyrie Irving, and Kevin Love, numbers don't always tell the entire story.
For the Cleveland Cavaliers, as evidenced through the words of general manager David Griffin during a Friday press conference following Blatt's dismissal, this was clearly the case. "What I see is that we need to build a collective spirit, a strength of spirit, a collective will," Griffin said. "Elite teams always have that, and you see it everywhere. To be truly elite, we have to buy into a set of values and principles that we believe in. That becomes our identity."
When the news of Blatt's firing broke late Friday afternoon, we'd be lying if we said we weren't shocked. How often do NBA teams at the tippy top of the pyramid — at least as far as the East is concerned — axe their head coach before the season even reaches All-Star Weekend? Not that often. Yet, just because the timing of this move seems a bit suspect, that doesn't mean it wasn't the right call. And while many folks might not agree with us, when it comes to this particular play, that's exactly what it was.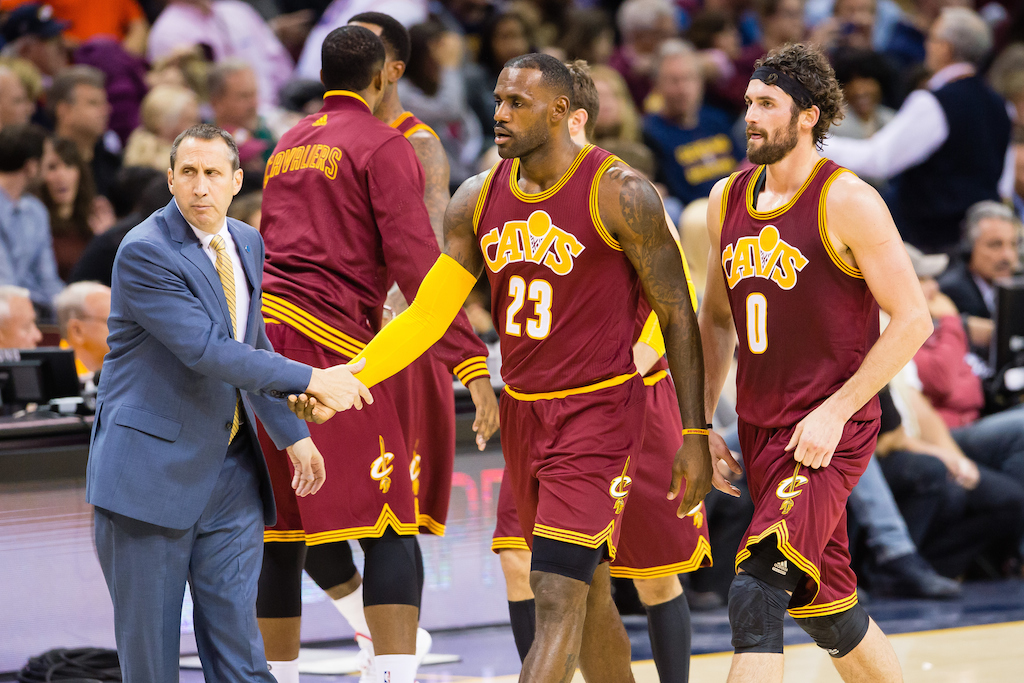 For all those disapproving skeptics out there, the ones who are mortified that a team has the audacity to fire a head coach who has his squad at the top of the conference standings, it's time to look past the figures. Forget that the Cavs are limiting the opposition to 95.7 points per game (2nd of 30). Forget that the Cavs have the fifth-best offensive rating (108.1) and fourth-best defensive rating (102.1) in the National Basketball Association. Look at how this group, even with all it has going for it, conducts itself on a regular basis. That is more telling than the numbers ever will be.
Despite the success Cleveland's had over the past two seasons, it's impossible, especially this year, to ignore the team's genuine disconnect. Something Griffin made sure to touch upon during his press conference: "I have never seen a locker room not be as connected after wins as they need to be. We've only been galvanized when expectations were not high." Of course, if this observation isn't a good enough reason for some to justify Blatt's dismissal, perhaps its time to focus on another major — MAJOR — fact. Simply put, the Cavs have not been able to cut it against the best in the West.
We're not against giving credit where credit's due. Blatt did lead the Cavs to an 30-11 mark this year, and he did so while having to overcome a lineup that was decimated by injuries and was without many of its key players for a considerable amount of time. That's no small task. However, when the Cavs did have their "Big Three" on the floor, they had no answers for the Western Conference elite — as noted by their 0-3 record against San Antonio and Golden State, which includes getting blown out 132-98 at home on January 18 by the defending champion Warriors.
For a team with championship aspirations, these sort of performances are unacceptable. The Cavs front office could no longer sit around and let this trend continue any longer. They had to act swiftly. This team built to win now. And if this Cleveland is to stand any chance of getting over that final hurdle, thus avoiding the same fate it suffered at the end of 2014-15 season, then a change had to be made. And it had to be made now. Before it was too late.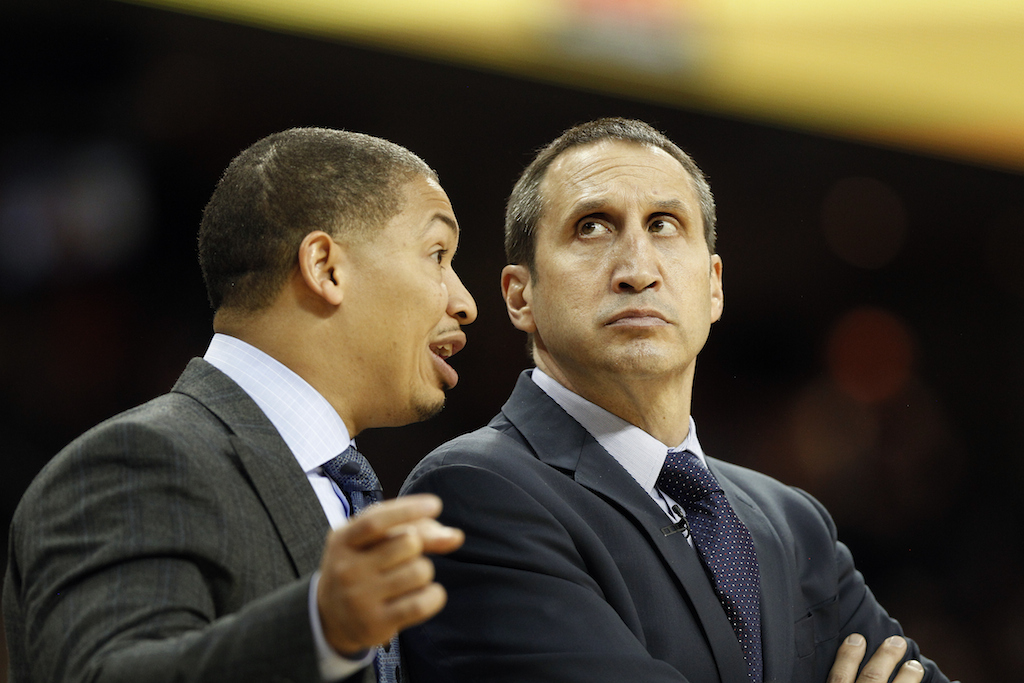 The Cleveland Cavaliers are set to begin a new era under former associate head coach Tyronn Lue (above left), who has since been named the full-time coach and agreed to a new three-year deal worth at least $9.5 million. In Lue, the Cavs have someone who played in the league for 11 seasons under some of the biggest games in the game, including Phil Jackson and Doc Rivers, while also being mentored as a coach during his time as Rivers' assistant with the Boston Celtics and Los Angeles Clippers.
More importantly, however, Lue has a relationship with James — and the rest of the Cavs players — that Blatt never did. He has the respect of the team and, unlike the former coach, never lost the locker room. When speaking about Lue, this is what Griffin had to say: "I am more than confident that he has the pulse of our team and that he can generate the buy-in required to start to refine the habits and culture that we've yet to build,"
The window for success in the National Basketball Association is small. The Cleveland Cavaliers can't afford to waste any more time. The decision to fire Blatt was sudden, and it was harsh. But it was also the right call. And it had to be done.
All statistics are courtesy of Basketball-Reference.com, Yahoo Sports, ESPN.go.com, and ESPN Stats & Info.