NBA
NBA: Why the Spurs Will Win the Title
There's no doubting that the San Antonio Spurs have had a rough seven or eight days — by their strict standards at least. They entered Monday, January 25, with a lone six defeats through 44 games played. They also entered that date on a 13-game winning streak that had them nipping at the toes of the supposedly immortal Golden State Warriors. That Monday saw the Spurs travel to play those Warriors, and to say things didn't go San Antonio's way in that contest would be a dramatic understatement.
Following their embarrassing showing against the Warriors, San Antonio rebounded to blow out the Houston Rockets at home, but then they turned around to get drubbed by the Cleveland Cavaliers last Saturday on the road. Now, a team that many thought could challenge the 1995-96 Chicago Bulls' record for wins in a season (if you haven't heard, that mark was 72-10) has questions to answer in regards to their ability to pick up big wins against the best teams in the NBA away from home.
While the Spurs certainly would like to forget those performances against the NBA's elite, there are still plenty of things to love about this team. That's why we think the Spurs could win the title this season when all is said and done, despite their recent showing. Here are some things to keep in mind about San Antonio — all strong indicators of their championship ability.
A mixture of talent and experience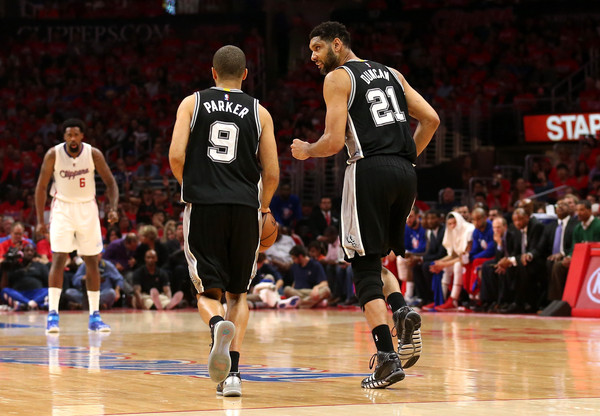 No team in the NBA has been better at retaining its core group of players than the Spurs. The trio — Tony Parker, Manu Ginobili, and Tim Duncan — has been together for what feels like an eternity, capturing multiple championships during their tenure with the team. Over the years, they've also kept guys like Danny Green on board and they really won big following last season when they retained the services of Kawhi Leonard, who is now among the short list of MVP candidates for this season.
San Antonio's ability to keep their team together has helped them maintain a level of excellence over the past two decades that most teams can only dream of. This season, however, a new dynamic was added to the Spurs' roster when they won the LaMarcus Aldridge race in the offseason. Aldridge has been excellent in his first season with the team, averaging 16 points and nearly nine boards per game.
While he isn't a player who's been a part of San Antonio's winning ways, Aldridge has assimilated nicely into the Spurs' culture. Despite an aging roster in some areas, players like Leonard and Aldridge will keep the team afloat when the likes of Duncan retire. For this season, though, that mixture of talent and experience has the Spurs at championship caliber once again.
Gregg Popovich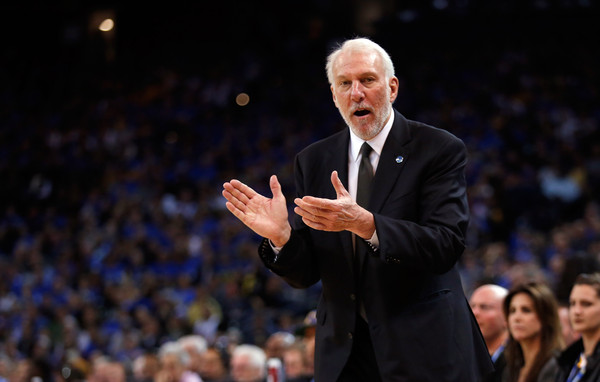 Before coach Gregg Popovich landed in San Antonio for the 1996-97 season, the Spurs had never won a championship during their nearly 30 seasons as an NBA franchise. Since his arrival, the Los Angeles Lakers are the only other team that can say they've won five NBA titles over the past couple of decades. A big reason for the Spurs' success is thanks to their legendary coach, who is now in his 19th full season with the franchise.
Popovich has created a winning culture in San Antonio that is unlike any other. His players stay out of the media spotlight and are able to keep their focus on the task at hand — winning games. That mentality has helped "Pop" win more than 1,000 regular season games, three Coach of the Year honors, and (of course) those five titles. He has a knack for getting the most out of his players and finding talent in areas that other coaches simply can't find (France and Argentina, for example).
Popovich is also the main reason that the core group has stayed with the franchise so many years, and the reason that the Spurs are still drawing new talent today. With one of the best coaches in league history roaming the sidelines, the Spurs always have a chance to win championships. Couple that with their undeniable talent, and you have a dangerous team as the end of the regular season draws closer.
Unbeatable at home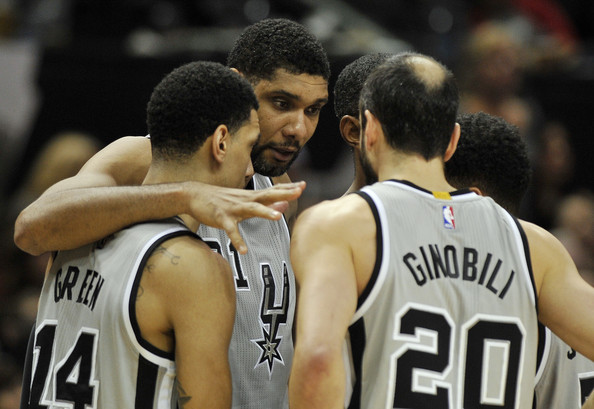 Talent and a great coach — what else could an NBA team ask for? How about a home-court advantage that is only matched by the high-flying Warriors? Yup, the Spurs have that, too. Currently, the team is 26-0 when they play at their friendly confines, making them one of only two squads with a unbeaten home record. The Spurs' dominance at home has more significance than one may think.
While a majority of their remaining 34 games in the regular season will come on the road (19 away and  15 home), San Antonio will get a rematch with Golden State on their own floor in March, and the two sides will also play twice in April toward the end of the season, once in Oakland and once in San Antonio. Further, the Spurs will get a chance to host other marquee matchups against the Oklahoma City Thunder (twice) and the Toronto Raptors before the end of the season.
Winning those games will be critical to the team's title chase, and seeing as they get to play them at home, you have to like their chances. Unless the Spurs can catch the Warriors in the standings, they won't have the benefit of home-court advantage throughout the entirety of the Western Conference playoffs. However, they could have that advantage in their first two playoff series, which almost gives them a pass to the conference finals, where anything can happen. Ultimately, the team has a trio of factors that make them a title favorite, even if they haven't looked like it as of late.
Statistics courtesy of ESPN.go.com and Basketball-Reference.com.