NBA: Will a Move to Point Guard Benefit Giannis Antetokounmpo?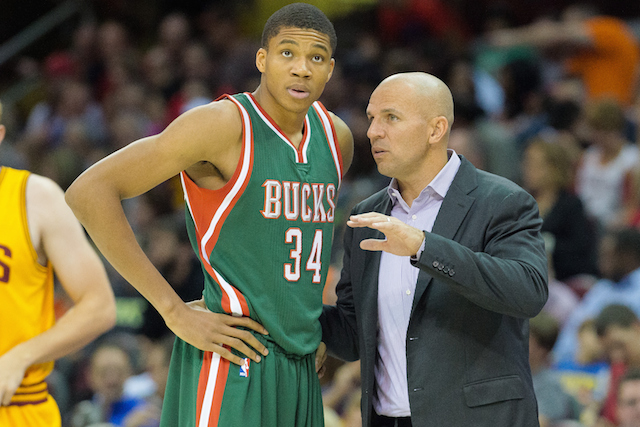 Shortly after Giannis Antetokounmpo was selected with the 15th overall pick in the 2013 NBA Draft, many recognized his high ceiling of potential; he could become one of the best all-around players in the league. In his first two seasons, Antetokounmpo showed his versatility on both ends of the floor thanks to his 7-foot-3 wingspan and 6-foot-11 height. This, combined with his quickness, earned him the well-deserved nickname, "Greek Freak."
The 21-year-old continues to see his individual game grow by leaps and bounds in his third year. Head coach Jason Kidd recently said that Antetokounmpo will make the transition over to full-time point guard next season. "We're going to go forward with him handling the ball," Kidd said, according to Milwaukee-Wisconsin Journal Sentinel. "You can call him point guard, point forward, point center, however you want to look at it. With him having the ball and the pressure he puts on the defense and his ability to find guys, it has been a plus for us."
In the second half of the season, Antetokounmpo has played extremely well with the increased ball-handling responsibility, seeing a drastic increase in his assist average (7.2 after the All-Star Game from 2.8 prior). He dished 10-plus assists in seven games this season with the Bucks, posting a 5-2 record in those contests. In these seven games, the Bucks have three players averaging 20 or more points in Antetokounmpo (21.9), Khris Middleton (20.7), and Jabari Parker (20.1).
Antetokounmpo notched all four of his first career triple-doubles after the All-Star break as well. This progressive transition in his approach to the game hasn't negatively affected his scoring output but has instead seen an uptick, averaging nearly three points more at 18.1 since the All-Star break while hitting nearly an identical percent of his attempts from the field at 50.3% despite taking about three more shots per game (14.0). Antetokounmpo has also seen his rebounding increase, grabbing 8.5 per game in 21 games played in the second half of the season.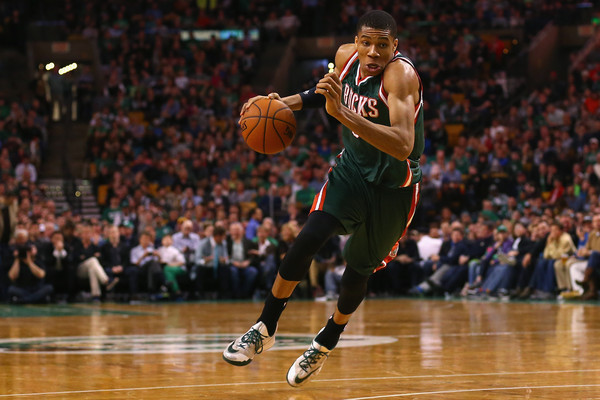 All of this led to Antetokounmpo putting together the most productive month of his young career, recording all-around numbers by averaging 18.4 points on 50.7% shooting with 7.2 assists, 7.1 rebounds, 1.8 blocks, and 1.5 steals in 15 games. This includes notching two triple-doubles along with scoring 20 or more points seven times, recording 10-plus assists on five occasions and nine contests with multiple blocks, as well as shooting 50% or better from the field nine times.
So, it's not surprising to see Kidd come to the decision to play Antetokounmpo at point guard next season. This move could have a huge ripple effect, not only allowing him to flourish in another position but putting him on the court alongside Parker. The former second overall pick in the 2014 NBA Draft has seen his production significantly increase, averaging 18.7 points on 50% shooting from the field with 6.1 rebounds and 1.3 steals in 21 games after the All-Star break.
During the second half of the season, Kidd noted the promising play between the two players in different roles, which is something he hopes they can build upon next season following a full offseason to adjust to their new roles. "For Jabari [Parker] and him, the more they play together, the more we can get answers of what they both can do on the floor, both defensively and offensively. We've got a lot of answers to some different questions," Kidd said, according to ESPN.com. "They're going to get better over the summer. And it's putting the pieces around them that can make them better and push them to become better."
All in all, the Bucks have a bright future ahead of them, which lies in the hands of Antetokounmpo more than ever before. The transition will feature several bumps and bruises along the way, but in the long run this could be a critical step in the development of their future star franchise player.