NBA: Will DeMarcus Cousins Ever Escape Sacramento?
It has been another disappointing season for the Sacramento Kings that will likely result in their 10th consecutive year with a losing record and missing the playoffs. At the forefront of all this frustration has been none other than two-time All-Star center DeMarcus Cousins.
The hope entering the season was that the addition of Rajon Rondo along with veteran head coach George Karl would lead to a breakout year for the North Californian basketball team. Sacramento already had a strong foundation in place with three dependable players in Rondo, Cousins, and Rudy Gay, but that has resulted in overall underwhelming team performance. It has also led to Cousins voicing his frustration several times this season with the latest involving him yelling at Karl during a timeout in last Friday's 120-111 loss to the Cleveland Cavaliers. This followed with the Kings handing out a one-game suspension to their star center due to "conduct detrimental to the team."
This has only added to what's been a rocky season for Karl and his players — Rondo specifically has gone on record to state that he and Karl don't have the strongest relationship at times, but Karl prefers to view his relationship with the four-time All-Star as a mostly endearing "wrestling match." Rumors that Karl was nearly fired in February would seem to be rooted in his conflict with players — cheerful or not — and the fact that the Kings are still unable to make a significant push toward the playoffs, leaving their NBA-record playoff drought intact.
Although it hasn't been a good situation for all parties involved, Cousins has produced at an elite level through it all, averaging a career-high 27.4 points with 11.5 rebounds and 1.3 blocks per game. He currently leads the Kings in points, rebounds, and blocks while ranking fourth in the league in scoring and fifth in rebounding. He has sixteen 30-point, 10-rebound double-doubles this season, which is the second-most in a season in the Sacramento era behind Chris Webber's 20 during the 2000-01 season.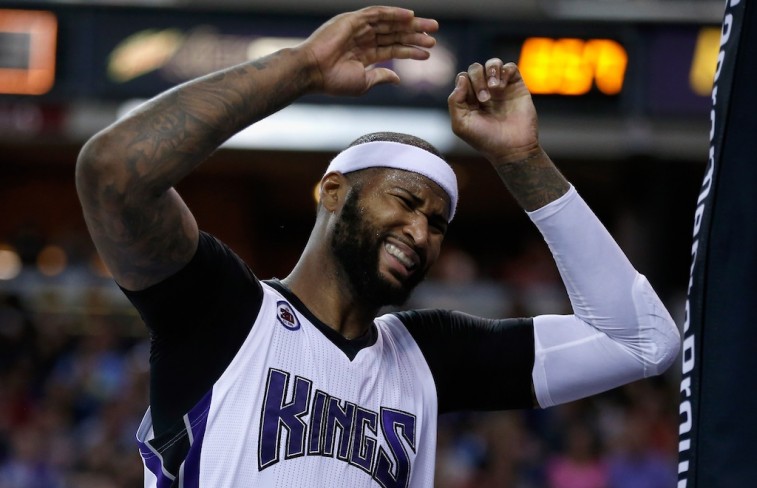 Cousins was absolutely dominant in the month of January, averaging 31.5 points on 48% shooting from the field including 42.2% from 3-point range, along with 12.9 rebounds and 1.6 steals in 15 games, and he recorded 30 or more points in nine of the last 14 games and 40 or more points in two of those contests. This was capped off by scoring a career-high 56 points against the Charlotte Hornets, which also set a new Sleep Train Arena record and new Sacramento-era single-game record for points. By the numbers alone, Cousins is putting together a phenomenal year that is worth all the recognition in that regard helping him make a strong case as the best center in the league — at the very least, he should have been an All-Star.
However, it has been his maturity that has come in question with his inconsistent behavior on and off the court. When he signed his four-year, $62 million extension in September 2013, many people had hoped that he would turn the page in that regard, especially since it made him the de facto face of the franchise. This has not been the case.
Yes, Cousins is an extremely talented player who has only gotten better with time even expanding his game to beyond the 3-point line, and it's true that his on-the-court behavior is probably overblown to some degree, but it remains a hurdle to be jumped. There's no doubt that Cousins is the Kings' best player, but that also means they'll only go as far as he can take them. This is not to excuse Sacramento's front office, which has been a mess for the last decade and counting, of course. When your team isn't getting better despite a high level of individual production from its star player, it's only natural to wonder about the future.
In other words, a change of scenery may ultimately be what helps get Cousins on the right track, but at this juncture, he's still the franchise player that Sacramento hopes can that led it back to the playoffs and beyond.