NBA: Wizards Were Right to Part Ways With Randy Wittman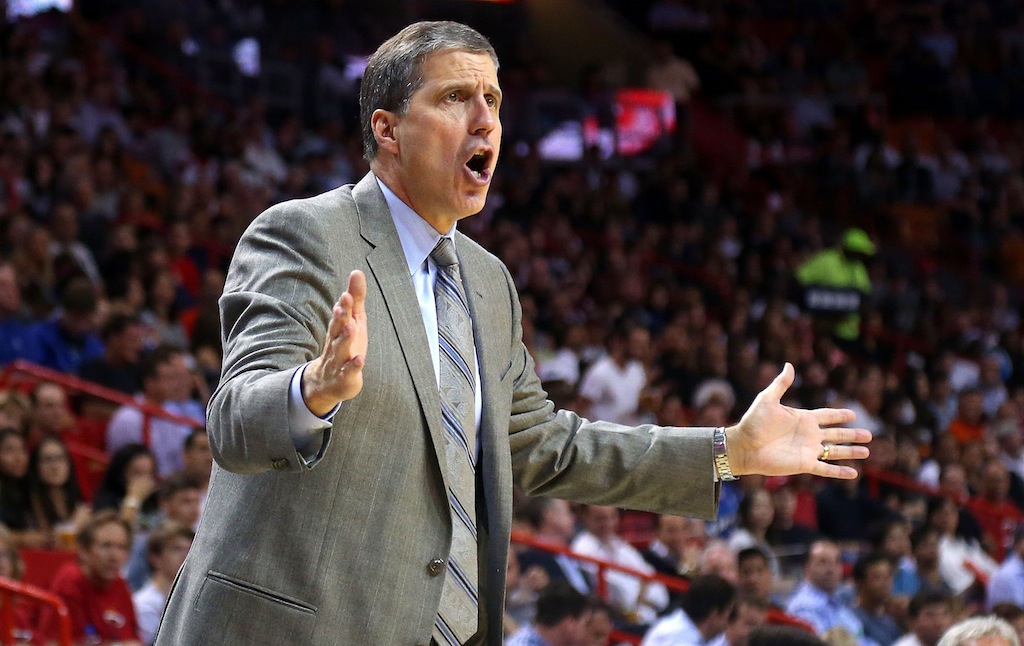 On Thursday morning, in a long-anticipated move, the Washington Wizards announced the firing of head coach Randy Wittman after missing the playoffs for the first time in three seasons. Although Wittman effectively snapped a five-year playoff drought by leading the franchise to back-to-back Eastern Conference semi-final appearances, he held an overall record of 178-199 in 4.5 seasons with the Wizards.
It seems Wittman didn't quite meet expectations, which played a factor in the front office's decision to part ways. Wizards President Ernie Grunfeld explained further in a statement, according to ESPN.com:
There were high internal and external expectations for this team coming into this season based on the momentum we had generated over the previous two years. Unfortunately, the inconsistency of the team's performance and effort, particularly on our home court, did not allow us to meet those expectations and we decided a coaching change was needed.

Randy should be commended for the job he did in taking over as head coach during a very difficult time for our franchise and for helping to establish a culture and identity that led to success. This was a very tough decision on a personal level, and we wish Randy and his family the best moving forward.
Aside from the Wizards' inconsistency, it didn't help Wittman's case that the team experienced a flurry of injuries to key players, such as Bradley Beal, who missed 27 games due to injuries involving his shoulder, right leg, and pelvis, and Nene Hilario, who was sidelined for 19 straight games with a strained left calf. Despite all of this, John Wall still put together another impressive season, nearly pushing the Wizards into the playoffs.
Wall had arguably his best campaign this season, averaging a double-double with career highs in points (19.9) and assists (10.2) along with steals (1.9), which helped him earn his third consecutive All-Star Game selection. The 25-year-old finished third in the league in assists and eighth in steals. This includes earning Eastern Conference Player of the Month for his impressive play in December, when he averaged 22.6 points, 11.7 assists, 4.8 rebounds, and 2.3 steals per game.
Wall also became the first player in franchise history to have 26-plus points, 12 assists, and five rebounds in three straight games (December 9-12). Wall also set a franchise record for most assists (187) and games with 20-plus points and 10-plus assists (10) in a month. However, outside of Wall's stellar play, Washington didn't have much to lean on for stability, which led to many difficult stretches throughout the season.
Yes, it wasn't entirely Wittman's fault, but when push came to shove the best decision was to move in another direction, especially as the team heads into a critical offseason that could be a franchise-changing summer. In the greater scheme of things, the Wizards have fixed their eyes on one pending unrestricted free agent in former NBA MVP Kevin Durant.
This also made the decision to fire Wittman that much easier given the circumstances of the coming months. As they pursue the seven-time All-Star, there are plenty of avenues that the Wizards could pursue with the open head coach vacancy. The front office could look to add former Oklahoma City Thunder head coach Scott Brooks, who has a strong relationship with Durant.
There are already reports that Brooks is the Wizards' preferred choice to replace Wittman. If that isn't what Durant wants, the team could allow him to play a big part in choosing the next head coach, giving him added power in helping shape the roster and personnel. Ultimately, Washington is trying to put themselves in the best position possible to be the most attractive destination for Durant this upcoming offseason.
There must be more to offer than just playing for the team in the city that he grew up. It has to be a much larger draw for him to even consider making the jump to the Wizards, and making a coaching change is a necessary step in this process in order for them to have a realistic shot at landing Durant.
Statistics courtesy of Basketball-Reference.com and ESPN.com.