NBA: Would Kobe Bryant Make a Good Power Forward?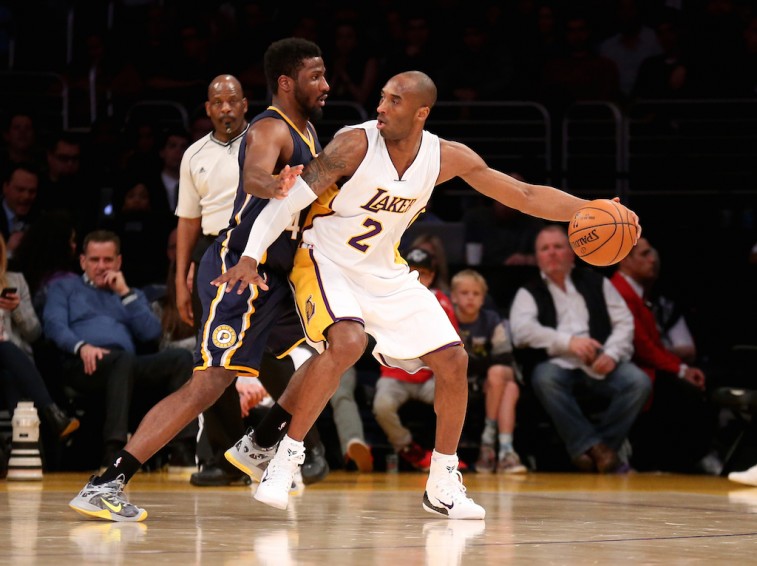 Despite managing to salvage a somewhat disappointing offseason, the Los Angeles Lakers will enter the 2015-16 season as one of the biggest question marks in the entire National Basketball Association. And as it usually does, the uncertainty surrounding this storied franchise has everything to do with its roster.
Unless you've been abstaining from the Internet for the entire free-agency period, you already know Los Angeles swung and missed in its attempt to lure coveted big man LaMarcus Aldridge to the magical world of Hollywood. Aside from the club's inability to land any marquee players this offseason, the club was essentially called out for its lack of basketball focus and unwillingness to adapt to the modern world of analytics. With teams around the NBA beginning to use more and more small ball, you have to wonder if the Lakers have a plan for handling this latest trend. If you ask coach Byron Scott, they do — and it starts with Kobe Bryant potentially playing some power forward.
How could Scott even consider this a possibility? It all starts with the Lakers' talent at the guard position. Second-year Jordan Clarkson is a budding star. D'Angelo Russell — the No. 2 pick in the draft out of Ohio State — has all the makings of a superstar. Free agent Lou Williams was last year's Sixth Man of the Year and has become a proven scorer in the NBA. On account of this infusion of youth, Scott told David Aldridge of NBA.com, he sees an opportunity to mix things up with the lineup.
"I think that's the beauty of it," Scott said. "The one thing that we wanted to do and accomplish through this draft and through free agency was to try and be a little more versatile, have some versatility. So I think all three of those guys can definitely do that. Kobe can play one, two and three. There's no doubt in my mind. And there's some games. against some teams, where he'll probably play four. With his tenaciousness, the way he guards people and when his mind is set, if I say 'Kobe, you've got him,' he takes that as a challenge. You know how he is. He'll compete."
This sounds great in theory. But what are the chances this actually works out?
It should be reiterated that Scott has no intention of playing Bryant solely at the four spot. In fact, he believes the future Hall of Famer will spend most of the year at the small forward position. And he isn't the only one.
Longtime trainer Gary Vitti feels this is the role No. 24 will play in the upcoming season. Not only that, but Bryant, himself, feels more than capable of handling the three spot. What's most important to the Lakers coach, isn't necessarily the position Bryant ends up playing, but rather making sure he gets the ball in the spots that allow him to be the most effective.
"If we can get him at the elbows and at the mid-post, the more effective he'll be," said Scott. "I don't think he needs to be using up the whole 94-foot floor. If we can cut that down some, I think that saves his legs as much as possible. But if we can get him where he operates best, which to me is elbows on each area, top of the key, at the pinch post, at the mid-post, then I think he can be real effective for us."
Anyone who takes these quotes as a declaration the Lakers are deciding to move Kobe Bryant to the power forward position, is taking Scott's words out of context. Bryant is no longer the same young pup who entered the league as a cocky 18-year-old with aspirations of greatness. He is a 36-year-old, coming off two injured-plagued seasons. The less pressure he can put on his body, the better things will be for him and the franchise as a whole. Don't expect to see the Black Mamba attempting to guard a guy like Blake Griffin in the post on the regular. However, if the opposition decides to take it to this group with a smaller lineup, they better have a talented defender at the power forward position. If they don't, Bryant is going to have a field day. Regardless of his role, that's just what Kobe does.
All statistics are courtesy of Basketball-Reference.com, ESPN.go.com, and NBA.com.