NBA
Will Russell Westbrook's Intensity End Up Hurting OKC?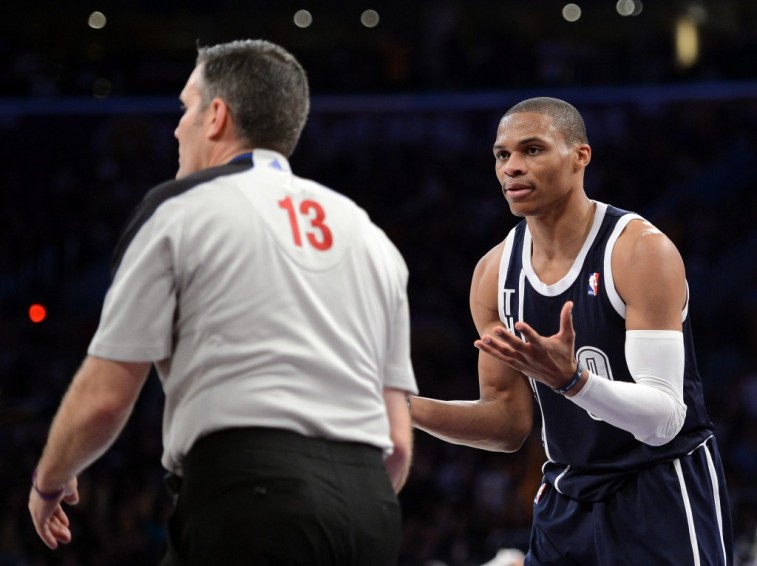 When the Oklahoma City Thunder needed a win Monday night to keep its playoff hopes alive, Russell Westbrook delivered. Behind the point guard's 36, points, 11 rebounds, 7 assists, and 2 steals, OKC defeated the Portland Trail Blazers by a score of 101-90. Like he's done for much of the season, Westbrook put the team on his back and willed the Thunder to victory. Imagine what might have been had he not been allowed to play?
Following Sunday night's 116-104 loss at the hands of the Indiana Pacers, it appeared as if the NBA All-Star was going to be forced to sit out the team's penultimate regular-season game. Should that have occurred, Westbrook would have only had himself to blame. Despite scoring a career-high 54 points in the contest, one number seemed to stand out above the rest: 16.
Westbrook had picked up his 16th technical foul on the season. With that total came an automatic one-game suspension. The Thunder could ill-afford to lose its leading scorer with the season still hanging in the balance. Fortunately for Oklahoma City, the league rescinded the tech on Monday morning. Westbrook was able to suit up, lead his team to victory, and keep the Thunder in the hunt for that final playoff spot out West.
At this point in the season, it's safe to say that the Oklahoma City Thunder live and die by No. 0. His athleticism, strength, and intensity on the court make him nearly impossible to stop when he's on his game. But it's this same fire that can also be his greatest weakness. You have to wonder if it will be the thing that eventually extinguishes the Thunder's postseason chances.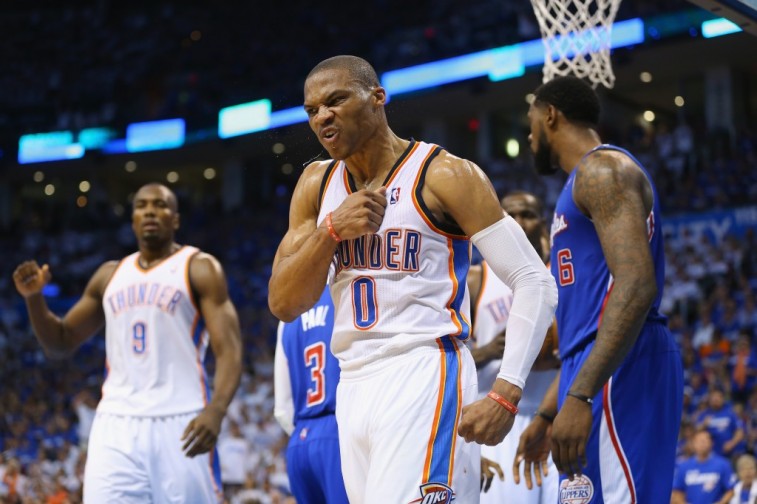 If you watch a replay of the technical foul in question, it seemed fairly obvious that the league would choose to remove the blemish from Westbrook's record. Still, given the circumstances and what was at stake, he should've never found himself in that situation.
Westbrook was T'd up by veteran official Ed Malloy after he took issue to the personal foul he received for knocking over Luis Scola while attempting to fight through a screen. The technical seemed a bit soft and fairly rushed, but Westbrook was aware of the situation, a point he made following Monday's win. "I was just happy, man, just happy to be able to play," said Westbrook. "Obviously, I'm aware of how many technical fouls I have and happy it got rescinded."
Some will say that the tech got rescinded because Westbrook is a superstar and the league would hate for the officials to directly influence the playoff picture. That's fair. But this wasn't one of those obvious technicals that even a star player deserves. Still, you have to wonder: Would any other player on the Oklahoma City Thunder have gotten the same treatment from the league?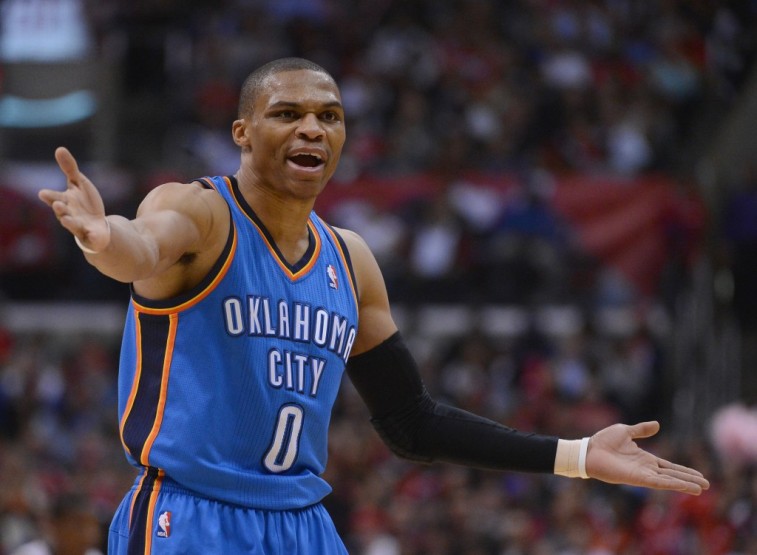 There is still no guarantee that the Oklahoma City Thunder make it into the playoffs. Not only does the team have to win Wednesday at Minnesota, but it needs San Antonio to dispatch the New Orleans Pelicans on the same day. As a result, the Thunder's fate is not completely in its control. But OKC still needs to take care of business. And that won't happen without Westbrook.
No one is telling the All-Star game MVP to change his playing style. If he did that, it would be eliminating the very thing that makes him special. Westbrook just has to be smart about his aggressive play. Oklahoma City will only go as far as No. 0 takes them. The Thunder need his intensity to remain at a high level if the team hopes to get over this final hump. But the only way that happens is if Westbrook does what it takes to stay on the floor.
All statistics are courtesy of Basketball-Reference.com and ESPN.go.com.
Want more great content like this? Sign up here to receive the best of Cheat Sheet delivered daily. No spam; just tailored content straight to your inbox.