NBC's Peter King Calls Out Tony Romo and Troy Aikman's Broadcasting Salaries
Tony Romo and Troy Aikman are the latest beneficiaries of the changes in the broadcasting world. The pair of former Dallas Cowboys quarterbacks have retired from the NFL and transitioned to television, and it's safe to say it has worked marvelously for both of them.
Aikman is reportedly headed to ESPN as the new face of Monday Night Football and should get a massive sum thrown his way. Romo headed for CBS after retirement from the NFL and is making $17.5 million per year. That is unreal money, and it makes sense why players are leaving the NFL and choosing a career in the booth.
Well, Peter King of NBC was quick to call out the absurd salaries for Romo and Aikman as the game of sports broadcasting is changing by the season.
NBC's Peter King calls out the massive salaries for Troy Aikman and Tony Romo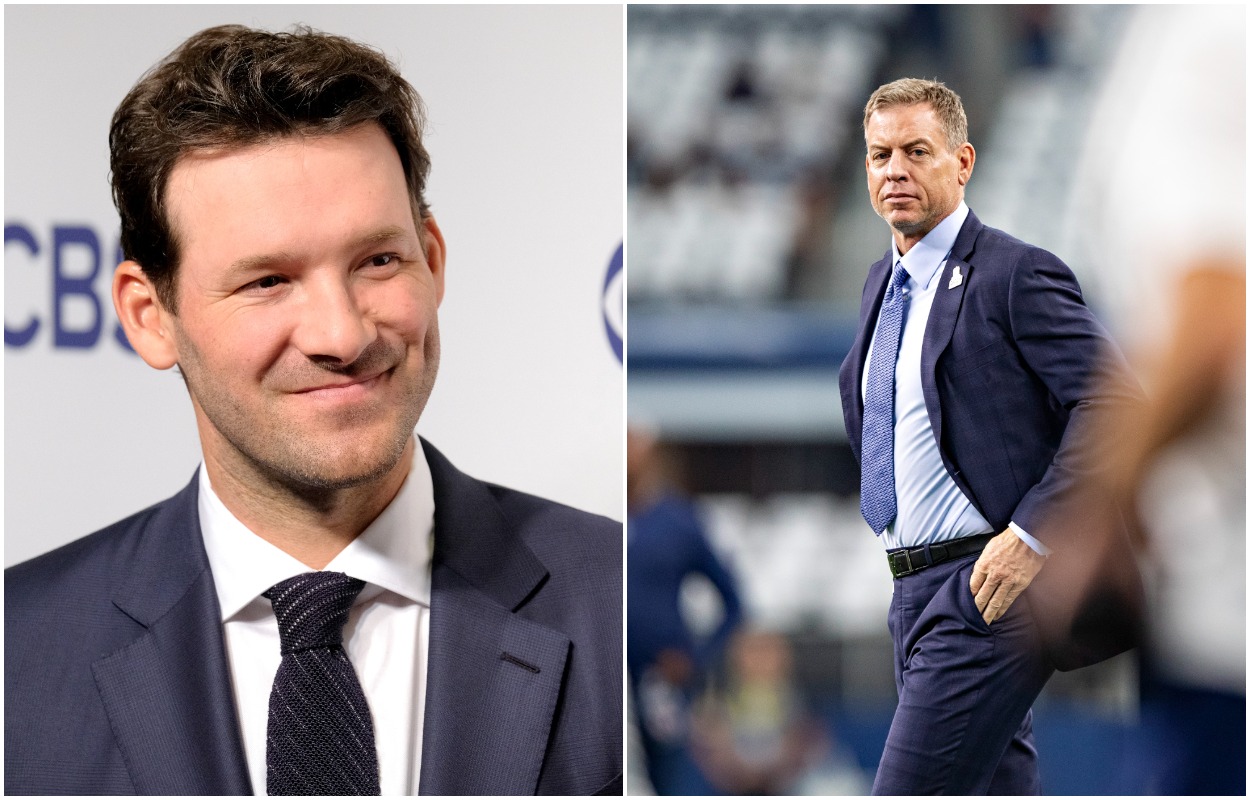 The NFL world is changing quickly, and Aikman and Romo's money is just the latest chapter. Romo made his transition to the booth a seamless one and is a joy to have on the telecast week in and week out.
Aikman is another good one, and his expected move to ESPN is projected to be for north of Romo's $17.5 million per year. Well, Peter King wasn't very thrilled about that in a recent Football Morning in America column.
As King mentions, Aikman's and Romo's expected 2022 salaries are more than several top-tier wide receivers. It doesn't make sense.
CBS and ESPN are paying Tony Romo and Troy Aikman more than Cooper Kupp, Stefon Diggs, Keenan Allen and Mike Evans will make in 2022, and I don't know why.

Peter King
Nobody knows why. Yet, here we are, waiting for ESPN to officially announce the Aikman move for an enormous amount of cash.
The times are changing, and King brings up even more valid reasons why this makes no sense.
In watching the NFL for five decades, I have never once heard anyone decide to watch a game based on who the announcers are. Whoever is broadcasting the Super Bowl could pick mid-level Big 12 announcers and they would have exactly the same number of viewers.

Peter King
That is spot on. People will watch their team play regardless, especially in the NFL.
Aikman and Romo are setting the standard for broadcasters, and Sean Payton and Sean McVay were rumored to follow suit
Sean McVay is fresh off of a Super Bowl victory with the Los Angeles Rams, and Sean Payton announced his retirement — at least for the 2022 season.
But, both coaches were rumored to land analyst jobs, although McVay decided to run it back with the Rams for at least one more season.
Payton could move from the sideline to the booth, and many networks are interested in the former New Orleans Saints head coach. During Super Bowl week, Payton was there interviewing for jobs.
It is strange that a head coach such as McVay, who just won a Super Bowl, would consider retiring and moving to television. Then again, it makes sense with the money guys like Aikman and Romo are getting.
McVay makes approximately $8.5 million per season (although the official numbers haven't been released), but the rumored TV deals were said to be double that money. The best part is that it doesn't come with stress, tension, or pressure, and you don't need to do much during the offseason.
That alone is tempting, and the money on top of it all makes it difficult for current coaches to dismiss the idea of early retirement from the NFL and starting a new venture.
McVay is due for a new contract, especially after bringing home the Lombardi Trophy, so indeed, that plays a factor. But, the bottom line is that Aikman and Romo are quietly setting the standard for TV deals, and players and coaches will be even more tempted to consider a move.
Peter King is right — the new TV deals are ridiculous
Let's think about the Kyler Murray situation as an example. The Arizona Cardinals young quarterback wants a new contract and isn't getting it. The Cardinals are hesitant to pay him big money, and they have their reasons for that.
Murray is set to make $5.5 million in 2022, but guys like Aikman and Romo are making triple that to call games. Why? How?
Of course, the networks are competing with one another and are trying to snatch guys left and right, just like the NFL teams are competing and trying to land the marquee names.
But this is getting out of control, and as King said, nobody cares who is calling these games. Having Romo and guys like Al Michaels are a luxury, but it isn't a necessity.
Money talks everywhere, especially in the world of sports, but there is no need to pay broadcasters nearly $20 million a season.
RELATED: Sean McVay Turned Down Massive Amazon Deal to Run It Back With the Rams