NBC's Peter King Offered Jimmy Garoppolo a Harsh Reality About His NFL Future
Article Highlights:
NBC Sports' Peter King said San Francisco 49ers quarterback Jimmy Garoppolo's reputation is "tarnished"
The two-time Super Bowl champion has struggled to stay healthy throughout his career
Although King isn't wrong, don't be surprised if Garoppolo generates significant interest in 2022
We might be approaching the end of the Jimmy Garropolo era, or we might be about to watch the veteran quarterback lead the San Francisco 49ers on another deep playoff run. Anything is possible when the 49ers are involved.
Garoppolo, who turned 30 earlier this year, will be a free agent after the 2022 season. However, the 49ers drafted North Dakota State's Trey Lance earlier this year, a move that could render San Francisco's incumbent starting quarterback available on either the trade or free-agent market.
Although the Eastern Illinois product should garner interest next offseason, at least one prominent football analyst is, shall we say, skeptical about the quarterback's chances of earning a significant contract.
Peter King believes Jimmy Garoppolo has 'tarnished' his reputation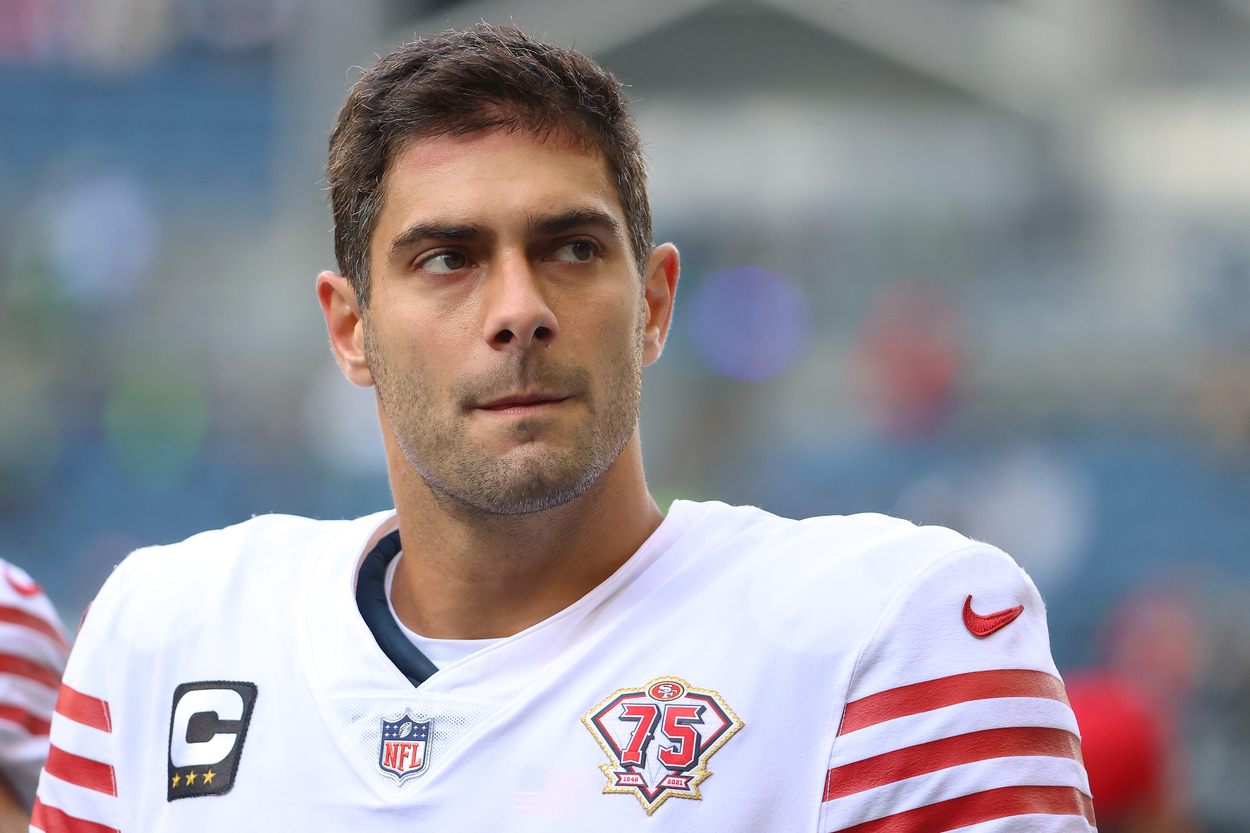 At times in 2021, Garoppolo has played like the quarterback who led the 49ers to a Super Bowl appearance two years ago. However, there have also been games where the veteran has played like the quarterback who collapsed in the fourth quarter of Super Bowl 54.
Garoppolo entered Week 14 with a 66.8 completion percentage, 2,641 yards, 15 touchdowns, and eight interceptions. Although the 49ers are 6-6 and would make the playoffs if the season ended after 13 weeks, they're coming off an ugly road loss to Russell Wilson and the disappointing Seattle Seahawks.
The 49ers still haven't announced or indicated what the team's quarterback plans for 2022 are, especially with regards to Garoppolo's status. NBC Sports' Peter King discussed the Denver Broncos' need to find a franchise quarterback in the Dec. 6 edition of Football Morning in America and briefly mentioned the 2013 Walter Payton Award winner as an option, albeit not an ideal one.
"Jimmy Garoppolo might be out there, but he's tarnished his rep to the point where I doubt anyone looks at him as a no-doubt answer for the next five years."

Peter King
Ouch. Well, that's certainly one way to look at Garoppolo's NFL future.
King's points are strong but not entirely inaccurate given Garoppolo's history
Calling Garropolo's reputation "tarnished" is a bit much, especially considering he still has the 49ers in playoff contention. Although the easy counterpoint is five of his six wins as a starter this year are against teams currently under .500, he's at least winning games in a packed NFC.
Still, it's hard to disagree with the key point of King's argument: teams cannot depend on Garoppolo to stay healthy. He only started 16 games in a season once (2019) in his four full years with the 49ers. Various injuries, including a torn ACL and an ankle problem, often kept him on the bench.
If Garoppolo remains the starter and avoids further injury this season, he'll finish the year with 16 starts, albeit in a 17-game campaign. That might help concerns about his durability, but to what extent? At this stage in his career, most if not all of the league's other 31 franchises have an opinion on Garoppolo and who he is as a player, the good and the bad.
If the 49ers thought they could depend on Garoppolo, they likely wouldn't have traded up and selected Lance earlier this year. But, they did, and that's why we're having this conversation.
Garoppolo should earn significant interest if he is available next spring
As King noted in his column, there are too many to-be-determined aspects of the 2022 quarterback market. Aaron Rodgers and Russell Wilson could each become available or stay with their current franchises. No one is sure what the next step is for Houston Texans quarterback Deshaun Watson, who is still facing 22 civil lawsuits accusing him of sexual misconduct and sexual assault.
Several teams will need new quarterbacks, whether it's a rookie, a perennial Pro Bowler, or a stopgap. For example, the New York Giants would be wise to check in on Garoppolo if Daniel Jones' neck injury proves to be a lingering issue.
King mentioned the Broncos, and Garropolo would be an intriguing stopgap there. He also makes sense for the rebuilding Houston Texans, especially if rookie Davis Mills struggles down the stretch.
Or, of course, Garoppolo could find a way to stay in San Francisco and convince the 49ers to end the Lance experiment before it really begins.
Like Sportscasting on Facebook. Follow us on Twitter @sportscasting19.