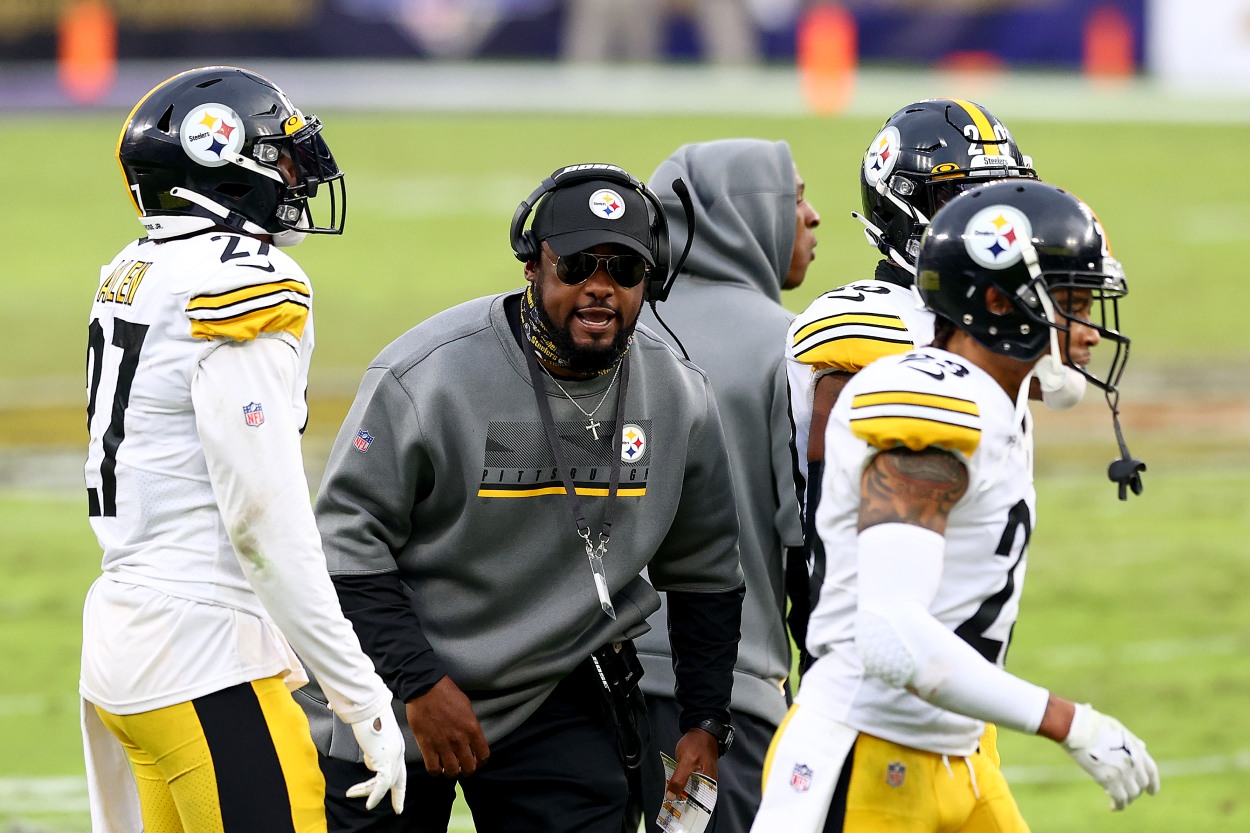 NBC Sports Isn't Hiding Their Growing Interest in Turning Mike Tomlin Into the Next Tony Romo
NBC Sports executive Fred Gaudelli is interested in eventually hiring Pittsburgh Steelers head coach Mike Tomlin.
Pittsburgh Steelers head coach Mike Tomlin might represent the future of Sunday Night Football beyond simply being on the sidelines each year.
Tomlin turned 49 in March and has shown no desire to retire or step away from coaching just yet. But when that time eventually comes, NBC Sports is prepared to step in with an offer that the Super Bowl-winning head coach may not be able to refuse.
NBC Sports is interested in eventually hiring Mike Tomlin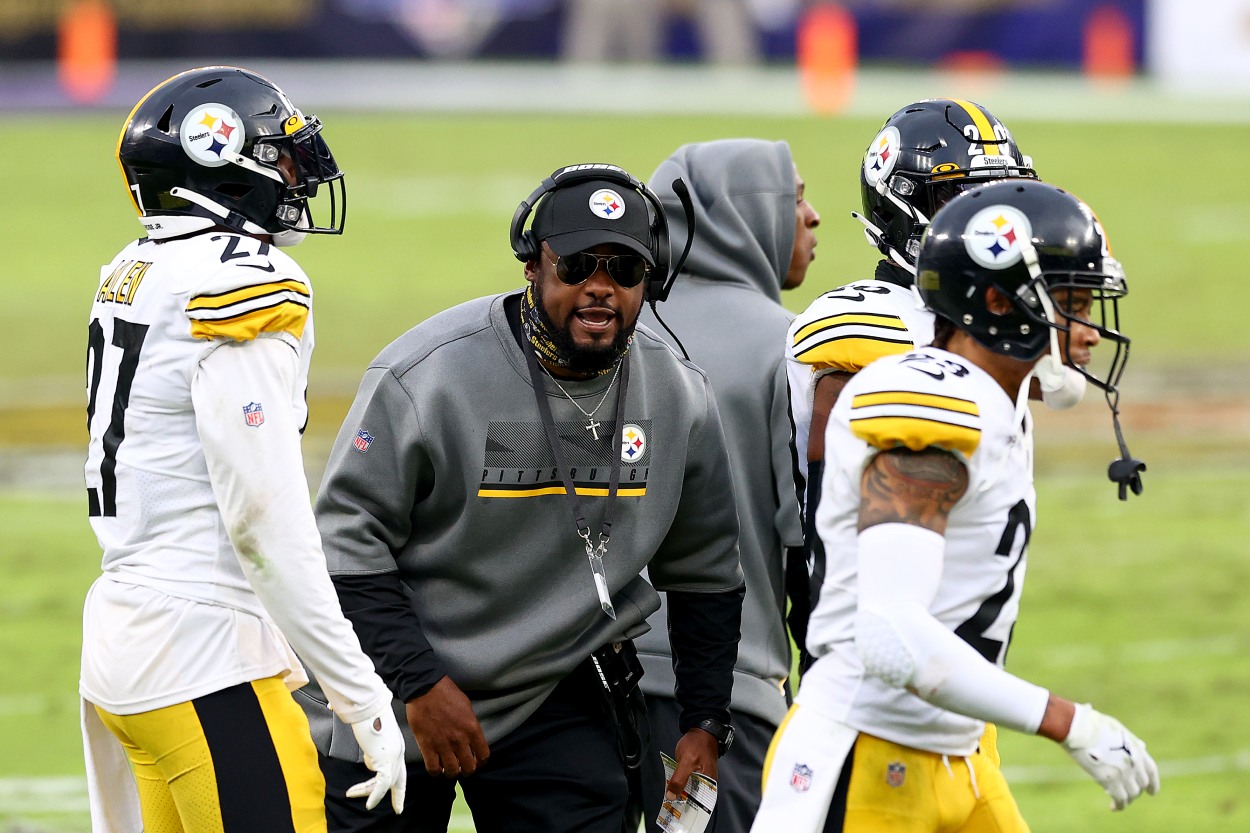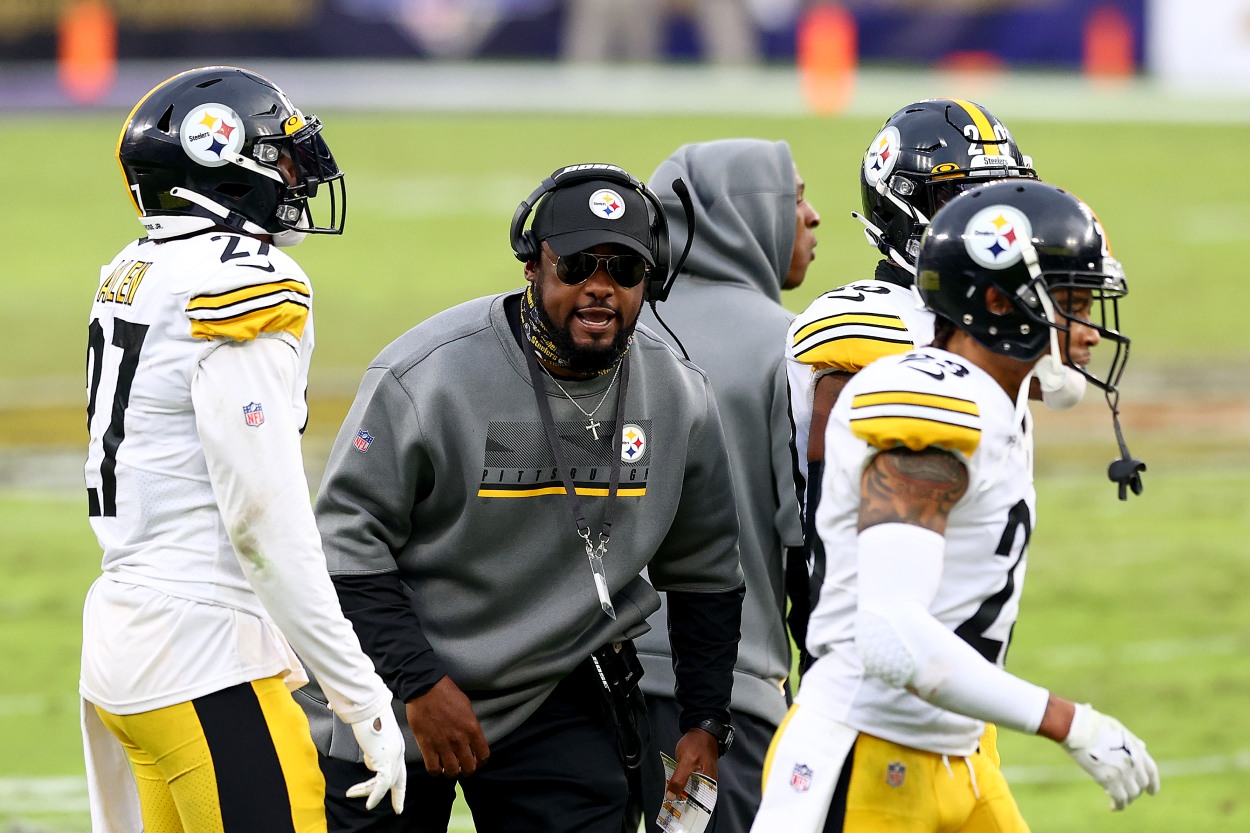 Forget Al Michaels and Cris Collinsworth calling Sunday Night Football throughout the year. You may want to prepare for Mike Tirico, Drew Brees … and Tomlin?
NBC Sports executive Fred Gaudelli told The Athletic that he is already interested in hiring Tomlin when the time is right. Gaudelli explained he has eight names on a file titled "Potential Talent," and Tomlin is atop the list.
"I mean, he's got a language all of his own that everybody can understand. He's got a really expressive personality. You'd want him in the studio so you could see him more, but I think he'd be equally good on a game. If you said to me you can take one guy out of the league right now; it's not even a hard call. It's Mike Tomlin."
The bad news for Gaudelli is that, as of the 2021 season, Tomlin is still employed by the Pittsburgh Steelers. The longtime head coach also has not shown any indication that he will pursue a broadcasting career when he retires.
If Tomlin ever joined NBC's studio coverage, he could eventually replace Tony Dungy as the coach on set. Dungy, who served as Tomlin's boss on the Buccaneers, turns 66 in October.
John Harbaugh and Sean McVay are also on NBC's list
Of the eight names in Gaudelli's list, all are described as "well-known NFLers," and a couple of them even have Super Bowl rings.
Tomlin, who led the Steelers to a victory in Super Bowl 43, is one of those figures. Ravens head coach John Harbaugh, who won the Big Game four years later, is also on Gaudelli's list. Harbaugh previously served as a guest analyst for the network's coverage of Super Bowl 52 in 2018.
Los Angeles Rams head coach Sean McVay has gone viral at times for his memory and ability to analyze plays. Those skills, Gaudelli said, could serve him well as a broadcaster.
"I just think McVay has a great way of communicating," Gaudelli said. "He's got a great energy and [is] really passionate about football."
It is not known which active players, if any, are on Gaudelli's list. However, ESPN vice president of production Seth Markman shared some of the names on his list with The Athletic. The active players on Markman's list included Cam Newton, Richard Sherman, and Russell Wilson, among others.
Tomlin might need a strong 2021 season to keep his job
If Tomlin wants to keep coaching and avoid wearing a suit and tie on Sundays, he needs his Steelers to finally produce a strong season.
That comment may sound outrageous after the Steelers opened last season with 11 straight wins. However, the team lost four of their final five games and suffered a humiliating 48-37 loss to Baker Mayfield and the Browns in the AFC wild-card round.
The Steelers haven't won a playoff game since Jan. 15, 2017. Five years without a postseason victory, even in a competitive AFC North division, is unacceptable for a talented Steelers roster.
The Steelers have stood by Tomlin thus far, and many won't argue against that decision. But if that streak reaches six years, which is certainly possible given how dangerous the Browns and Ravens are, then Tomlin may want to start getting in touch with Gaudelli.
Like Sportscasting on Facebook. Follow us on Twitter @sportscasting19.